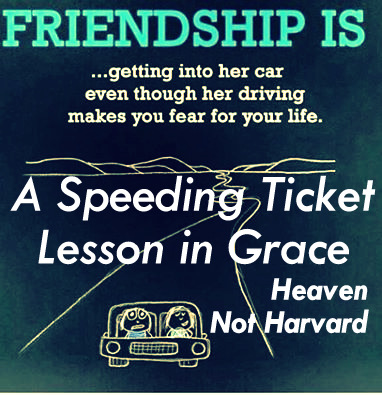 (Last Updated On: June 11, 2015)
We were running what I like to affectionately term "almost late." As usual, I should say. I used to be early for everything then I became the mother of a child who actively thwarts all attempts to leave the house in a timely fashion, leading me to be a tad creative with my defensive driving techniques.
I won't say I'm Mario Andretti, but one of my friends posted this meme to my Facebook page.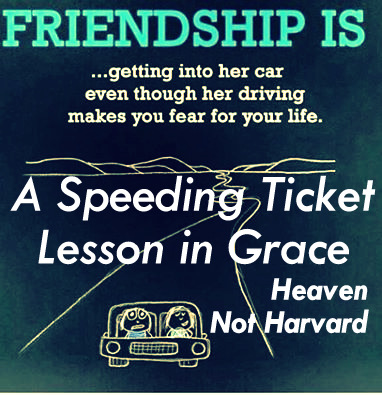 Today, we were only running slightly behind schedule, but I needed to be somewhere early, so I was speeding. I think I was going 65 or so in a 55 mph area. I was going down a hill so my vehicle was speeding up as I saw a deputy in the opposite lane flash his lights.
"Oh, shoot. I guess I'm getting a ticket," I said, watching the deputy's car in the rearview mirror.
I felt a little sick to my stomach, but the damage was done, so I slowed down waiting for him to turn around, looking for a safe place to pull over. But his lights were off as he came up behind me. At this point, I was going between 55-60. I took a deep breath, and he passed me to pull over the SUV who had been behind me also speeding, but had kept speeding when the deputy flashed his blues.
"Maybe I'm not getting a ticket today," I said in relief, as we slowly passed the deputy getting out of his patrol vehicle.
Then the little voice from the backseat asked, "Mommy, did you deserve the ticket?"
Ouch. My mind raced. How do I answer? Part of me wanted to lie, preserve my image in front of my sweetest little girl, but I felt God whisper that He does His best work in our humility. (2 Cor 12:9)
"Yes, yes I did, baby."
"So why didn't he give you one?"
"I don't know, honey, but maybe he gave me another chance. Have I ever caught you doing something naughty and given you a second chance?"
She nodded thoughtfully.
I continued, "Sometimes we get second chances that we don't deserve. I mean, isn't that exactly what Jesus is all about? When we didn't deserve it, he died for our sins so we could have a second chance to go to Heaven."
Romans 5:8
ESV
"But God shows his love for us in that while we were still sinners, Christ died for us."
Our God is a God of second chances and grace. I don't know why that deputy chose not to give me a ticket, but I'm really grateful that I had the chance to live an example of grace and second chances with my daughter watching. And a reminder to slow down, the journey really is the whole point.
Heaven Not Harvard has decided to discontinue advertisements at this time as WordPress does not offer ads that are consistent with our beliefs. If you would like to support the ministry, we welcome your donations. Donations are not tax deductible at this time.