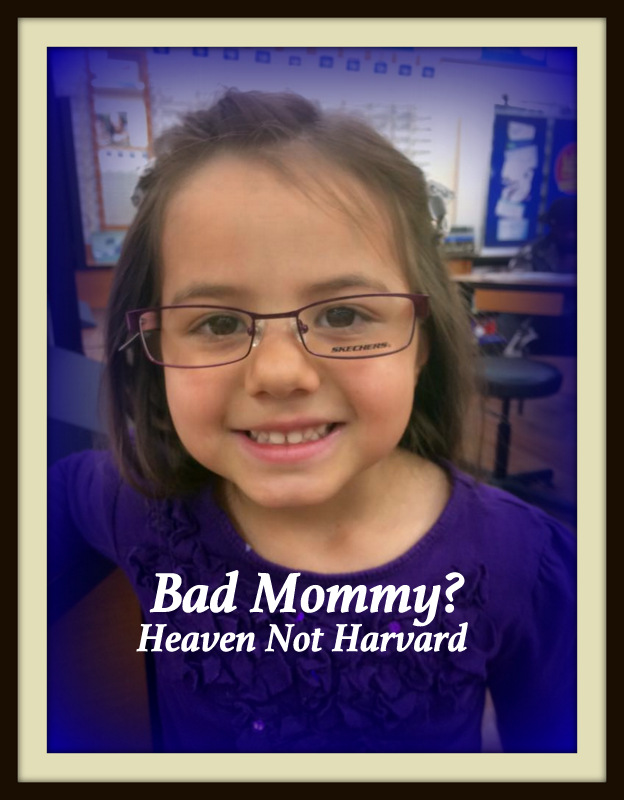 (Last Updated On: April 6, 2015)
Are you a bad mommy?
We've all had those moments; the week of crabby behavior gets explained by an ear infection we didn't know the baby had. We feel terrible. How didn't I know? We spent the entire week being frustrated, and we wonder if CPS is coming to take our children away because we stink at this mommy business.
Somehow that one moment confirms what we've secretly felt all along, "I'm a bad mommy." We hold up Facebook posts, Parents articles and measure ourselves, falling woefully short.
Yep, not perfect, not even close. We don't measure up to the slew of moms in our circles. What about that mom whose children are so casually chic when mine is wearing her too small glitter boots with velour faux-corduroy track pants? Or that mom whose children are fed organic produce they farmed, and I just let my child eat off-brand red velvet donuts? The mom who is juggling three home business and serves at church every time the doors are open, while I'm crying in the laundry room because I'm so overwhelmed that I didn't check the pockets of my jeans, ruining an entire load of laundry, including my favorite jacket.
Guess what? Those moms are 'bad' moms sometimes, too. We all are because we're not perfect. We're all faking it from time to time. We're reading parenting articles, talking with our friends, and making split second decisions hundreds of times a day. We lose our tempers, need a nap, burn dinner.
This week, I realized how not perfect I really am. My child is very strong-willed. It is hard to tell if her behavior is immaturity, a developmental stage, or testing boundaries. She started reading recently, a few words at first, but gradually has started being able to pick up a book and read a sentence or identify every "EXIT" sign at church on Easter Sunday. She was very happy to report that we would have lots of options in case of a fire.
So, when she started telling me she can't read a word she has known for months, I figured she's giving me attitude. Or, when she told me some letters get confused, I figured that was normal developmentally still in four year-olds.
I finally realized that something might be wrong as she was playing C instead of G over and over during piano practice. When I asked her to say the notes as she played them, she said "C." I'm old and my eyes are definitely starting to go, but I could tell it was G. When she couldn't, I thought hmmmm.
At the store, I slid a pair of reading glasses on her face. She immediately said things were blurrier with them off. We marched over to the optical center. Two hours later, and I knew one thing for sure. I had missed that one, who knows for how long. At least once or twice, I had gotten mad at her for being defiant when she really couldn't see very well.
Talk about feeling like a bad mommy.
But am I? I work from home, late nights, so I can be home with her during the day.  I listen to her ALL DAY. We read stories and tell jokes. We hold hands while we walk to piano lessons. She loves to read her bible. She tells me I'm the best mommy ever.
Maybe she is a bit biased, but maybe she is more honest with her expectations than I am. Maybe no one should be expected to be perfect. Maybe there is no maybe about it. I'm not a bad mommy. I'm human. I'm making judgment calls and guessing a lot. Aren't we all? We may have really strong opinions, but some of it is just being afraid we're doing something wrong, hurting our most precious babies. So we defend those choices because we're counting on them to be true so we can control the uncontrollable.
But we can't control everything. We can't know the baby's ears hurt if she doesn't rub them. We can't know for sure if that red dye is really anything to worry about or not. We can't know if our 4-year-old (who still thinks that if there are silent letters, there might be invisible ones) needs glasses because she doesn't have the maturity to say so.
And sometimes, it takes one little girl's pair of glasses for us both to see a little clearer.