Beating my body image issues meant getting real about having body image issues. I've spent much of my adult life believing that my issues were with my body.
If my body looked better, I wouldn't have any issues, right? I was so wrong. I didn't even realize I was working on the wrong AREA of my life!
(Heaven not Harvard is a participant in affiliate programs including the Amazon Services LLC Associates Program, an affiliate advertising program designed to provide a means for sites to earn advertising fees by advertising and linking to Amazon.com.)
Of course, when I did lose weight, I noticed the stretch marks from the extra weight or the wrinkles in my face became more prominent. Every step toward my ideal body brought up new body image issues to worry about: varicose veins, chin hair, visible scars. I was never going to get there.
But that didn't stop me from believing I was supposed to.
My body image issues were so ingrained I couldn't separate my worth as a person from my imperfections.
I did things like walk for two hours everyday, skip meals, and start marathon running despite major joint pain because I felt compelled to reach this place of good enough physical perfection.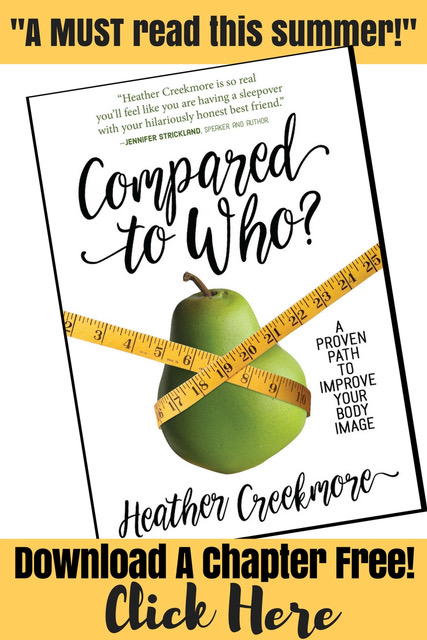 Body image issues even spilled over into my nutrition. I skipped too many meals and didn't eat nutritious food in proper proportions. I tried every diet and exercise plan, but none could change how I felt inside my own heart.
My body image issues were so ingrained I couldn't separate my worth from my imperfections.
Click To Tweet
I'm ashamed of how body image has affected my life. I've cancelled plans or been too embarrassed to go places because I don't have clothes to cover my problem areas. Because of my appearance, I've felt like a failure as a person.
I've cried so many tears wishing I could just be normal. The joke was on me! I am normal – like the 91% of women who also struggle with body image issues. (Can we be real – who are the other 9%??)
I've been on a journey to let go of my body image issues for the last few years, but Heather Creekmore's book has helped free me in a way I didn't expect.
At first, I didn't want to read Compared to Who?.  I was so sure this was just another DIET book, full of the same old platitudes.
God only cares about your heart. It's the inside that matters.
UGH! While those are true statements, they only help so much unless you deal with the real issue. Because deep down, while I know God loves me and values me for the inside, I want other people to think I'm wonderful too. There's the real issue-Pride.

Despite my resistance, God was working on my body image issues and wasn't going to leave me alone. I kept seeing this book everywhere.

Clearly, God wanted me to read this book.
When my copy arrived, I was hesitant but after a few pages, Heather's humor and compassionate honesty captured my attention.
She confessed all thoughts I've secretly thought: every silent smug vanity, the catty comparisons, my shame when I didn't match up, believing I just needed to have enough self-esteem to accept myself the way I am. So much of her story related to mine!
And I knew she understood. So when she asked me to rethink everything I've ever thought about vanity and body image, I was willing.
Compared to Who? offers us the heart of our body image issues and lets us quit comparing.
Click To Tweet
What's more, Compared to Who? showed me how I've been missing the heart issue of my body image issues.
I would recommend this book to anyone struggling with body image issues or vanity. Even though it mostly pertains to women, Heather speaks to the heart of the matter, our sinful flesh.
While I received a free copy from the author, the opinions are my own!
If you take what she says to heart, read the scriptures, and ask God to work in your heart, you will change. I am beating my body image issues, and freedom never felt so good.
Save
Save
Save
Save
Save
Save
Save
Save
Save
Save