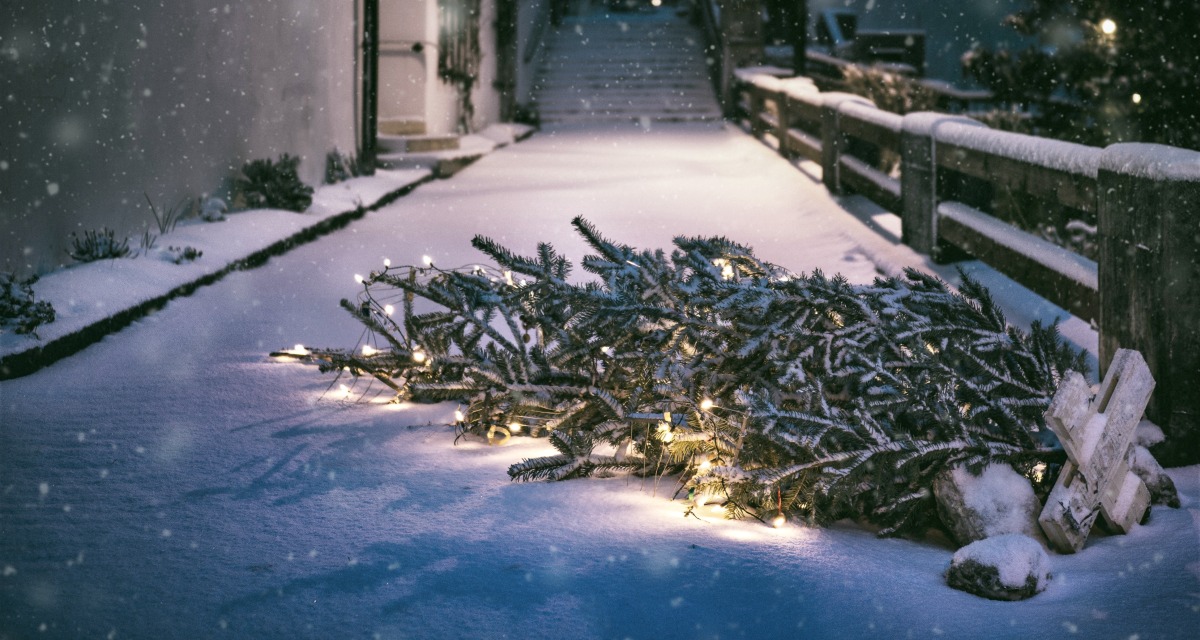 In the days after Christmas, the enchanting excitement of anticipation has faded. Boxes lay littered around the house. Piles of once demanded gifts lay in heaps waiting for someone (i.e. ME) to restore order.
And I'm really tired. I did the browsing, the planning, the shopping, the wrapping, the baking (9 types of cookies & homemade cinnamon rolls), the advent celebrating, the 24 books of Christmas reading. I even managed to get Christmas cards in the mail – mostly in time for pre-Christmas delivery.
In the midst of it all, I did my best to be present and enjoy the fleeting magical days of my daughter's childhood.
(Heaven not Harvard is a participant in affiliate programs including the Amazon Services LLC Associates Program, an affiliate advertising program designed to provide a means for sites to earn advertising fees by advertising and linking to Amazon.com.)
But if your holiday was anything like mine, real life didn't stop for Christmas or holiday preparations.
Trying to combine Christmas magic with normal life is hard.
As much as I tried to pull back from commitments and just focus on the enjoying the festivities, grocery shopping, laundry, and toilet bowl cleaning wouldn't wait. Bills still came. Crises were not averted . . .
Our holiday crises sound like a twisted version of the 12 Days of Christmas: two ruined batches of cookies, three dirt bike crashes, two broken bones, a deathly ill dog, two scary vet trips, a lost suitcase, and one dead minivan at church . . .
Would I keep calm and worship on, or look like the fiery stick man on warning labels "Do Not Try This at Home"?
Which all added up to two very long ER visits, two long and expensive veterinarian visits, the most expensive car battery I've ever had, and days of crying over the dog.
I turned up the Christmas music, forced a smile and regrouped. The cookies turned out fine in the end, but each disaster rolled neatly into another making those last few days leading to Christmas a test of my spiritual maturity.
Then Christmas day was just about perfect, but was over too quickly.
We slept in (thank goodness for older kids), took turns opening presents, had the older boys go on a scavenger hunt. We ate a late but bountiful brunch and a simple dinner.
Our poor dog started struggling the second time on Christmas eve. By Christmas night, she was at death's door again. Her fever was raging. We all tearily said good-bye to her again the next morning. After adding another $100 to our already steep bill, the vet sent her home again. She is not out of the woods, but seems to be doing better.
Then it was time to race the boys back to the airport which is exhausting and stressful in spades around Christmas.
But God was clearly present in so many little ways. There was a major accident on the way home from the airport. If it weren't for locating the missing suitcase, the boys might have been in the middle. I knew we were going to be okay. It's just the roller coaster ride.
I did my best to enjoy the season, but navigating all these strange difficulties while maintaining joy and peace was exhausting.
So how am I recuperating and boldly reclaiming my joy after Christmas?
I made the executive decision to act like a kid again.
I was not going to go anywhere or do anything unnecessary that was stressful because I was going to enjoy these weeks after Christmas as much as the kids all enjoyed the weeks prior.
Take time to play!
We played all the games we got for Christmas: Charades and Clue and colored pictures and solved puzzles I even drove the RC cars!
I curled up by the tree with my new book.
Meals have been leftovers and snacks. Christmas cookies for lunch? Okay, in moderation.
Plates have ALL been paper.
Seriously, I googled it. Washing dishes takes enough water that the environmental benefit of using real dishes over paper plates is negligible. Foil pans and paper plates are FINE when we need a break.
I recorded the Hallmark channel's Happy Yule Log on Christmas. It's a roaring fire with a holiday set and Christmas carols. We watch it on repeat everyday.
My husband gave me Yankee candles for Christmas.
I'm usually a candle hoarder. But what's the point of having them if I never enjoy them? So I've been burning one all day, enjoying the light fragrance and warm glow of the candle.
I've taken the stress and mess out of as much of daily life as possible.
And my husband has stepped up to tackle some of the household stuff. I love his helpful heart and I'm doing my best to just say thank you instead of offering 'helpful' critiques. In a crisis, how doesn't matter so much. I've learned better to be thankful for any help.
I have wanted to play with hand lettering for some time – fauxligraphy if you will. For Christmas, I got a beginner's set. Today, I set aside an hour and spent some time practicing with my new markers.
Products from Amazon.com
‹
›
I'm not letting the mess and disorder get me down.
Christmas took weeks of preparation. It can take weeks to pack away. I try to tackle a box here and there, put away one area of items at a time.
Simply, I'm doing everything slowly.
Christmas decorations can stay up as long as I want them to.
I've shut down the internal voice that demands everything must be done right now. And I'm resting. Tackling a few chores here and there in small bursts allows more down time.
We're eating lots of leftovers. We're finishing up all the Christmas movies on the DVR. Crackers and cheese for lunch. PJ's all day.
Real life hasn't paused any more this week. However, I take time for myself to play, pray and rest each day.
I can't stop the world so I can enjoy the holidays, but I can stop myself from doing all the things.
The crazier things got, the more intentional I was about being in my Bible and spending time in prayer, which sets the tone for joy. Finishing my reading plan for the year, I was deep in the prophets. Seeing God's plans for Israel, the prophecies for our savior helped me remember that nothing escapes His will.  We just need to rest there.
I plan to carry this attitude into the new year as well. The best present I got came after Christmas in the reminder to be present.
God's got us. We just need to reclaim joy in the ride.