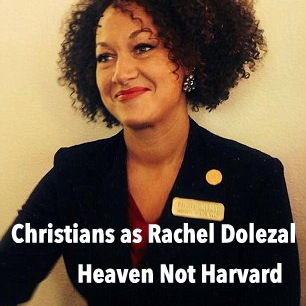 (Last Updated On: February 26, 2017)
Rachel Dolezal's behavior might seem confusing to us, but have you ever been around a group of people and been deeply jealous of their joy, attitude, experience, togetherness, bond? Something inside you begged to belong?
This week Facebook has again been abuzz with the scandal of Rachel Dolezal, former head of the Spokane, Washington chapter of the NAACP. She lied about not only her background, but about who she is at the core of her being. She isn't African-American.
Her parents provided teenage pictures proving Rachel isn't just not black, but she shares my ultra-Caucasianess.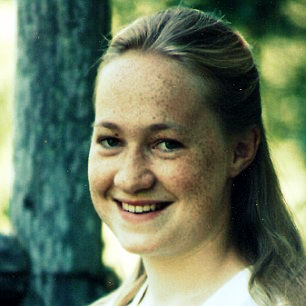 Many are analyzing her behavior, motivation, techniques, and even hairstyles, but the truth is – she lied and faked her African-American persona for some personal agenda.
Something about the black culture or community was attractive to her, so she learned how to fake it. She dressed and accessorized to blend in with her desired group. Then she tanned her way into passing as black. Rachel also learned everything she could about African-American hair, and was able to turn her straight blond locks into a "natural" kinky afro. (I gotta give her props on that one. I can barely get my similar hair to curl.)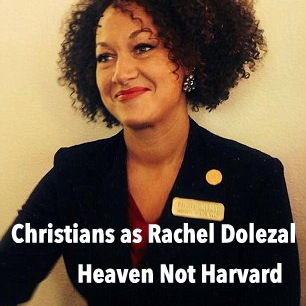 Stepping aside from the race/ethnicity issue, something about this story struck a chord about putting on a persona that isn't real, which lead me to think about how much I've changed in the past few years since we've been attending this radical little rag-tag group of Jesus' followers and how different it is from what church was for me most of my life.
Do you know any Christians playing a part like #RachelDolezal but out of touch with the Spirit?
Click To Tweet
I used to attend some larger, more traditional churches in which everyone wore their Sunday best and acted like we had it all together. We talked a lot about God and Jesus and how He saved us, but we didn't spend a lot of time on 'from what' or the ongoingness of the process. And I could doll myself up with the best of them. Raised in a Christian home, I know how to put on the trappings. But I was living LOST the rest of the week.
Do you know any "Christians" playing a part just like Rachel Dolezal?
They put on the appropriate attire, whether Sunday best or "witness wear", and create this persona based on external factors instead of real change in their hearts. These cultural Christians edit their vocabulary on Sunday mornings, but don't let God transform their minds.
They are still living too comfortably in the world to have met Jesus personally. Or are living in such sin that the Holy Spirit is entirely quenched.
1 John 2:3-6 ESV  "And by this we know that we have come to know him, if we keep his commandments. Whoever says "I know him" but does not keep his commandments is a liar, and the truth is not in him, but whoever keeps his word, in him truly the love of God is perfected. By this we may know that we are in him: whoever says he abides in him ought to walk in the same way in which he walked."
They've learned the right things to say, the right Christian vocabulary, but they are missing the big truth of the transformative nature of the Holy Spirit. The fruit of their walk demonstrates that they are living lost. We have to walk like Jesus to demonstrate that we abide in Him.
The fruit of the Spirit demonstrates our faithfulness.
Being around joyful, spirit-filled Christians is tantalizing. When we're lost, that assurance is so appealing. But unless you know Him, it's just playing a part.
I spent years being Rachel Dolezal with my perfect church facade, my modest clothes, and my church vocabulary. I could win sword drills like a boss. Yet, the people around me had no idea I was DROWNING. No one seemed to talk about the realness of sin. We needed to talk about the process of cleaning it up, not just covering it up.
Rachel Dolezal spent years living as black. She had it ALL down, but no matter how hard she worked, she couldn't change herself from the inside out. Neither can we.
That is God's job.
After years feeling something was off, but thinking I was saved, I finally feel I'm truly being sanctified through the Holy Spirit, but it is sometimes painful to watch other Christians' actions.
I see their language, posts on social media, and choices that are absolutely not reflective of a spiritual transformation of the heart. And realize I'm not the only Rachel Dolezal who has ever sat in the church pew playing pretend. While there is room for imperfect progress, there is a humility and gentleness to those who KNOW how deeply we need redemption.
We can't use the Bible to judge who is saved, but as a means to deal with our own brokenness.
Click To Tweet
We can't use the bible as a standard to judge someone's salvation, only God knows the heart. What we can do is use it as a means to heal our brokenness. We find a true depth to our salvation that clearly demonstrates who we are and to Whom we belong.
Because when we take off the mask, we encourage others to do the same.
Nothing has helped me be more real than sitting in a church family who doesn't hide behind sin, they hold it up and say, "No more! Jesus paid my debts. I'm finished with this."
If we are doing this church thing right (no matter what we like to wear on our bodies), we're all wearing our real faces – tempers, language, alcohol, drugs, sexual sins, pride, gossip and turning them over to God one by one. I know no matter which church I visit, I belong to the right body of believers when we are willing to own up to who we really were born as, because only God can redeem us.
And I quit being Rachel Dolezal so that I can encourage people to do the same because our victory is knowing how lost we are without God and choosing to truly belong in His family.
Subscribe to Blog via Email
Save
Save
Save
Save