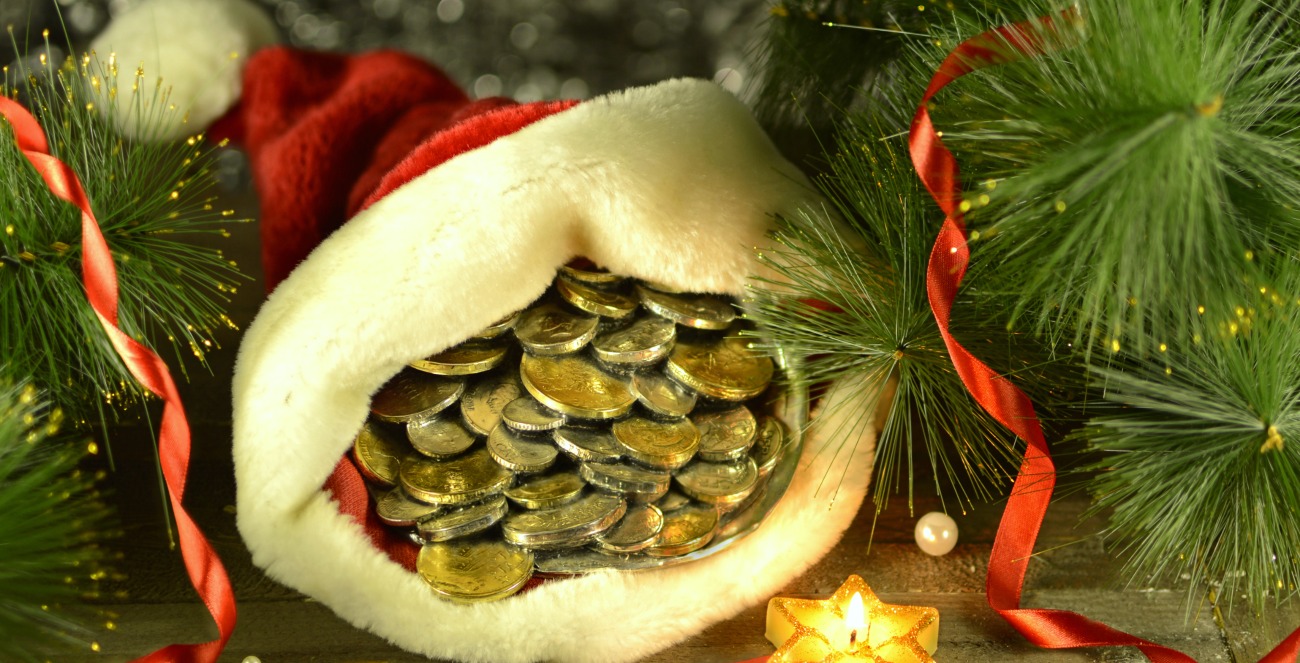 (Last Updated On: December 13, 2017)
Wouldn't a little extra Christmas money make Christmas a little more magical and a lot less stressful this year? While giving gifts isn't the main message of CHRISTmas, we do want to show people how loved they are! But we don't always have the funds for what is in our hearts.

(Heaven not Harvard is a participant in affiliate programs including the Amazon Services LLC Associates Program, an affiliate advertising program designed to provide a means for sites to earn advertising fees by advertising and linking to Amazon.com.)
Every year, I promise myself I'll actually enjoy Christmas with all the delicious baking and warm family times.
But the stress of the holidays often gets in the way. One way to take that stress down a notch is to remove the worries over money.
Are you guilty of treating Christmas like a surprise?
Christmas is the same time every year, but often we start scrambling to afford gifts come October or November, which is really too late. Then we plunge into credit card shopping only to dive deeply into debt. No one wants to start a new year paying off the last one.
Don't treat Christmas like a surprise! Plan ahead to have extra Christmas money now!
Click To Tweet
DOES this seem like a strange post for me? It might, but going from two good salaries to one has made me realize how much stewardship is involved in properly handling our money. God has been gracious to provide for our family in many ways, but these are a few ways I've been thrifty and stretched every dollar!
We've been able to have Christmas paid for before the gifts were wrapped and under the tree for several years. Want to know how?
Products from Amazon.com
‹
›
Tip #1 – Take $50 off the top.
Call your bank and have $50 a paycheck/$100 a month directly transferred to a savings account each month. This builds your savings without thinking about it. And gives you $1200 for extra Christmas money if you need to dip into it.
If you think I can't afford $100 a month for savings, see if there are luxuries you can do without. Living beneath what you can afford makes money stretch.
Tip #2 – Find creative ways to EARN money!
Taking surveys, opening emails, watching advertisements isn't going to make you rich, but it is a way to make spending money while watching television. I use several sites and redeem my points/cash expressly for extra Christmas money.
My Points is awesome! It's a website that sends marketing emails. Each email you open is worth five points, some are worth more if you make a purchase or sign up for a service. Also, you can earn points for donations to the Red Cross and animal welfare sites.
Why I love it!
This year, I've earned points for up to $100 in gift cards. I can redeem my points for gift cards to many national chains including Amazon, The Children's Place, Bass Pro Shops, Home Depot, Sears, Kohl's, Old Navy, even Papa John's!
Another similar site is Inbox Dollars.
I earn a few cents a day just opening emails. They pay in cash and offer surveys too. I have earned $35 in just a few months. That's a Christmas gift or movie date night!


SAVE Money on Groceries!
One of my favorite ways to earn extra Christmas money is through the Ibotta app!
Ibotta is like reverse couponing. I scroll through the app after making my grocery list. After shopping, I scan the items I purchased into the app with a copy of my receipt. I've earned $182.65 using the Ibotta app so far.
Walmart Savings Catcher is another easy app. Every time you shop at Walmart, scan your receipt into the Walmart App in the Savings Catcher section. I've saved $190 using the app. It literally takes seconds as I walk to my car! I deliberately don't use those dollars until Christmas and can transfer my credit to the Walmart Pay section of the app to pay for gifts.
Do you shop online?
I shop online through Ebates – I can shop for Christmas while earning extra Christmas money! This year, I've earned $120 buying things I was purchasing already!
I just go to their site or app and shop, earning money back on homeschool products, website subscription services, Amazon, Wayfair, Overstock!
They even have a browser extension that pops up and reminds me to activate their service if I'm shopping a site that works with Ebates.
Last Tip – Shop smart & start EARLY
Shopping smart won't earn you extra Christmas money, but it can save you enough to be worth doing.
I've already begun stock piling gifts.  I usually start in September. If you are saavy, watch for great sales now. A lot of catalogs count on Christmas to make their year, prices right now are often lower than they will be later.
Shopping early lets you have plenty of time to shop around for the best price and take advantage of early sales.
I make a list of everyone I need gifts for and begin keeping an eye out for just the thing that will make them laugh or smile or be really useful. Especially for my husband!
If nothing else, I can earmark all my planned gifts for Cyber Monday and be ready to snag the deals, having my budget set and Ebates locked and loaded.
Plan ahead, budget wisely, use some creative ways to earn extra Christmas money and this might be the most stress-free holiday season yet!
Bonus Tip
Plan ahead to be generous. Set aside some of your Christmas money to give to charities that matter to you.