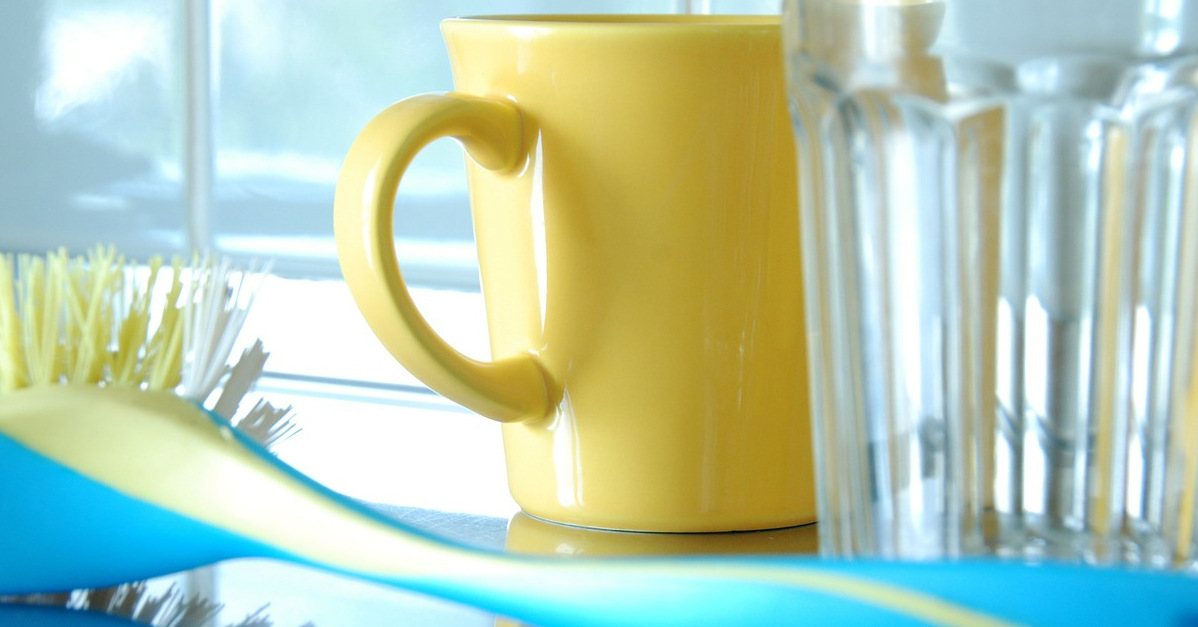 (Last Updated On: September 4, 2017)
Divorce? He leaves dishes by the sink occasionally. Sometimes, he doesn't pick up his dirty underwear and believes dusting is a waste of time. He rolls his eyes when I disinfect the kitchen. He gives it a lick and a polish when I would use bleach and a flamethrower.
And my personal pet peeve – If I give him a 'to do' list, my husband will find the one thing he's been meaning to do that is NOT on my list, and do that.
These things can drive me crazy or hurt my feelings. Sometimes, I feel disrespected and ignored . . .
but divorce him?
Not even kind of.
Can I unpack this viral post written by a man whose wife was apparently driven to divorce by dishes by the sink? In the end he understood how he could have better loved his wife, but I was left wondering if she ever learned how to better love him?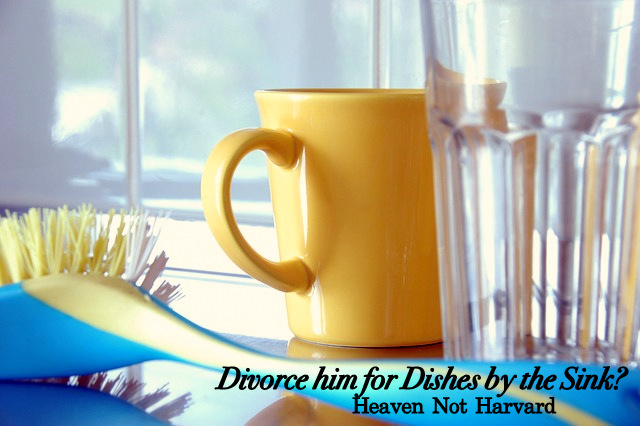 I have had many days my heart was broken over something he said or did. I've said goodnight in a huff wondering how I could be married to this selfish man for the rest of my life. I've cried myself to sleep.
But truth really is often about perspective.
Those same nights, he went to bed defeated, wondering why he married me, feeling disrespected and unloved. He wondered if I could ever think he was good enough just the way he is, if I really loved him or just the man I wanted him to be?
Ladies, I get it.
I see those dishes and underwear on my 'to do' list that never gets done. I'm child rearing, blogging, homeschooling, homemaking, friendship building, small group leading, Bible reading, part-time working. I need three of me on our slowest days.
When he adds to my list, it is the mic-dropping-straw on the proverbial camel's back.
But, I'm the one reading into those choices. Dirty dishes by the sink really say I'm too tired to do one more thing. The dirty underwear shoved into the corner screams it's 3 a.m. and I haven't had my coffee.
His Army job is long and hard, but he comes home to me everyday. He kisses me goodnight even when we've been snippy. He brushes our daughter's hair and flies her around the house, even when she is getting too big, even on his bad shoulder.
I can choose to see it his way. If it only takes 4 seconds to move that dish to the sink, can't I just do it? Even if I hate folding his stupid Army socks, better to be folding them than wearing them 16 hours a day.
Because he just wants my respect and love and to make me happy, even if he sometimes has no idea why things are important to me, even when I don't really either, but really, really just like it my way.
I've learned that if I really don't have the energy to wash the dishes by the sink, they'll wait until one of us makes it a priority.
In fact, when I stop trying to keep every spinning plate spinning and some drop, he sees my need and picks up the slack. When instead of nagging, I just said, "I can't, I've got nuthin' left," he'll get out paper plates and frozen pizza.
Again, humility and broken realness win.
When I said, "I know it's just a cup, but I work so hard to keep the house nice. I would feel so loved if you would just put it away."
He replied, "I'll try. But it's just a cup. I'll forget." I said, "Thank you for trying. If you forget, it's ok."
Then he didn't forget often because I made it about being a team against the chaos, not me versus him.
I am really saddened to see Christian women sharing this viral post because it doesn't take a faith-based view of marriage at all.
I vowed for better or worse in a rose-colored fog, but that was the promise: for worse.
"WORSE" was this vague undefined something like a tragic accident that might happen to other people, but probably not to us. I didn't picture dirty underwear, empty toilet paper rolls, arguments about dishes and countertops, parenting squabbles – the boring mundane worses that make marriage hard.
I read the entire post, I know he was exaggerating to demonstrate how he hadn't really respected her and his callousness pushed her further away. But oh, how I wish I could interject into every woman letting these little molehills become mountains.
Don't let dishes by the sink destroy your marriage!
My marriage isn't perfect, but we've come a long way since I stopped seeing everything from the world's perspective. Marriage is part of the refining fire that makes us more like Christ.
Mark 8:34
ESV / 

And calling the crowd to him with his disciples, he said to them, "If anyone would come after me, let him deny himself and take up his cross and follow me.

Deny myself. Deny the human parts of me that say, "I deserve." Deny that I deserve anything except to serve God with all that I am everyday. With ALL that I am.

Jesus carried a cross. I can pick up dirty dishes by the sink. Real marriage takes grace. Click To Tweet

God gives me grace and forgiveness when I fall down. When I yell at the kids or gossip or ignore His directions. Over and over.
Forgiven people forgive people. We don't say divorce.
It isn't easy, but that means when I'm tired or sick, I try to do one more thing, take one extra second to think before I speak, to honor my husband by respecting what he does and thanking him for everything he gets right and the hearty attempts, and choosing carefully when, how, or IF I approach those things I wish were different.
Learning how to talk with him is a work in progress. We are learning a common vocabulary of patience and grace. And divorce isn't in it.
"My grace is sufficient for you, for my power is made perfect in weakness…." 2 Corinthians 12:9
I'll be honest, sometimes the chaos wins these days, but happiness does too. The house is dustier but the laughter is louder. Because I quit seeing dishes by the sink as a failure of his love and just there waiting for one of us to clean them .  .  .  eventually.
Communication is a work in progress. We are learning a common vocabulary of patience and grace.
Click To Tweet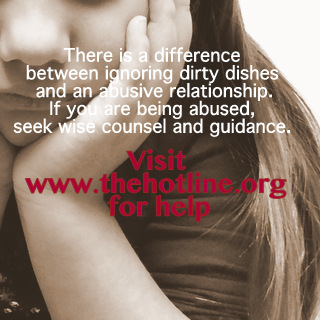 Subscribe to Blog via Email