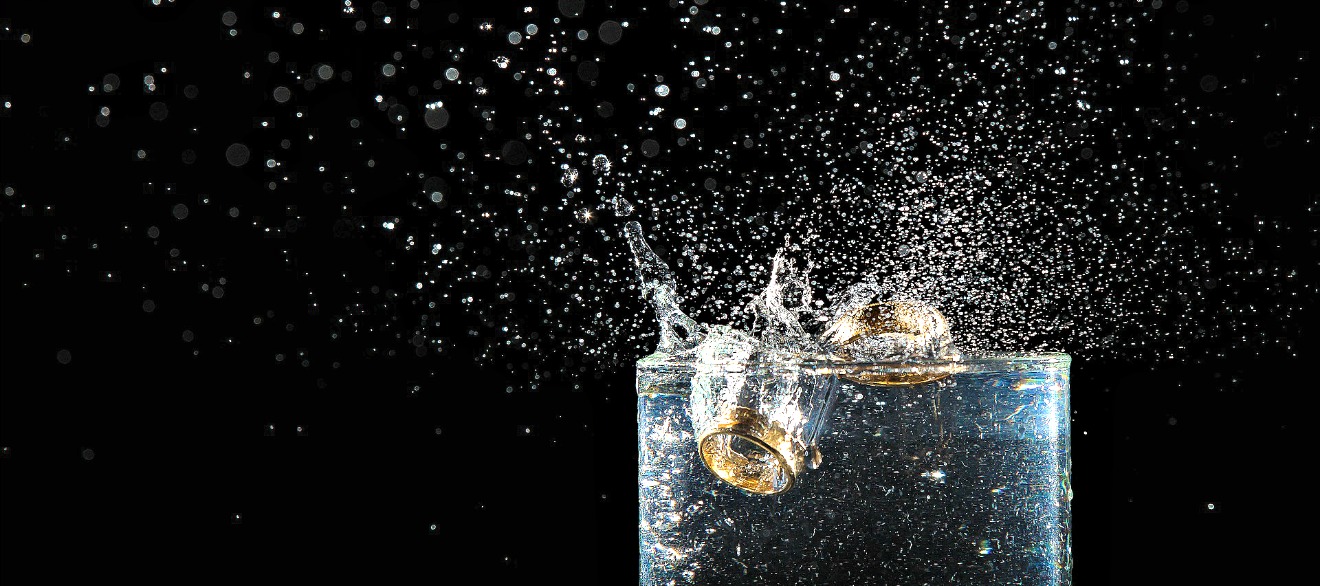 (Last Updated On: November 15, 2017)
Do we have a perfect marriage? No! So why take marriage advice from an imperfect marriage? We've learned a lot about marriage and life over these ten years.
And imperfect is the only kind there is, full of flaws and failures, love and laughter, but with two people determined to keep their promises.
(this site uses Affiliate links-purchases support our ministry through a small referral fee that never affects your cost.)
Last November, we celebrated our 10th Anniversary! We're not quite the wide-eyed dreamers we were when we said, "I do," but we made it.
And I've gained some wisdom I wish I'd learned much sooner.
The song that was playing in the background the day my husband proposed in April, 2006 (see our amazing romantic proposal video below!) was "Bless the Broken Road" by Rascal Flatts. Our lives took convoluted paths to get to each other, but we were so grateful to have found someone to call home. As a military couple, home for us isn't a place so much as it is our family.
Our wedding centered around the idea that two roads were becoming one journey; a wedding was just a day, but a marriage was a lifetime of love, joy, laughter, patience, forgiveness.
We both knew marriage would be challenging, but didn't know how broken the road would be AFTER we said "I do."
Bless the Broken road was our song, we didn't know it would be part of marriage too.
Click To Tweet
We dove in believing marriage would be romantic bliss. One long date, right?
Finally, we'd be together after living in different states or on different continents, but that wasn't going to be the case.
Weeks after our honeymoon, he left for various trainings. Hundreds of miles from family or friends, I lived alone in the townhouse that was supposed to be our first home.
The following six years, we faced a series of separations, some lasting weeks or months, with two more year-long deployments. We struggled through frightening and tearful good-byes, anticipating joyful reunions, and starting over and over again.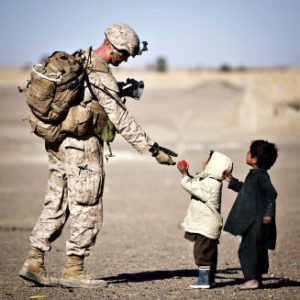 Building your marriage is hard when you're never together long enough to get past the honeymoon of welcome home or the rose-colored glasses of almost good-bye.
During his fourth deployment, he faced some of the darkest situations of his military career. And when he came home, the war did, too.
*Military Spouse marriage advice -Below is hands down one of the best military spouse bible studies!  This changed my heart tremendously!
Products from Amazon.com
‹
›
While grappling with the compounded effects of his four tours in Iraq, we transferred to a new duty station with new challenges. He is stateside, but works more than ever. And I've had health issue after health issue.
Marriage often took a backseat to just hanging on for dear life.
But the first piece of marriage advice I wish I had really known is that marriage isn't the grand romance we envision the day we marry. It's the romance of surviving life together and learning to cling to each other through it.
In 10 years, marriage often took a backseat to just hanging on for dear life. #ArmyWifeLife
Click To Tweet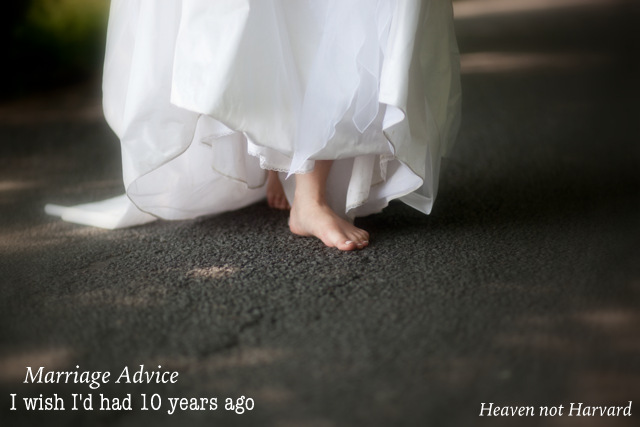 The first thing I had to learn was that getting married wasn't a solution to a problem. Expecting him to fill the broken places in my life was unfair to him. It left us both feeling discouraged and empty. It was never his job.
Lamentations 3:24
ESV

"The

Lord

is my portion," says my soul, "therefore I will hope in him."

The only person who can fill my empty God-shaped-spaces is God. He is my portion. My hope and faith has to be in Him not my husband or I end up having unreasonable expectations.

My husband might be my hero, but he can't be my savior. Jesus has to be 1st focus of my heart. Click To Tweet

My husband is just the captain of our team. We have to remember to be a team before we can do anything else.

Which means treating each other with respect and kindness no matter what is going on. Life often can feel like an emergency, but not much of it really is so important that I don't have time to take a deep breath and respond with love.

Truly learning to hope in the Lord allows me to see my husband's humanity in a new light. I'm able to offer grace in a way I never could before because I see him just trying to do life.

The Holy Spirit intercedes in my heart daily and reminds me that kindness builds up my husband during difficult times.
Proverbs 15:1
ESV 

A soft answer turns away wrath, but a harsh word stirs up anger.

I am still learning this lesson. Every. Day.

But my choice is to respond to life, stress, and even a harsh response with softness and the peace of Christ.

Time after time, I've seen how gentleness can affect even the most difficult situation.

The next piece of marriage advice I wish I had learned sooner is so simple to say, but so much harder to do.
Most arguments can be solved in two words, not a thousand perfect ones.
I'm sorry, not "I'm sorry, but . . ."
Dropping the but is really difficult for my flesh because I want to explain away my bad behavior. I want to put the blame on someone else, or point that nasty wagging finger right at him, but the truth is . . .
I can only control one thing in the entire universe: me.
Most arguments can be solved in two words, not a thousand perfect ones. I'm sorry.
Click To Tweet
I have learned to take responsibility for my side and that's it. Leave it right there.
Nothing anyone does justifies acting poorly. It sometimes explains my failures, but never excuses.
More often than not, he responds by softening and apologizing because I didn't demand it or accuse him.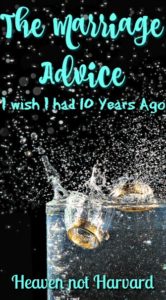 Which leads to my next piece of marriage advice…
Listen.
We all want to be understood and respected. Taking the time to listen does both.
God has been working on me in this area for a long time. I can demonstrate my husband is a priority in my life by focusing on him when he speaks. When I listen, I can hear his heart, share his joys and challenges.
I earn his respect because he knows I respect him.
Products from Amazon.com
‹
›
Sometimes, I have to fight my selfishness when his desire to share with me interrupts my reading, television show, or just my busyness.
Again, God has challenged me to choose what to give my best attention to. Very rarely do I really need to ask him to pause and tell me later. Most of the time, I really can drop everything and listen.
Quick take away: Put your faith in the Lord, Respond kindly, Take responsibility for your side, and really Listen.
And this advice holds true no matter how long you've been married.
Save
Save