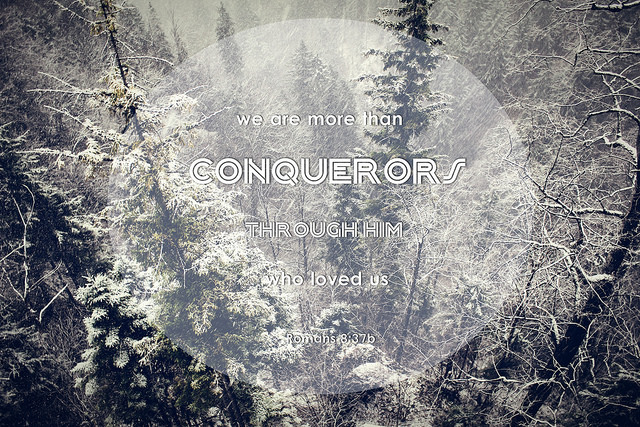 (Last Updated On: October 31, 2014)
I started this #30DaysWithoutComplaint challenge with a true desire to let God's work in my heart flow into all areas of my life, starting with what I say, hoping to then transform how I think, and eventually be able to master what attitude I have. The first couple of days went really well, but I got a little cocky and too busy. I let distractions pull me away from my quiet time with God.
And I didn't have my armor on when life got tough.
Ephesians 6:11
ESV
"Put on the whole armor of God, that you may be able to stand against the schemes of the devil."
When my daughter was having a few challenging days in a row and my husband got upset over something small, I got hurt. And I let my exhaustion, hurt, and fear define my reaction. I complained, which hurt me and my family. When I fill my cup with the Lord, dwell and abide in His word, I know the truth and react with that truth.
John 15:6
ESV
"If anyone does not abide in me he is thrown away like a branch and withers;"
I withered because I let myself get separated even just a step from God. I felt Him calling to me, "Sit down, visit with me." But I kept saying in five minutes I'll have time, and then I didn't make the time. And I started wanting the people, fallible people, to be my portion even though I know they cannot be.
Lamentations 3:24
ESV
"The

Lord

is my portion," says my soul, "therefore I will hope in him."
I let my hope be in things of this world for a day or two and my attitude started looking ragged around the edges.
Since I became a mom, I've walked around talking to myself. No, I haven't lost my mind, at least not completely (yet), but I narrate everything. "It's hot in here." "Ooh, that's cold." "My head hurts". . .  ad nauseam. I started when my daughter was a baby, just talking with her to bond, help her interact with her world, maybe because my mom did it with us.
I never realized just how negative my self-narration has become. I can't think of one "narrating" comment Tuesday that wasn't somehow negative. I knew this wasn't going to be a simple challenge, but it has been discouraging to hear how quickly the little negatives come pouring out. "You're making me upset. Your behavior isn't making me very happy. Mommy doesn't feel well."
Tuesday afternoon, she was so out of control that the more I tried to reason with her the more whining and crying she did. Thank goodness, I paused, mentally threw God a hail mary, and had a quick heart reset. "You're acting really upset over lots of little things that don't usually bother you. What is really wrong?" Her stuttered sniffling dissolved into wails of "I'm hungry." Well, shoot, if you had just said something. You can have a snack. End of issue.
But a day later, a day more exhausted, and when my husband's attitude rubbed me the wrong way, I responded with an empty heart. I was hurt, and I let him know it, which defeated the purpose of the no complaint challenge.
Then I felt defeated. I really am not good when I fail. Anyone who knows me, has seen me just absolutely crushed under the need to get everything right every time. I don't know how to live with the grief when I don't get something right on accident, but when I let my hurt feelings and indignation turn into a HUGE dose of iVoice, I can really get down on myself.
John 1:12b-13 ESV "he gave the right to become children of God, who were born, not of blood nor of the will of the flesh nor of the will of man, but of God."
Then, I read this verse. I was born as a child of God through His will, not my own. Trying to do this on my own, even for a day, was a recipe for failure. But today, God's grace grabbed me by the heart as I prepared to lead Bible study and verse after verse reminded me of who I really am in Christ, of His forgiveness and redemption. Then sharing my failures with my study group, I was able to reach into the broken places of others because I was honest about my broken places, too.
2 Timothy 1:7-8
ESV
"For God gave us a spirit not of fear but of power and love and self-control. Therefore do not be ashamed of the testimony about our Lord, nor of me his prisoner, but share in suffering for the gospel by the power of God,"
When I clothe myself in God's spirit, I don't have to be a failure because I failed. I can choose self-control and love next time. Even in failure, I still had a testimony of the changes in my heart because I was able to recognize what happened instead of playing the blame game. I was able to apologize first and not wait for an apology. I was able to reconstruct the discussion and tell my husband what I should have said and how I had been wrong. And I truly didn't need him to apologize or admit his failures to me at all. Because I was abiding in God's truth today.Life is wonderfully imperfect and busy as it can be, but today was a good day. I claimed God's promises and held them tight, even when things tried to distract me, I was not confused about who I am in Christ. I'm still growing for sure, but I don't have to live empty, I don't have to live in defeat.
Romans 8:37
ESV
"No, in all these things we are more than conquerors through him who loved us."
I don't know if I made it through the whole day without a single complaint, but my attitude was certainly centered on the right perspective today, which is the point of this challenge anyway – to get to the place in God that the complaints fall away. And on that, I'm still a work in progress.
photo credit: Charlotte90T via photopin cc