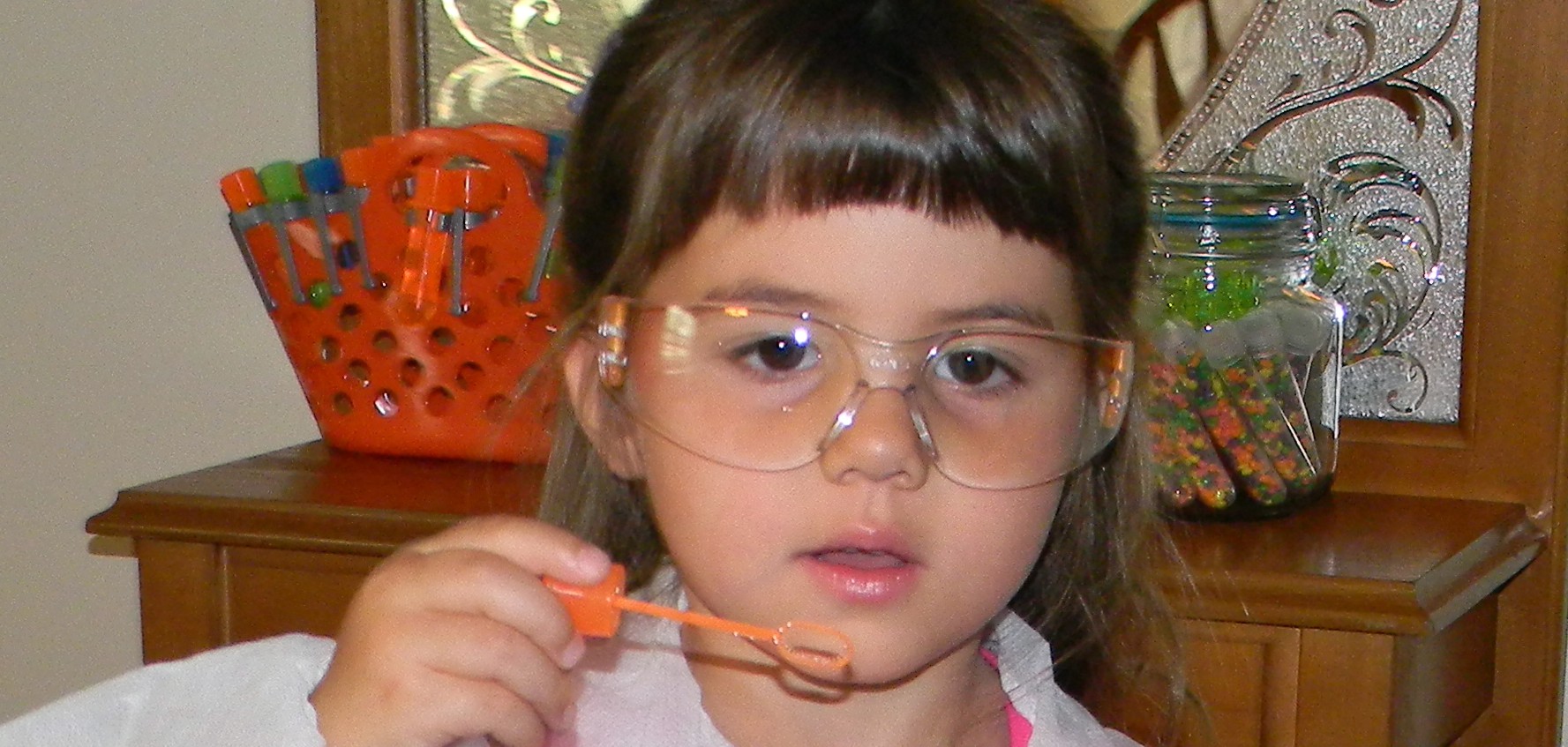 (Last Updated On: July 22, 2014)
My daughter had a science themed birthday party this year. I was searching for a cute gender neutral party theme, and thought science experiments would be something different and extra fun. All the kids wore labs coats and colorful safety glasses.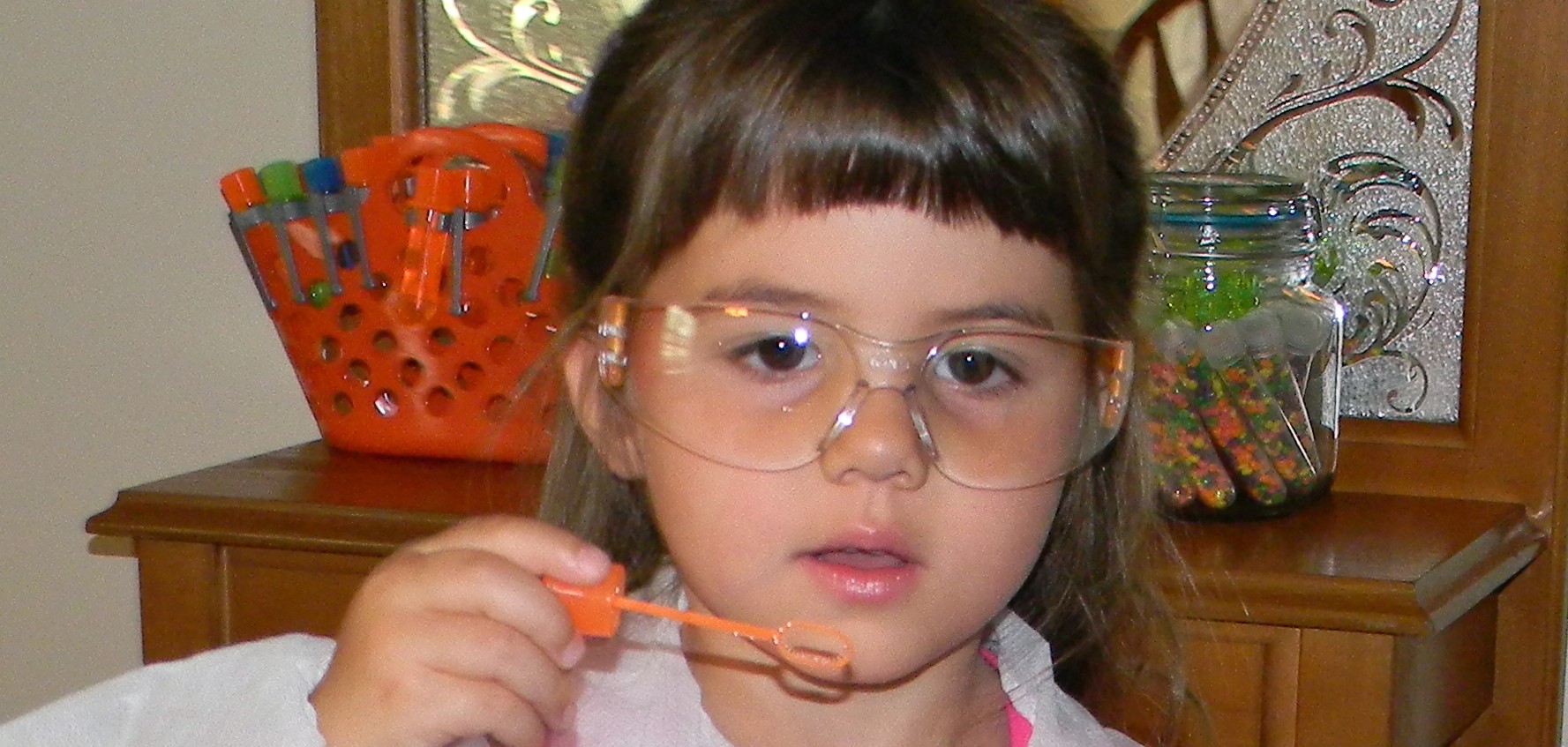 They blew touchable bubbles from test tubes, and we performed several easy experiments. We covered the lawn with mentos and diet coke, the kitchen with vinegar and baking soda. The party was a blast.
One of everyone's favorites was the packing peanuts experiment. I took an empty 14 oz. can and on the sly, filled it with acetone. I had a large (2x3x2 ft) box FULL of packing peanuts sitting in the garage. I asked the kids how many packing peanuts I could fit inside the can. "Two?" "Ten!" "No, twenty!" Tiny voices shouted out estimates. I dropped a small handful into the can. The green styrofoam peanuts instantly disappeared. I added another larger handful, then another. Eventually, kids crowded around me, and we were all shoving packing peanuts into this little can as quickly as we could. They were disappearing as fast as we could get them into the can. Everyone was amazed, including me. I knew what it would do, but didn't know how fast or that it would seriously devour the entire box of packing peanuts in minutes. Science is fun.
But the image of that empty can just consuming everything has really stuck with me over the past couple of months. God used this experiment as a tangible object lesson for me. That can represented my life, my heart.
Since my childhood, I've had a roaring emptiness inside me. Some of it has been there since the first day of kindergarten when my classmates teased and ridiculed me. I was bullied literally from the first day of school, coming to believe I was too weird and ugly for anyone to like me, too disgusting for anyone to love. Since that time, I've never felt like I belonged anywhere. As a teen, trying to fill this yawning hole in my heart led me to make poor decisions. I longed for some social acceptance and sought it through a string of boys who further emptied my cup of self-esteem through various forms of physical and verbal abuse.
Of course the more I tried to fill my heart with the things of this earth and my flesh, the emptier I became. I tried to fill it with partying, drinking, men. Not only did nothing satisfy the aching need inside of me, the shame of my actions only tore at me more and more.
I had accepted Christ when I was six, but, after decades of falling away, I only became a disciple a few years ago after God had been gradually working on my heart for years. I can't remember the date, but I can pinpoint the moment the Holy Spirit truly opened my eyes, helped me understand God's love for me and others. I've realized now that my whole life, from boyfriends to husbands, even to adopting my daughter, I've been trying to fill my heart with things or people.
Holding my daughter's little girl body, my heart bursting with love, I realize she is already 4, growing up way too fast, and even though she'll always need me to some extent, being her mommy is only a temporary identity. I must have a permanent identity in Christ.  Loving her has come the closest, but even that falls short. Nothing of this earth can come close to a relationship with God. There's a hole in my heart that can only be filled by You, Lord.
This may seem like a strange praise song. But the lyrics, can completely be pointed toward God. As I listen to it over and over now, writing this blog, I am teary-eyed, praising God for finally showing me the futility of my hamster-wheel-life, for softening my heart and teaching me to let Him fill my needs, be my comfort, my truth.
Life's ambition occupies my time
Priorities confuse the mind
Happiness, one step behind
This inner peace, I've yet to find
Rivers flow into the sea
Yet even the sea is not so full of me
If I'm not blind why can't I see?
That a circle can't fit in where a square should be
There's a hole in my heart
That can only be filled by you
And this hole in my heart
Can't be filled with the things I do
Hole hearted
Hole hearted
This heart of stone is where I hide
These feet of clay kept warm inside
Day by day less satisfied
Not fade away, before I die
I spent years chasing ambition, earthly priorities, 'happiness', but could never find lasting peace. Why couldn't I see that I couldn't fill that hole with the things I do? My sin and pride had hardened my heart to such an extreme I was almost purposefully self-destructing. When I was near to crushed, I would call out to God, but, once the storm had passed, get distracted by self and flesh yet again. This last time, my husband's fourth deployment, his absence during our daughter's first year, his year in combat, another long separation, had just about destroyed us both. I called out for God in desperation, brokenhearted.
Psalm 34:18
ESV
"The

Lord

is near to the brokenhearted and saves the crushed in spirit."
And He, beautifully, pulled me out of my sin, graciously wrapped me in His arms, comforting me, drawing close to me.
James 4:8
ESV
"Draw near to God, and he will draw near to you. . ."
God is putting verses, wisdom, and people in my life, showing me that He loves me and is calling me to Him. I am learning that I am forgiven and redeemed by grace, no sin too great to forgive. He continues to demonstrate that He is my portion, my comfort.
Ephesians 2:8-9
ESV
"For by grace you have been saved through faith. And this is not your own doing; it is the gift of God, not a result of works, so that no one may boast."
As a Sunday school kid, raised in a Christian home, I should have known that I couldn't fill my heart with my works, that I couldn't ever do enough to earn salvation. It is a gift. He takes us as sinners, and cleans us up.
2 Corinthians 5:17
ESV
"Therefore, if anyone is in Christ, he is a new creation. The old has passed away; behold, the new has come."
My heart sings these words. What freedom to know that Christ has washed me clean, my old self has passed away. I am new in Him. And this glorious truth, brings me to His feet, wanting to learn, to follow.
Proverbs 3:5
ESV
"Trust in the

Lord

with all your heart, and do not lean on your own understanding."
My own understanding got me nowhere fast. I was broken and so violently destructive that I was unwittingly breaking everyone around me. God put my daughter in my life because He knew that my love of her and for her would challenge me to want to give her a heart full of Jesus, to do my best to protect her from the empty life I've lived.
Psalm 51:10
ESV

"Create in me a clean heart, O God, and renew a right spirit within me."

What a fantastic prayer. I am a new creation, and God will clean my heart and renew my spirit. I don't have be a slave to my sin or shame anymore.
Hebrews 10:22
ESV
"Let us draw near with a true heart in full assurance of faith, with our hearts sprinkled clean from an evil conscience and our bodies washed with pure water."
I was talking with my closest unsaved friend the other day. He said, "Man, you Christians must feel so beat down all the time from not being good enough."
Ephesians 4:18
ESV
"They are darkened in their understanding, alienated from the life of God because of the ignorance that is in them, due to their hardness of heart."
My heart broke for him, knowing that he is still in that struggle with the emptiness inside. I've been there.  Yet, I rejoiced that he opened the door to tell him the Truth.
2 Corinthians 4:6
ESV
"For God, who said, "Let light shine out of darkness," has shone in our hearts to give the light of the knowledge of the glory of God in the face of Jesus Christ."
I said, "You might think that from the outside, but there is freedom in God's grace, acceptance in His forgiveness. I don't have to be good enough. I can't be. I just have to accept God's gift and follow Him." I can't know if he could hear me, or if his heart softened towards God at all in that moment, but I can pray that continuing to let God fill my heart, be my portion, lead my life can be a light to others still lost in their sin.
And be grateful . . .
Romans 6:17
ESV
"But thanks be to God, that you who were once slaves of sin have become obedient from the heart to the standard of teaching to which you were committed,"