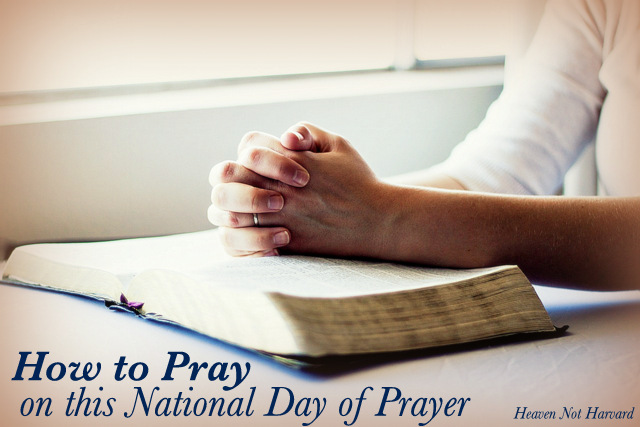 (Last Updated On: May 5, 2016)
Today is the National Day of Prayer. My daughter was born on the National Day of Prayer a few years ago, which has made it special for me even when it doesn't fall on her birthday. I always take time to pray today.
With everything in the news #NeverTrump and #DropOutHillary and #BoycottTarget, ISIS, Planned Parenthood, and earthquakes worldwide, I feel overwhelmed.
How do I even begin to pray on this National Day of Prayer?
Just begin. That's it.
Romans 8:26 ESV / Likewise the Spirit helps us in our weakness. For we do not know what to pray for as we ought, but the Spirit himself intercedes for us with groanings too deep for words.
We don't have to know what to say. Fancy words are nothing to the King who knows our every thought, just lift up your voice and pray with a worshipful and humble heart.
Don't know where to start to pray this National Day of Prayer? Just starting is a start.
Click To Tweet
What should I pray for?
Pray for our nation. This year, our nation feels antagonistically polarized. America's history is complex and muddy, but started on the premise that people wanted to worship God in deeply meaningful and personal ways. We need to be in prayer that Christians will truly focus on knowing and seeking God's will above all other agendas.
2 Chronicles 7:14 ESV / If my people who are called by my name humble themselves, and pray and seek my face and turn from their wicked ways, then I will hear from heaven and will forgive their sin and heal their land.
Pray for the church. The church is the body of Christ, every believer everywhere, not just the buildings we attend for fellowship. Pray Godly leaders are bold enough to speak the truth and for flocks to embrace convicting and sound teaching.
2 Timothy 4:3 ESV / For the time is coming when people will not endure sound teaching, but having itching ears they will accumulate for themselves teachers to suit their own passions,
Pray for humble Christians to know the difference. It's easy to listen to someone preaching what you already do or think is okay. It's hard to choose to hear someone who challenges you to walk away from everything that isn't pursuing God.
Pray for your pastor and personal church here by name. I love how praying for someone softens my heart and opens me to loving them or seeing how I can fill a need.
Pray for your personal walk. Praying for myself is something I've struggled with, but the prayers that have changed my world the most were the prayers that asked God to change ME the most.
The prayers that changed my world the most were the prayers that asked God to change ME!
Click To Tweet
I pray to have God's perspective in my daily life. Having His vision for my marriage, my home, my parenting takes the SELF right out of the equation and lets me give my fears and struggles to Him.
I pray for time to be in God's world daily, to strengthen my faith and convictions, to help me understand how to put on the armor of God in all things.
Above all things I pray for humility and wisdom.
James 1:5 ESV / If any of you lacks wisdom, let him ask God, who gives generously to all without reproach, and it will be given him.
Because when I come to the foot of God's throne with abject humility in my heart, I find His peace, love, & grace. Everything else fades away.
2 Corinthians 1:11 ESV / You also must help us by prayer, so that many will give thanks on our behalf for the blessing granted us through the prayers of many.
Paul knew the power of many people praying together.
I hope we can join in prayer together today. Please, share your prayer requests in the comments.
[jetpack_subscription_form subscribe_text="Enter your email address to get more of this encouraging content!"]