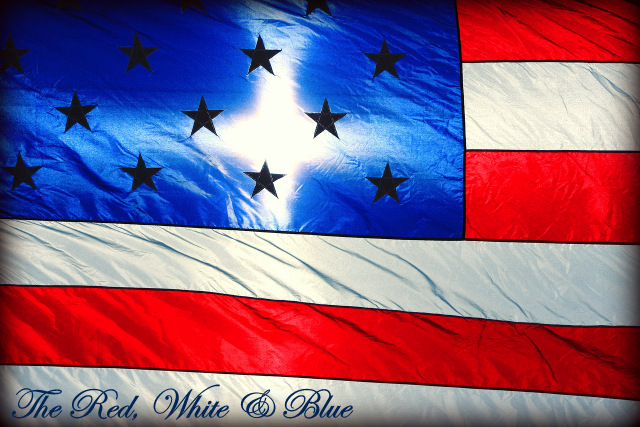 (Last Updated On: July 4, 2016)
Red, white & blue are the colors of the day. Flags will wave more today on American soil than any other day of the year. And every country music station will be streaming "I'm proud to be an American."
And I am.
More so as a military wife because I live the sacrifices we honor on days such as these: Memorial Day, Veterans Day, Flag Day.
In fact, my husband won't see us today. He kissed me a sleepy goodbye at 5 a.m. and will be home tomorrow. We have our share of missed holidays due to his service to our nation.
We miss weekends, we miss birthdays, Valentine's Days and anniversaries. We've lost years of growing together. I know he has paid a huge cost to keep us free in his heart and with his body.
So regardless of the politics of our nation, I understand the pride of honoring those who've sacrificed to serve this unique nation of freedoms.
But maybe we should be celebrating another red, white & blue.
Yesterday in church, I wondered if American Christians have placed too high a priority on our patriotism over our real citizenship.
Have American Christians placed too high a priority on patriotism over our eternal citizenship?
Click To Tweet
As we stood in worship singing, "Nothing but the blood," I realized the real freedom RED represents is the blood Christ shed to redeem humanity, to redeem me.
What can wash away my sin? Nothing but the blood. The imagery was graphic as I thought about how American soldiers have shed blood to secure my rights to live and worship freely, something I will never take for granted, but I was overcome as I sang thanking Jesus for my eternal freedom.
What red could ever mean more than that?
His sacrifice washed me
white as snow

.

When my Abba, Father God looks at my life, He sees only the purity of His Son in my stead. The black sins that covered my past in shame are purest white today.

The blue field of stars reminds us of the heavenly places to which we turn to worship, which we will someday call home with Christ our savior.

I celebrate the unique freedoms of our earthly home today and the Christian foundation of our country, but given the polarizing crises facing us politically and culturally; I realize my U.S. citizenship is temporary. No matter how much I love America, nothing will ever compare to my commitment to His Red, White & Blue.

[jetpack_subscription_form subscribe_text="Enter your email address to get more of this encouraging content!"]