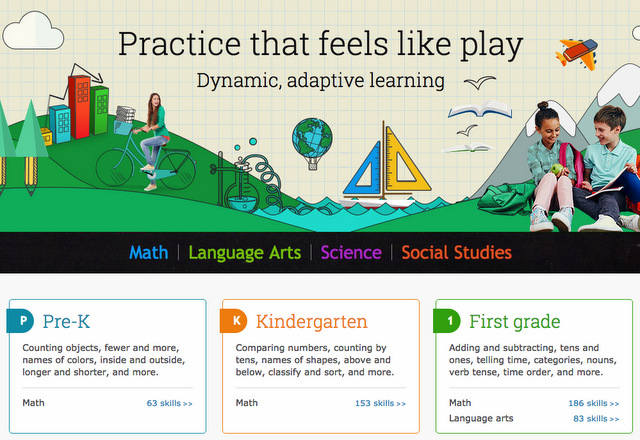 (Last Updated On: August 5, 2016)
Finding excellent learning websites for kids can be trial and error, so when I find a secret gem, wonderful and worth using, I want to share it!
It's back to school time and parents everywhere are hoping to empower their children to rock this school year.
Whether your children do school at home or in a more formal setting, we all want our kids to learn and love to learn, but we don't always feel qualified or capable to help.
From backpacks to new glasses, we want to equip our kids to do well this school year.
Click To Tweet
Even as a certified high school teacher, educating my own child can be a bit overwhelming. Did I cover all the skills she needs? What if I miss something? Did I give her enough practice? and am I doing this right? (Especially in math, my own weakest subject!)
Learning websites for kids can be a wonderful way to supplement your child's education and give educators peace of mind.
But there are so many!
A google search  of 'learning websites for kids' literally brings back 33 million search results.
Out of 33 million search results for learning websites for kids, don't miss this secret gem!
Click To Tweet
As we finished kindergarten, I was searching for online assessments to make sure my daughter's skills were on target and saw one of IXL's banner ads.
IXL is the world's most popular subscription based learning site for preK-12.
But I had never heard of it.
When I looked at their site and sample questions, I was hooked.
All the practice drills are separated by the exact skill being measured, so I always know what the question is really testing. When she finishes a subject area, I can see her usage, trouble spots, question log, and progress.
And she reveals awards for every skill completed successfully, like virtual surprise stickers, which are a great motivator!
I contacted them at once about reviewing their site. They did offer me a subscription so that I could try all their features for the review, but I plan to pay for a continuing membership – this site is THAT good!
Expertly correlated to every state's standards, IXL is a leader in educational websites.
Click To Tweet
Each grade level subject area is broken down into sequential skills that scaffold toward the next skills, so I never have to worry that she has missed a crucial lesson or doesn't understand a concept.
Educator geek out -Every grade, pk-12, has its subjects correlated to your state's standards. Simply choose your state from the map or drop-down box.
I found very little not to love about IXL. My primary criticism is pre-k, kindergarten and first grade do not have all four core subjects available at this time, but I know they are working on adding them.
Having all the answer choices adjusted to fit the screen would limit the need to scroll, especially when it isn't clear how many choices there are. Additionally, I wish when she clicked on "keep practicing," she was immediately directed to the next skill instead of back to the rather formal looking list of skills.
But these are very minor concerns for me.
Why is this worth paying for?
IXL's learning website is excellent for students who don't always fit perfectly into one grade level box. We have access to all subjects and grade levels with our subscription.
Also, the content is varied, so students don't see practice questions repeated, which means you can know your student has really learned a skill, not just memorized the correct box to check.
They even have an iPad app. I believe, iPhone and Android are in the works.
Value – While some free sites offer some of this content, none that I've found offers this level of quality or comprehensiveness in all the varied subjects as IXL.com does.
Other web-based educational sites can cost $19.95 or more per month, for less than the equivalent of 4 months of those subscription services, we can get an entire year to learn and practice.
Classroom Teachers
IXL is expertly created to be internally and externally validated as a skills practice and assessment tool.
All that time trying to sort data from assessments to see how my students are doing is done for me, by the site. IXL breaks down which question or question type students are failing, as well as what percentage of students have achieved mastery or proficiency.
Additionally, IXL has a professional community to offer support and suggestions for using the site.
Lastly, my daughter loves it. She really enjoys playing on the site. She is excited about learning, revealing her awards, and having fun.
[jetpack_subscription_form subscribe_text="Enter your email address to get more of this encouraging content!"]