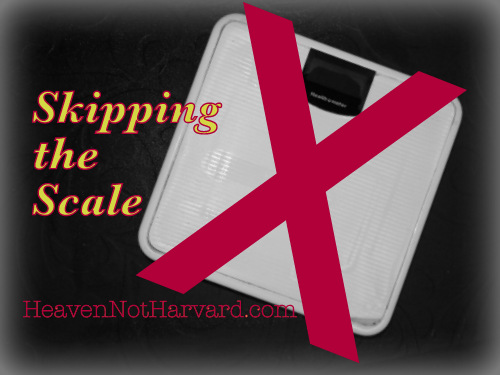 (Last Updated On: January 16, 2015)
Has your news feed been filled with friends making New Year's Resolutions? Ads for diet pills and gym membership seeming to overtake every commercial break? I feel a bit bombarded. I can't remember a time I didn't start the new year wanting to lose weight. I might have been twelve. Some years, it's been a few pounds. Other years, January first has started a desperate attempt to drop half of a normal human being. This is one of those years.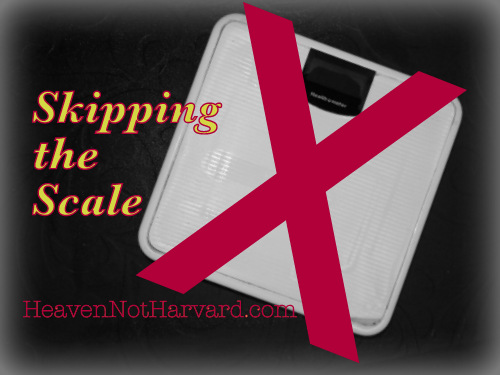 I may not be normal; it's hard to tell from inside my own head, but being overweight makes me feel like less of a person, not just less valuable, but sincerely, valueless, exacerbating my reclusive tendencies. I have actually had the thought that I should stay home from this event or that trip or even church because no one should have to look at me, or How can I be an example of a Godly woman and be overweight? At times, I really embrace the work God is doing in my heart and life, knowing He gave me every bone, joint, hair, and tiny strand of DNA for a purpose, for His purpose. This thorn in my side may be how the Lord is keeping me humble (2 Corinthians 12:7), keeping my eyes focused on Him, or it may just be part of being human and imperfect. Living each day focused on His purpose is healing, but still I have struggled with facing the scale. The past two years, health issues and physical setbacks have conspired with genetics to make my weight a singular issue in my life, but I've probably been weighing myself daily for 15 years. Following New Years, I considered skipping the scale. I actually had the thought, 'but how will I know how to feel about myself?' That was when I realized how dependent I had become on the scale for my daily self-esteem, and I had to say enough. Weight is not a measurement of my worth. I wouldn't judge anyone else that way, and God certainly doesn't. And I cannot continue to define myself based on three red numbers on a digital display.
1 Samuel 16:7b
ESV
".  .  . For the

Lord

sees not as man sees: man looks on the outward appearance, but the

Lord

looks on the heart."
I've reached a point in which I have to decide how I want to live. Spending each day depressed because I'm not a certain size is BUNK. I'm done letting the scale dictate how I feel about myself. The only numbers I should let define me are the verses of God's promises and provisions.
1 John 3:20
ESV
"For whenever our heart condemns us, God is greater than our heart, and he knows everything."
What will happen if I don't weigh myself every day? What will happen if I don't weigh myself at all? Can I learn to live without focusing on my weight? What if I just make food choices without looking at the instant results on the scale the next morning. Can I really spend a year skipping the scale? And what will I learn in the process? I know all the healthy answers, but nothing, short of the strictest diets, works for me. One cheat day will erase a month of hard work. I dieted insanely strictly for five months and lost 15 lbs. One week of normal meals and a few desserts, and I gained 10 lbs. back. I wanted to cry. But do I let this one area of my life define the sum of me? I am enough the way I am today. I was a good wife and mother today. I gracefully juggled all the parts of my life as a woman, wife, mother, friend, employee, writer, and daughter. I was loving and kind. I balanced being fun mom with building blocks of discipline with a strong-willed four-year old. I was able to end a busy day in a better mood than when I started, with enough energy and patience for bedtime (major mommy victory there)! I look at the work God has done in me that made today possible, not just possible, but the norm. And I remind myself that this new quietness and gentleness and joy have made me so much more beautiful than dieting ever did. I'm starting to look more like Him.
2 Corinthians 3:18
ESV 
"And we all, with unveiled face, beholding the glory of the Lord, are being transformed into the same image from one degree of glory to another. For this comes from the Lord who is the Spirit."
I'm really committed to spending this year skipping the scale. I moved the scale out of my bathroom and put it away. I think learning to rest my heart in who God says I am is going to be a journey of letting go of worldly values, focusing on choosing to be Godly and healthy and let the numbers be what they are. While weight may be my personal issue, many of us struggle with the world's definitions of beauty or womanhood or friendship or motherhood that invade our hearts and minds. We fight a desperate war of attrition, but gradually, we are sanded away, ground down from squares into 'proper' pegs. But that isn't who God says His children are. I find it helps to get into the Bible and find confidence in being God's.
Proverbs 3:26
ESV
"For the

Lord

will be your confidence and will keep your foot from being caught."
So I'm gonna skip the scale this year as much as possible, and put my confidence in things that really matter. I'm gonna eat ice cream, but walk more. I'm going to order pizzas, but chase my daughter around the yard, ride bikes, and play. I'm going to live at this weight not wait to live.