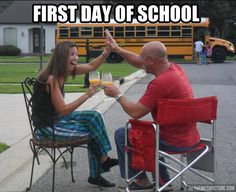 (Last Updated On: August 11, 2014)
For the past couple of weeks, the ads have started popping up on television. Back to school fliers seem to be everywhere, and school supplies began taking over the shelves at Target and Wal-Mart. As a high school teacher for 17 years those were rarely welcome signs; I enjoyed my quiet summer vacations, reading by the pool or lake. Of course, once I became a parent, quiet summers became ancient history, but there is something special to love in the noisy chaos of kids.
Then this morning, I was greeted on Facebook by this image.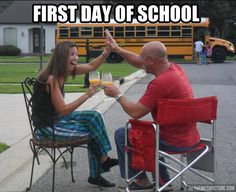 But this isn't how I feel about the end of summer. In fact, this isn't how a lot of my friends feel about it either. The end of summer means part of our hearts gets ripped out and flown across the country.
For most of ten months of the year, my family is just the three of us, Mommy, Daddy, and Snicklefritz. Then for two glorious months, we are five. My husband's sons stay with us for the entire summer. It is wonderful. While parenting two additional children part-time comes with a bucketful of challenges, those boys are truly loved here.
They aren't a burden or a difficulty. They are our family. They roll their eyes at chores, wrestle too hard with their sister, break things, spill stuff, laugh loudly, play endless fetch with the dogs; they are bottomless pits of hunger. They make messes and share cleaning up. They hunt and fish with their dad and learn to cook with both of us. They can spend an entire day playing with Legos or finding toads and frogs in the yard. They watch dorky tv with me way past bedtime. We share private jokes and quiet times.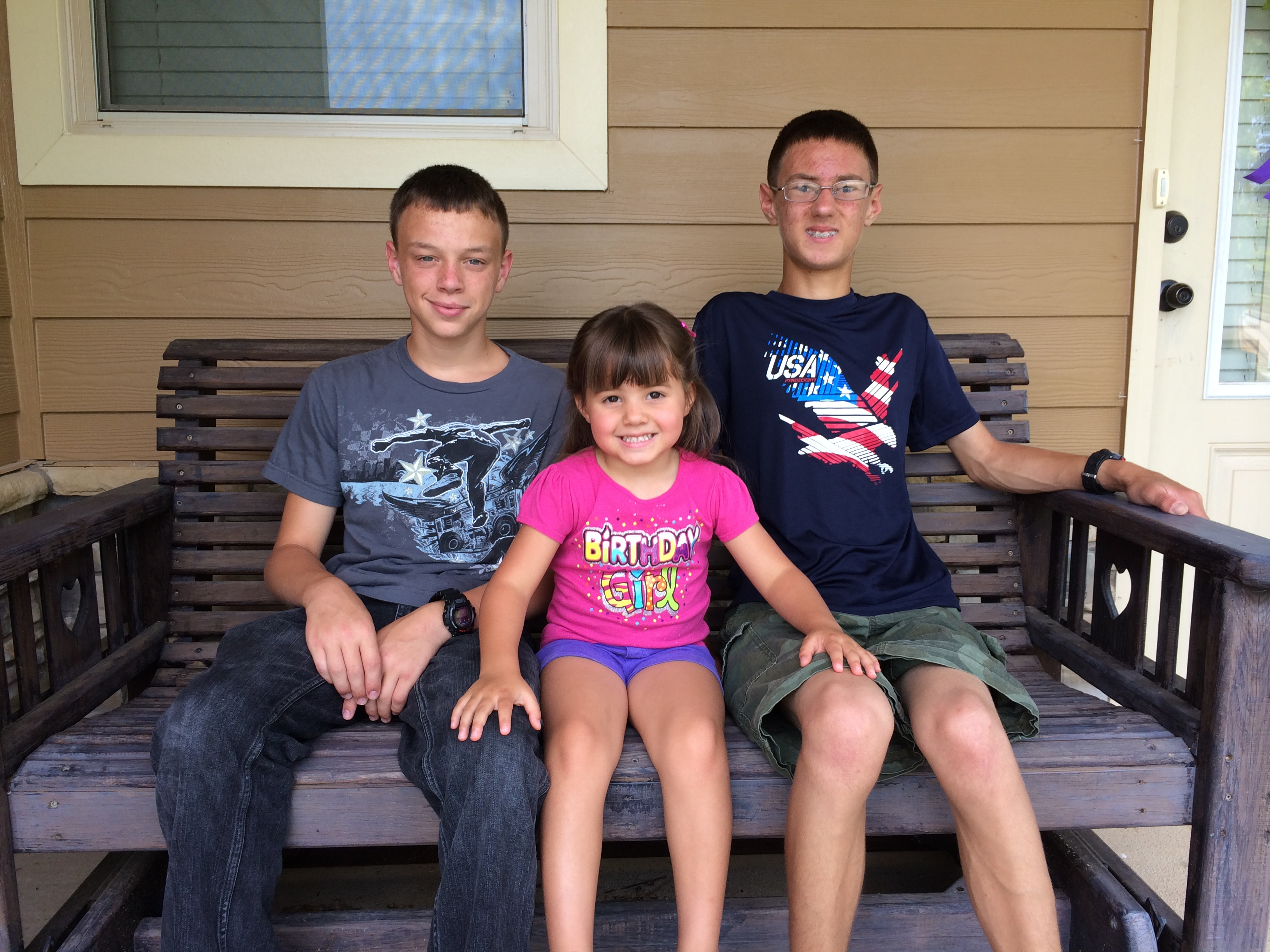 Sending them home is always hard. It is especially so after the two months of summer when we get used to each other, create routines, and gradually rebuild a comfortable rapport. Since adopting our youngest, an additional dynamic has made an appearance. I thought dealing my own grief over their leaving was hard enough, but watching her reach the understanding that her brothers are gone for most of the year is additionally difficult. She doesn't understand the complicated dynamics of divorce and custody agreements. She just knows the boys go home. Last year, she stood at the bottom of the stairs yelling for them to come down every morning for a week; the year before, she just sobbed sitting on the bottom step off and on for days.
So far, she has done better this time, but for me it has been especially hard. This summer was the best we've ever had as a family. We didn't have funds for a fancy vacation or lots of trips to the movies or even eating out. We just tried to sit at the table together every night. We played games and talked. We sat outside watching the hummingbirds. We swam in the pool, having massive water fights with floating fortresses of floatation devices. We laughed. We talked. We were a family.
Learning to be a better Christian has led me to being a better parent to all of my children. Becoming closer to God and Christ has helped me understand what a gift God's grace truly is. Grace is being forgiven because I accepted it, not because I deserve it.
Ephesians 2:8
ESV
"For by grace you have been saved through faith. And this is not your own doing; it is the gift of God,"
Before I truly acknowledged God's grace and forgiveness, I couldn't share it with anyone. I held everyone to the ridiculous standards to which I held myself. When I really accepted God's grace for me, I was able to extend it to others, especially my husband and family. The gift of being able to give away grace, to see beyond someone's sin, is almost as much of a gift as God's grace itself.  My relationship with both boys has blossomed because I am more able to see them from God's perspective. I see them wanting to be respected as young men. With God, it was a simple decision to respect them and their emotions, time, and personalities even when their momentary decisions were wrong.
I was able to find humility which asked for respect for my position as a parent instead of demanding it as deserved, humility in being able to admit when I make a mistake or didn't communicate as clearly as I thought I had. I even learned to have humility in being right. I didn't have to prove I was right to end an argument. I took the time to teach and instruct so they could be right next time.
James 4:6
ESV
"But he gives more grace. Therefore it says, "God opposes the proud, but gives grace to the humble."
Being able to extend grace to them made our summer a million times better, which is why I wanted to make the last week so much fun. We had a movie day in pj's with popcorn for lunch. We celebrated as many food holidays (our family summer fun activity) as we could, trying to fit in the rest of the month of August before they headed home. We stayed up late, ate brownies for brunch (after scrambled eggs and orange slices). We played gross teenage board games at dinner, indulged in turtle ice cream pie and s'mores, watched marathons of our favorite dvr'd shows.
But before we knew it, the day was here. They were getting on a plane. Before their father took them to the airport, I hugged them both fiercely and said good-bye calmly, but they hadn't seen me sobbing over the dishes the night before or teary-eyed after game night. Yet, even in my tears, I searched my faith instead of trusting my fallible emotions. Sometimes, I'm tempted to ask why God doesn't prevent sad, awful, miserable, or tough things from happening. But if I believe He has a plan for me, the strength or patience I learn through suffering is part of that plan.
Romans 8:18
ESV 
"For I consider that the sufferings of this present time are not worth comparing with the glory that is to be revealed to us."
Yes, letting them go is hard. My heart is sad. I'll cry. But I can choose to be stuck in the sadness or claim the promise that 1) this is temporary 2) God has a plan for His glory that He will show us, all of us.
Part of parenting that all of us have to understand is that our children are first and foremost God's. They don't belong to us. God puts them in our lives for a time. Sometimes, that time is all too brief, while sometimes we get lucky and have them for a lifetime. But knowing this in our heads is so far from knowing this in our hearts. We still will grieve the letting go and struggle with missing them. And honestly, it goes too fast no matter what.
We would love to have the boys all the time. But so would their mother. Aye, there's the rub, they cannot be in two places at once. They are forever torn between two families. They have two brothers in one home and a sister in the other. I would imagine they feel forever split in half. For years, my emotions led me to make things harder because it was hard for me. I wanted them to stay. God gradually had to teach me my role in their life was what He chose, not my choosing. He helped me better understand how to love them because it was far harder on them.
John 14:26
ESV 
"But the Helper, the Holy Spirit, whom the Father will send in my name, he will teach you all things and bring to your remembrance all that I have said to you."
The Holy Spirit finally showed me that letting my emotions control me was creating tension within my marriage and between the children and me. Accepting that my role is more temporary than most mothers and is simply part-time is hard, but the Holy Spirit helped me truly find freedom in accepting that I need to just be the best mom I can be while they are here. I need to be a witness to my faith so they can see God in me. To recognize that, in the grand scheme of eternity, pointing them toward heaven is much more important than where they live or go to school. This summer, I truly spent it pointing them toward Heaven, as best as I know how to do today, with love and honesty of who I was before and who I am in Christ.
John 17:8
ESV
"For I have given them the words that you gave me, and they have received them and have come to know in truth that I came from you; and they have believed that you sent me."
I spent the summer sharing what I was learning from God. Showing them how he is changing me. And feel like that was the best choice I could have made.
I am still sad they are gone. I wish that we could be there for dances and baseball games, award ceremonies and meet the teacher nights. I will always wish for that. As a teacher, I hate that I'm not there to help with English and history homework. But I spent everyday this summer loving them as closely as I could to how I believe God wants me to.  I tried to pass on the love and wisdom God is showing me. I lived my faith in front of them through discussions about why we chose this show to watch or why I didn't behave in certain ways, by apologizing with humility. We opened the Bible and learned that God's love is the only thing that fills the emptiness inside.
God promises that He will harvest the seeds that grow on rich soil. My job is just to sow the seeds and hopefully help enrich the soil. I would rather do more, but that isn't my job. As they grow, my role will assuredly change again, but I can know that God is their God too. He desires them to know Him. He is calling them to Him.
2 Peter 3:9
ESV
"The Lord is not slow to fulfill his promise as some count slowness, but is patient toward you, not wishing that any should perish, but that all should reach repentance."
If I trust that every experience and struggle I've had will work together for my good, then I need to trust that He is working all of their experiences to their good as well. I have to trust in His infinite wisdom that they belong to Him first.
Romans 8:28
ESV 
"And we know that for those who love God all things work together for good, for those who are called according to his purpose."
And I cry with missing them from time to time, but can do so knowing that God literally understands what I'm feeling.
John 3:16
ESV 
"For God so loved the world, that he gave his only Son, that whoever believes in him should not perish but have eternal life."
God sent His son to die for sinners, murderers, liars, cheats, hypocrites, and the worst of the worst. He let His son go to fulfill his plan for mankind. I can let my stepsons go gracefully to be obedient to His plan.
Colossians 4:2-5
ESV 
"Continue steadfastly in prayer, being watchful in it with thanksgiving. At the same time, pray also for us, that God may open to us a door for the word, to declare the mystery of Christ, on account of which I am in prison— that I may make it clear, which is how I ought to speak. Walk in wisdom toward outsiders, making the best use of the time."
This summer God opened so many doors for His word and my witness with the boys. He helped me 'unguard' my heart and truly love them fully, even though letting them go is painful. He helped me make best use of our time, balancing fun and learning, and family time with quality time with each child.
So tonight, with tears in my eyes, I pray with thanksgiving for the wisdom and opportunities I had to love the boys this summer, for giving me understanding about how to make best use of our summer time.