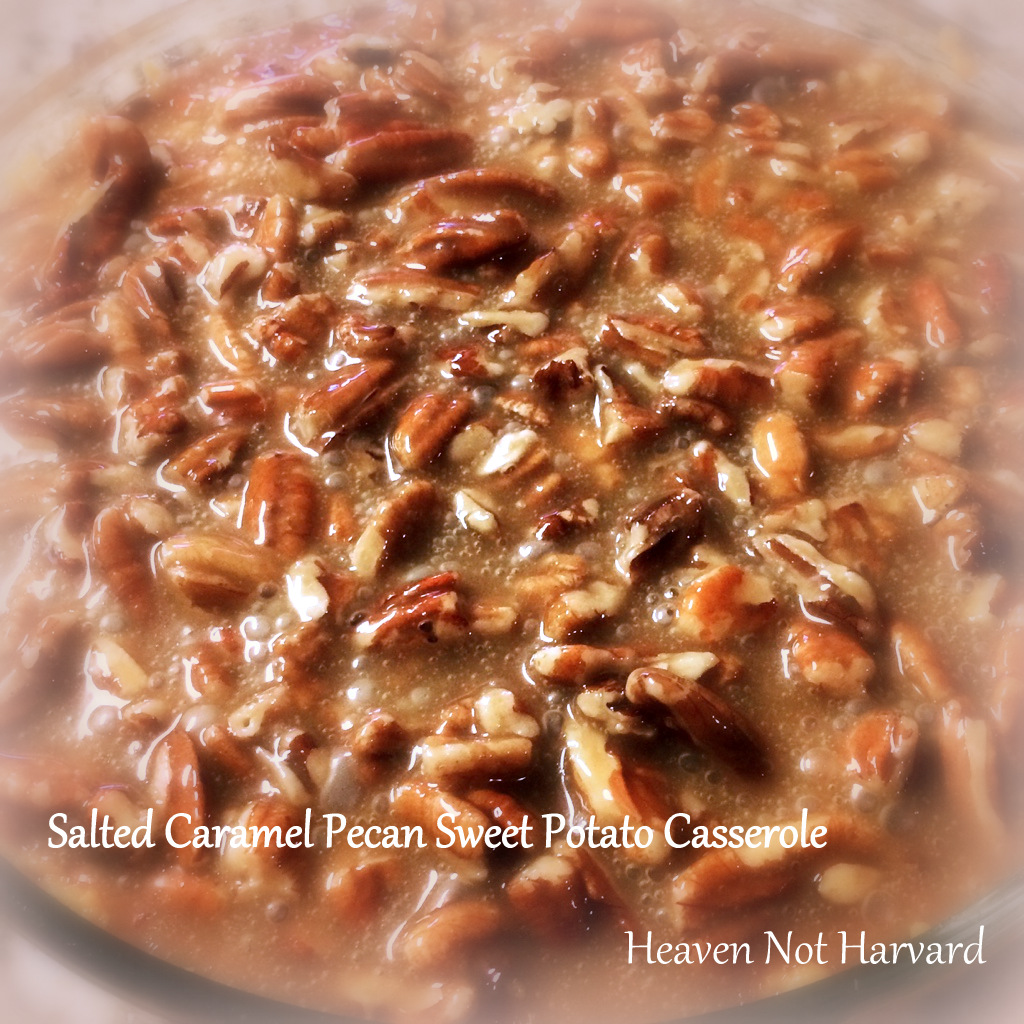 Holidays are all about the magic of traditions and memories. One of our favorite traditions is of course the food, and a magical sweet potato casserole is one of our Thanksgiving dinner must haves!
This year my daughter is finally old enough to understand the traditions I'm building around our home. She helped me set the table and fold the napkins, fussing over every fold, even for just us three.
We celebrated early this year because – ARMY, sigh. And my tiny chef helped me make our salted caramel sweet potato casserole. We like a plain sweet potato, but adding salted caramel and pecans make this casserole SING.  
Salted Caramel Pecan Sweet Potato Casserole Recipe
I'm not much for measuring. I just eyeball everything, but I used this recipe myself today and our casserole was perfection!
This recipe will fill an 8×11 baking dish or a medium casserole dish. I tend to use a shallow baking dish so the topping to sweet potato ratio is balanced, but you can decide for yourself. I like to use a pan that will go from fridge to oven to microwave multiple times for leftovers!
This Salted Caramel Pecan Sweet Potato casserole is magical and will make your Thanksgiving!
Click To Tweet
Recipe –
Approximately 6-8 cups fresh sweet potatoes cubed and boiled until fork tender or two 40 oz. cans of yams, drained completely.
Use potato masher to smash to a rough texture. Potatoes can be whipped smooth if you prefer.

If you use fresh, add 1/4-1/2 cup light brown sugar to taste. Prefer it sweeter? add more, but the topping is so sweet, I limit brown sugar in the potatoes.
If you use the canned potatoes, they are in syrup so don't need any additional sweetening.

If you want to measure, start with small amounts and taste often so you know how much to use next time.
Liberally sprinkle cinnamon over yams, add pumpkin pie spices 1/4-1/2 tsp of each: cloves, allspice, nutmeg. Then a liberal dash of salt (probably a tablespoon or two).

Stir to incorporate and spoon into your casserole dish.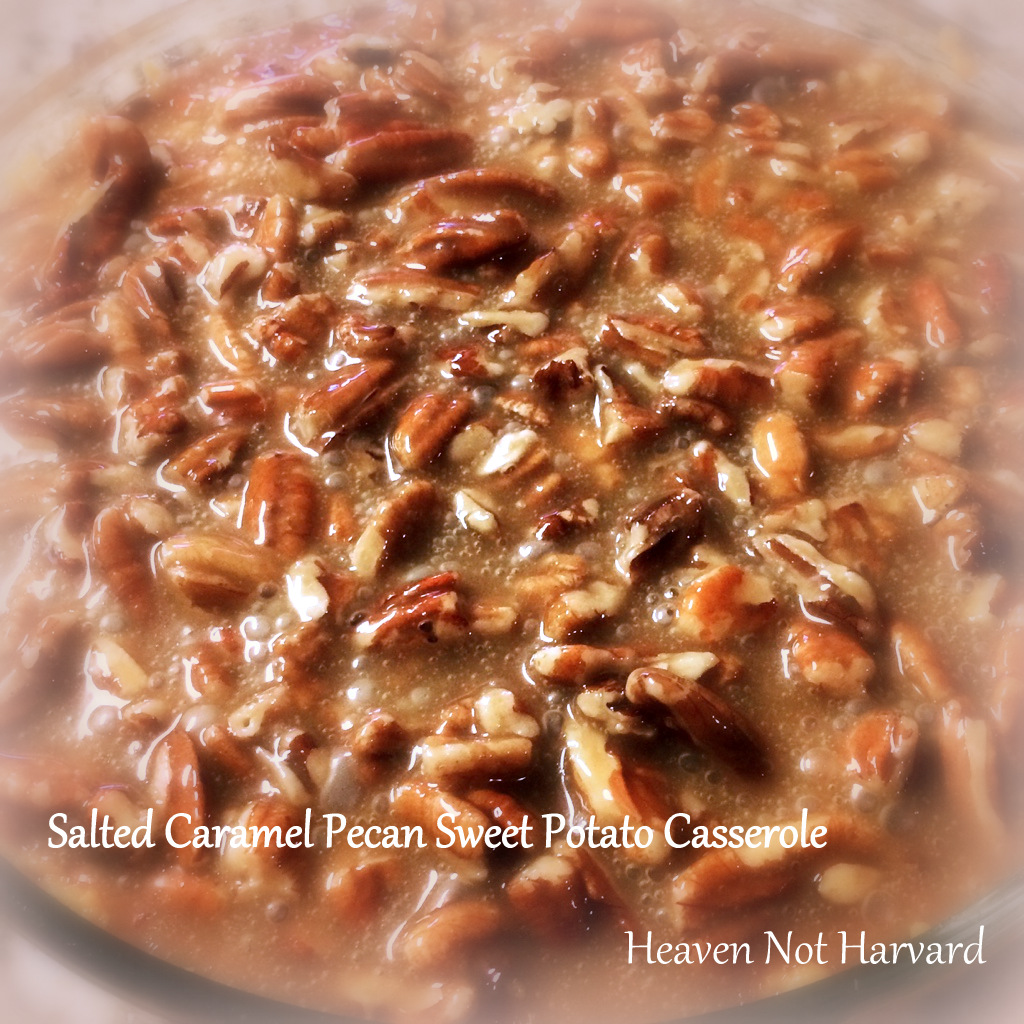 For caramel –
1 stick of butter melted in sauce pan with 1/4 cup light Karo syrup, 1 cup brown sugar. Add salt to taste. I used a liberal teaspoon of popcorn salt because it is finer and dissolves nicely.

Melt until sugar dissolves, then add pecans (about 1 1/2-2 cups)

Then salt to taste. I like mine pretty salty. Spread over top of potatoes. Bake 30-40 min. At 350 degrees. Covered for 30 and uncovered 5-10 minutes.

Looking for a special recipe to wow your family, try this Salted Caramel Pecan Sweet Potato dish!
Click To Tweet
Watching my daughter really understand Thanksgiving this year, her eyes light up at the feast and just be overjoyed that we were together was pretty special. But my favorite part of cooking for our family is watching her first bite.
If something is sweet and delicious, her eyes get wide, and then she laughs.  One bite of these sweet potatoes and she dissolved into hysteria. She giggled through our entire meal. It was pretty perfect.
We did give her time to run off all the sugar before dessert .  .  .
I hope your family enjoys this sweet potato recipe as much as mine did.
Happy Thanksgiving.
Subscribe to Blog via Email