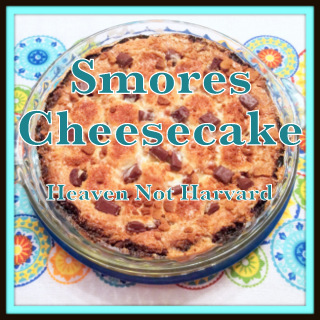 It's 4th of July. While I was tempted to make apple pie, because what's more American than apple pie? But we are making apple turnovers tomorrow for Sunday dessert, and I didn't want to do two similar desserts back to back.
What to do, what to do?
When I think 4th of July, I think BBQ and smoke and smores. Our weather has been terrible today so making smores over the fire pit didn't seem like it would happen. Instead I decided to make a Smores Cheesecake.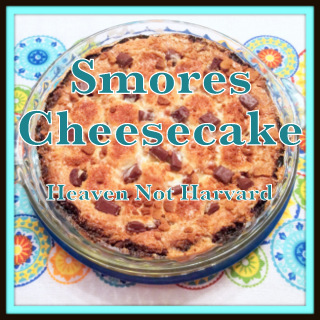 I invented this recipe, so it may need some future tweaking. Feel free to try it and share your tips and tricks.
I used a pre-made Oreo crust because that is what I had on hand and yum, extra chocolate, but graham crackers would be more in keeping with the theme.
If you want to make your own crumb crust, it is essentially 1 1/2 cups crushed graham crackers, 1/3 cup sugar, 6 tbsp melted butter combined and pressed into a pie pan, baked for about 8-10 min. at 350.
Filling Ingredients:
1 pckg cream cheese
1 bag marshmallows – large (what I had)
half bag of chocolate chunks (or more if you want)
graham crackers or graham cracker cookies -enough to cover the bottom crust.
2 eggs
1/2 cup sugar
scant 1/4 cup heavy whipping cream (milk should work) Just dampen marshmallows
lemon juice – 5 drops
Place half the bag of marshmallows on a plate and into the freezer while you prep the rest. Carefully separate. You want them frozen enough that you can cut through them easily, and the freezing will help them not overcook.
Put the other half of the marshmallows into a microwave safe bowl, pour whipping cream over the marshmallows and add cream cheese. Microwave for a minute. Add 30 seconds increments until mostly melted. Add eggs and sugar. Use hand mixer to thoroughly incorporate, adding lemon juice drop by drop and blending. You don't want to taste the lemon, just a hint of acid to cut the sweetness of marshmallows and richness of cheesecake.
Layer bottom of cooled crust with graham crackers and chocolate chunks. Pour cheesecake filling into crust. Place cut, frozen marshmallows gently around the top of cheesecake. Sprinkle remaining graham crackers crumbs and some chocolate chunks over the top as desired.
Bake 40-50 minutes at 350. My marshmallows expanded and overflowed onto the baking sheet under my pie pan. Next time, I'll probably try cooking it for a few minutes before placing the marshmallows into the mixture.
Easy ganache – Use other half of bag of chocolate chunks and a splash of whipping cream or milk to melt and create an easy chocolate drizzle if you want. Just microwave by 30 second increments and stir. Add more milk to create desired thickness.
If you try this, let me know how it turns out!