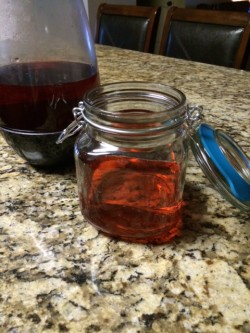 Sanctification is a beautiful process of how God cleans up the mess we've made of our lives, if we let him change what we pour into our lives.
Watch this wonderful illustration about how prayer changes darkness in our lives when we open the gates wide and pray.
What a moving illustration about how God is pouring His light into us as we pray, changing our perspective in even the darkest circumstances.
Lately, I've had one issue weighing on my heart, sanctification: being transformed into holy beings. The challenge of sin and accountability in the modern body of believers is difficult because we have to balance love with obedience to God's word.
I wrote about the process of sanctification earlier in my post The Race Set Before Us, and the struggles with judgment and criticism in Winning the Mommy Wars.
1 John 1:7
ESV 
"But if we walk in the light, as he is in the light, we have fellowship with one another, and the blood of Jesus his Son cleanses us from all sin."
Our fellowship with each other is important because we can support each other in the sanctification process. It is hard being the only person in a group to stand up for what is right.
In talks with my stepson, who has not accepted Christ yet, I share my faith. Partially, his concerns are about giving up the "fun" things in life. He is struggling with choosing Christ because of the intense peer pressure of high school and his fear of being the only one choosing not to swear or talk about sex.
I want to help him understand why I do choose to be different from the world even though, it is sometimes hard to stand for Christ.
I created this video to demonstrate my experiences in cleaning up my heart so sanctification isn't such a mystery, being appropriately transparent so he sees that my need for God too.
I don't want him to think this change in me is anything less than the miracle of Christ in my life.
I want my children to see my sanctification as the miracle of Christ in me that it is.
Click To Tweet
Ephesians 5:8
ESV
"For at one time you were darkness, but now you are light in the Lord. Walk as children of light."
We were talking about how to clean up our lives. He was overwhelmed by how daunting a task that seems.
Thanks to original sin, we humans start out pretty messy and only get worse through our contact with the world.
God wants to clean us up. He wants to set us apart for holy use, but are we preventing Him from doing that? Are we getting in our own way? I was.
What are we putting into our jar?
This video is an object lesson I created to show what we allow in our lives matters, whether it is friends, television, music or movies.
Are we filling ourselves with darkness faster than we're filling ourselves with the light?
Hard to be sanctified when we're pouring in darkness faster than we're letting in His light.
Click To Tweet
Some days, I feel weighed down by the abundance of worthless garbage the world pours into our lives. We live in the world; we can't hide from it, but we can be more cautious about what we let in.
Philippians 4:8
ESV
"Finally, brothers, whatever is true, whatever is honorable, whatever is just, whatever is pure, whatever is lovely, whatever is commendable, if there is any excellence, if there is anything worthy of praise, think about these things."
Sometimes, it isn't easy to know where to start. I decided to make one choice at a time, using Philippians 4:8 as my guide.
Sanctification is a step by step journey.
Instead of just eliminating worldly things, I started adding more Godly things: praise songs, praying, reading the Bible and listening to sermons.
I ran out of room for the world when I ran TO God, adding in good things like praise.
Click To Tweet
The more good things I chose, the less the world appealed. In time, I became truly changed, more full of God's light, hopefully a growing witness of God's grace and love.
Matthew 5:16
ESV 
"In the same way, let your light shine before others, so that they may see your good works and give glory to your Father who is in heaven."
What once felt like things I'd have to give up to be "in" with Jesus, were really weights keeping me from experiencing true freedom in Him.
I can't make my children choose God, but I can live the JOY I have in letting go of the world.