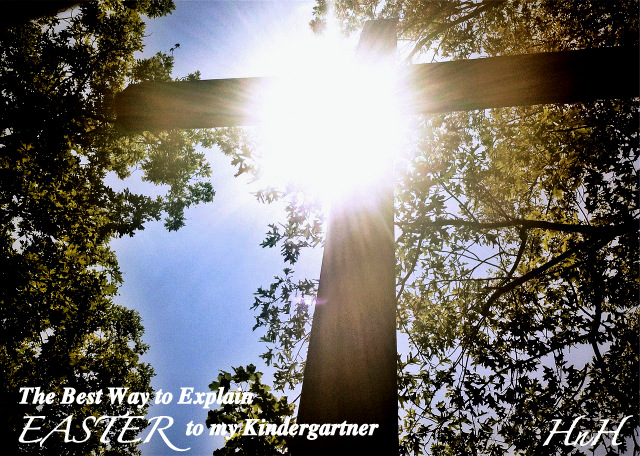 What is the best way to explain Easter to my kindergartner? She knows the story, she knows Jesus, but I want to help her understand the depth of His choice to go to the cross for us.
We've been devotionally traveling through Jesus's last week, reading about Palm Sunday, discussing how Jesus's humble entrance into Jerusalem on the donkey fulfilled ancient prophecy.
Can you imagine any of our politicians choosing that entrance?
We read about the Last Supper and Jesus's washing the feet of the disciples. Discussing the cultural significance is hard with a five-year-old, so I got out a small tub of hot water and washed her feet. She washed mine.
We ended up tickling more than anything, but learned how humbling it is to wash someone's feet, what a tender act of love it is, demonstrating how to love like Jesus, willing to serve in the humblest manner.
But when we started talking about the cross, it seemed like she had the words, but missed the message. As I tried to explain Jesus dying, she started rattling off Bible stories from memory.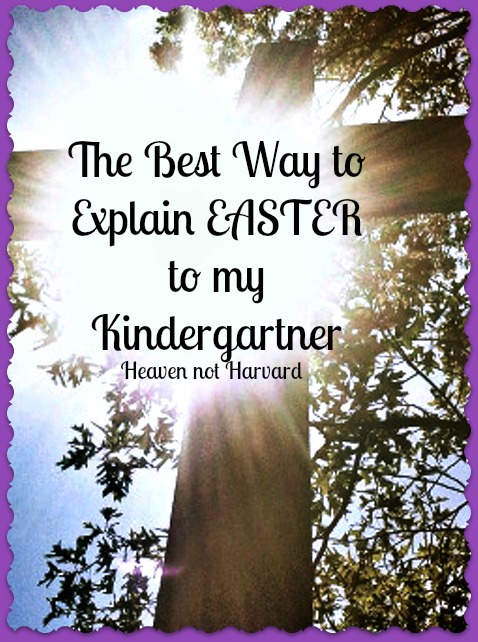 How can I explain Easter to her?
I'm glad she has those stories written on her heart, but we all need to experience Easter every year as a fresh encounter with a sacrifice far beyond what our selfish natures can comprehend.
We all need to encounter Easter as the most tremendous sacrifice the world has ever known.
Click To Tweet
So I stopped and decided to explain Easter in a way that would be more relatable for small children. I used a story, like Jesus used to do.
A few days ago, one of your friends was really naughty. Her mother told her to do something that she didn't want to do. So, she threw a tantrum and was just awful. What should her mom do? She deserves a punishment, doesn't she?
My sweet girl nodded.
 But punishment is not fun. So would you take her punishment so she doesn't have to?
She looked at me in shock, her brow furrowing, "No!"
But you love your friend, won't you help her out?
"That's not fair! I didn't do anything!" She whined.
Exactly, neither did Jesus. He never did anything wrong at all, but he took your punishment, my punishment, and the punishment for everyone so we could go to heaven. His sacrifice paid the price for our sinful choices so we can be forgiven.
Romans 5:8
ESV 

But God shows his love for us in that while we were still sinners, Christ died for us.

When we didn't deserve it, when we can't ever earn it, Jesus died to set us free.

Her eyes widened and the smallest understanding crept into them, "oh, Mom, I guess, I should think about others, I'll take her punishment, but I don't really want to."

I'm not really going to punish you, but does that help you understand what a tremendous sacrifice Jesus made for you, for us?

When we didn't deserve it, when we couldn't earn it, Jesus took our punishment to set us free. Click To Tweet

For the first time, she asked me to explain Easter, what it meant for Jesus to hang on the cross. We discussed the whipping, the crown of thorns, and the nails that held our Jesus to the cross.

Our day ended with baking resurrection rolls, a neat remembrance that the tomb was empty, Jesus conquered the grave.

I know I'm a forgetful sinner. I have to encounter Christ's sacrifice and my redemption anew all the time. I have to be brought to my knees over my selfishness, face to face with my weakness so I can better understand the strength of His sacrifice.

As a mother, I just pray to explain Easter and keep Jesus real for her everyday.
Subscribe to Blog via Email
Save
Save
Save