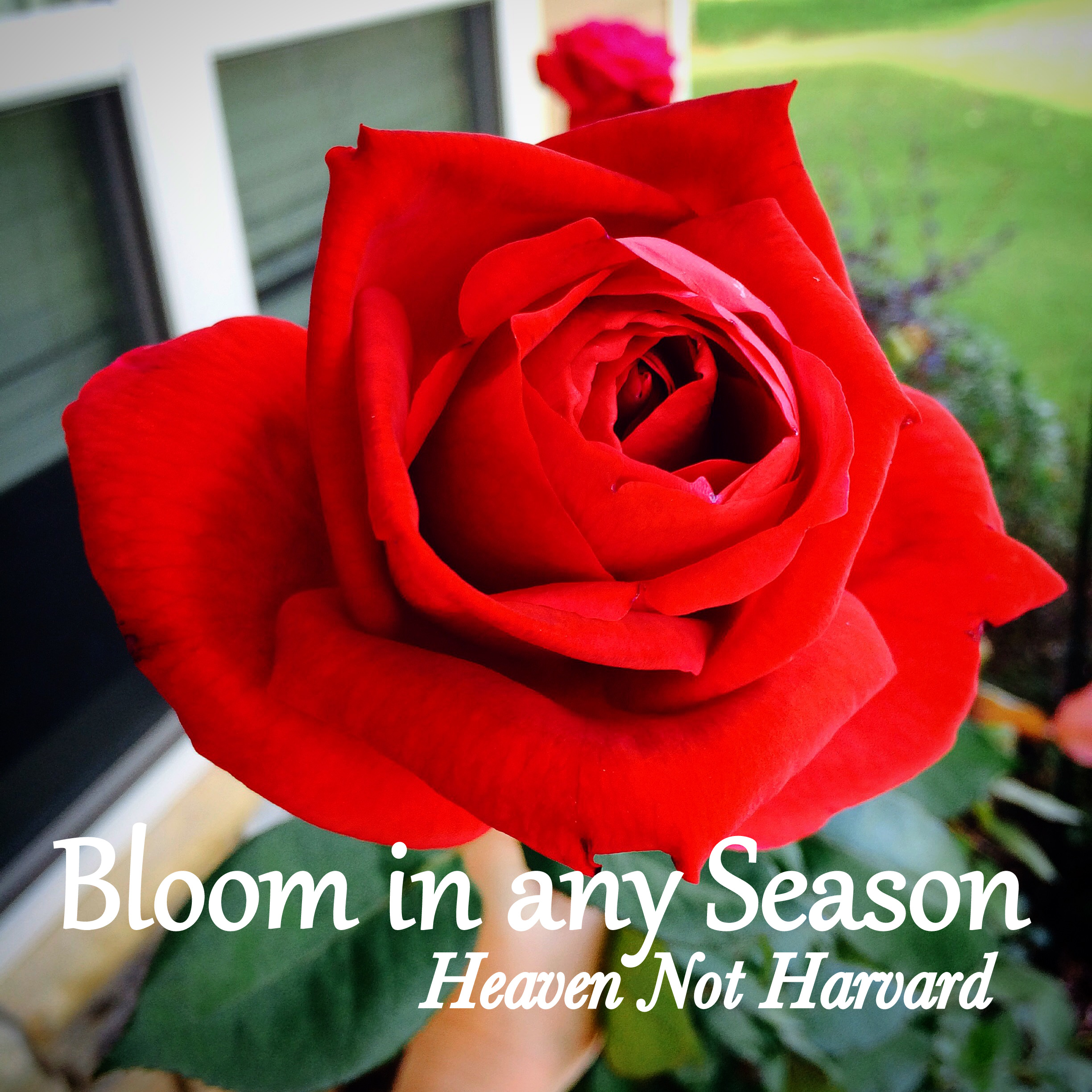 Last Sunday, I held this beautiful rose in my hand as it bloomed defiantly in November. I heard God's quiet whisper,
"Even this rose can bloom in any season."
What wonderful encouragement! I have been truly relying on God during this difficult season in the Army, tired but coping.
And isn't that when the bottom falls out? the minute we think we have it all together? the minute we try to do it ourselves .  .  .
God was encouraging me after the month we've had.
My husband has been gone 18 hour days, 6-7 days a week, most Army related but some hunting, and selfishly, I get tired of being 'all the adults.' I was on vapors, holding on desperately for a break. When making frozen pizza seems overwhelming, I've hit rock bottom. I thought I had no more to give.
But God was also preparing & instructing me for the week to come.

Monday, the text message came, "Don't expect me home."
At all, for at least 72 hours, maybe a week. No warning, no planning ahead. Just gone. Not in war, not deployed. Yet, tiny heartbreaking nights that he just isn't home.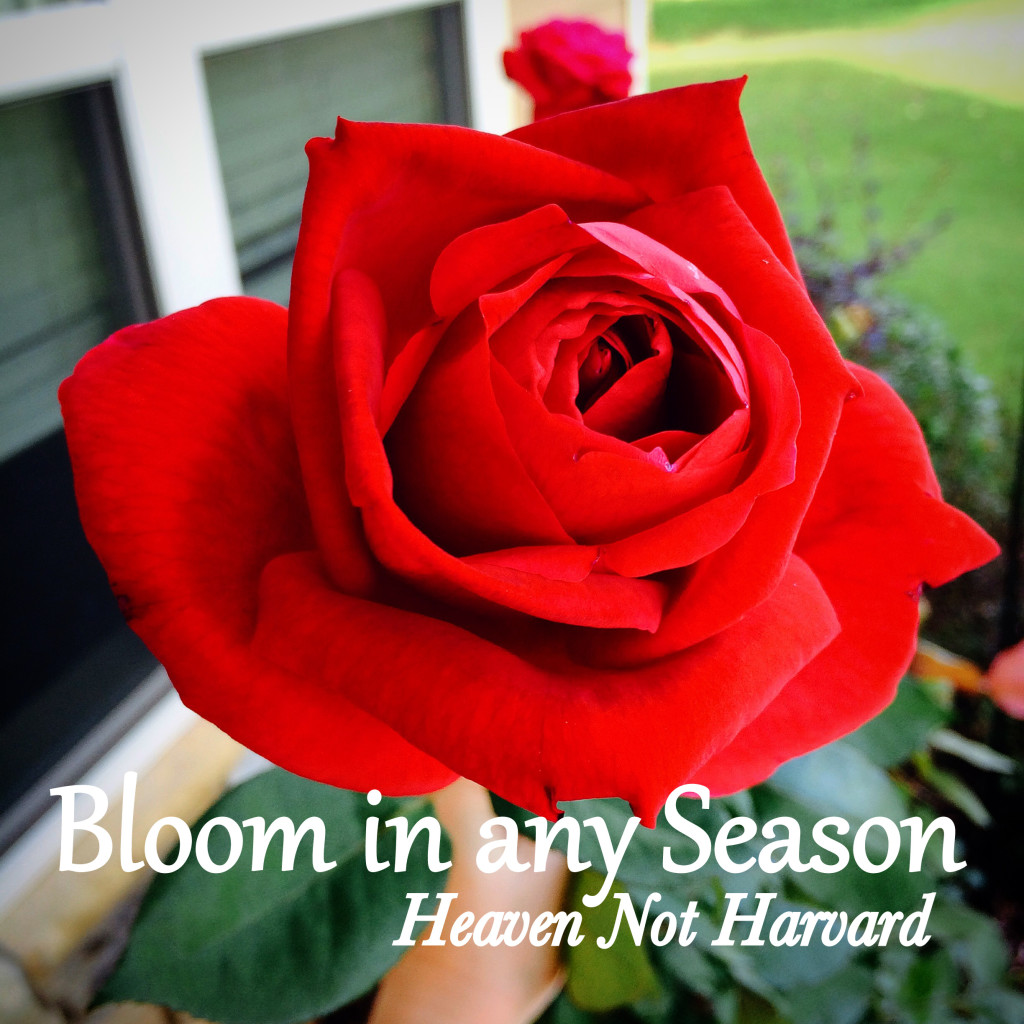 A piece of sensitive equipment (read expensive) went missing and the entire unit was put on lockdown. It wasn't done appropriately. Soldiers were left with no food, denied necessary medications, while others were let walk to the convenience store or go home to tend to pets.
My husband was stressed and furious. If there was a way to make this situation more disastrous and less compassionate, they found it. Helplessly watching it unfold via text message was so incredibly difficult. Knowing how this would ripple through every inch of our next weeks, I could feel my anxiety building.
But I tried to push it down, jump those hurdles without breathing hard. We can do this! I'm not who I used to be. I've totally got this  . . .
. . . but the pressure built inside. I could feel God mentally tapping me on the shoulder, trying to get my attention.
"Even this rose can bloom in any season."
But I didn't want to bloom. I wanted to BE MAD. I mean had a good reason to lose it, right?
By day 3, I broke my #30DaysWithoutComplaint challenge. While I tried to be strong and calm, I ran out of steam. I cried. I complained, launching into the unfairness of it all, but I didn't feel any better.
I was cooking  two separate, multi-step meals for a friend whose husband was having surgery, cooking breakfast, lunch and dinner for my house, making a week's worth of meals for my husband, plus packing a suitcase, trying not to forget anything since we live 45 minutes from his training facility.
Meanwhile I was trying to parent, home-school, check in with family, fellowship with friends, deal with accidental Facebook drama, and take care of my personal needs, like eating. And deal with a 5-year-old who was having her own missing daddy breakdown. When I would look up from the chaos, all I could see was the dust, dog hair, and general filth and clutter taking over my house.
I was running out of steam because I was trying to do it all. I. Me. ME.
Ephesians 2:8
ESV 
"For by grace you have been saved through faith. And

this is not your own doing

; it is the gift of God,"
Where was God in there? Yeah, I was giving Him a nod, keeping my exterior calm, but I wasn't giving Him the anxiety in my heart, not asking Him to guide my emotions or attitude.
NOT MY OWN DOING. I didn't change and grow through my own will, why can't I remember this?
Why can't I remember I will never outgrow needing Him?
I was trying to multi-task, poorly, trying to avoid burning down my house literally (I do have a nicely browned potholder now) and figuratively, not destroy months of work I've done living some big changes Christ is working in me.
And God whispered, you can bloom in ANY season when you live by faith. #BloominAnySeason
Click To Tweet
Again seeing the rose in my mind, I heard God calling me to bloom in THIS hard season. I opened my bible app and let it start reading to me while I worked.
James 1:3
ESV

"For you know that the testing of your faith produces steadfastness."

Just last week, I wrote about the beauty of our marriage through the testing we've survived, the way we've learned to rely on each other. So did I mean it?

When I wanted to cry, I said, God "let me put down my agenda for this week and pick up YOURS."

My prayers changed from bring him home to 'how can I be calm despite the storm, help me prioritize,  and be a blessing and encouragement to my husband and friends.'

Why can't I remember I will never outgrow needing Him? Can't do this life on my own. #BloominAnySeason Click To Tweet

It was draining and emotional, but I managed to focus on one moment at a time and to be a blessing when my husband finally came home frustrated and exhausted.

Instead of demanding he talk, I let him work through his feelings. When he was sharp, I took a deep breath instead of firing back. I offered whatever support he needed and let him set the tone for the weekend, so he would have the fortitude to face the new week, including a 24 hour duty on Thanksgiving.

One way I learned to bloom in any season was to realize that sometimes messy can be beautiful because the house doesn't get our attention – when we give it to people instead.

We are in the last years of his career, but the constant trials of Army life are surrounding us. We can focus on the difficulties or know that we're being shaped and pruned to face every struggle, beautifully able to bloom in any season.