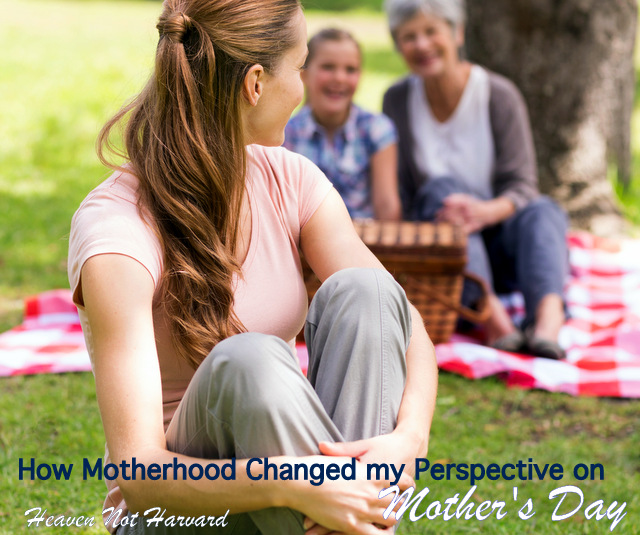 My Mother's Day perspective has completely changed through the challenging and exhilarating moments of motherhood. Each year has added to the fullness of the beauty of mothering.
I've learned Mother's Day is for celebrating BEING a mother. I've learned that card company expectations are the enemy of joy, while macaroni necklaces, dandelions, and crayola cards are priceless.
I've learned to celebrate the messy work of being a mother.
As my daughter is growing independent, my role is shifting from primarily physical needs to more emotional and spiritual guidance, which is teaching me so many new aspects of motherhood.
Nothing taught me to appreciate my mother more than motherhood itself. #ThanksMom
Click To Tweet
Being a mother has taught me to appreciate my mother more with every challenging stage and new accomplishment in my daughter's life.
Previous years, I've focused experiencing Mother's Day, since motherhood was a long awaited answer to prayer, but as I inscribed my mom's Mother's Day card, I was struck by how much I still need to thank her for the million thankless jobs of motherhood.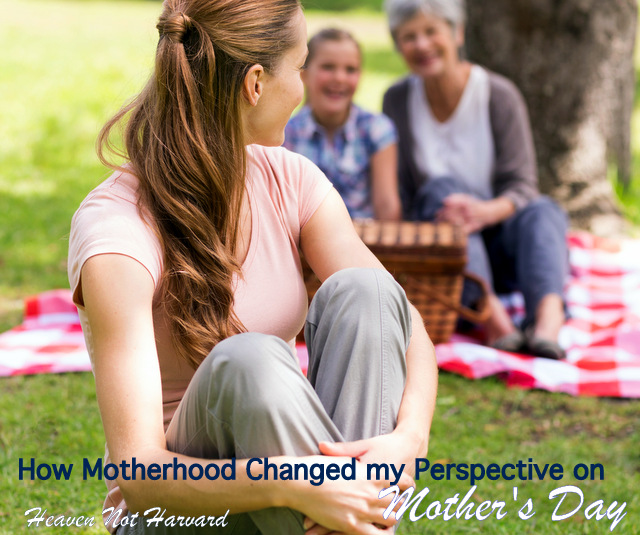 Thank you, Mom for reading me a thousand books, some a thousand times, even when you were tired, even when dinner needed cooking. I remember quietly reading about a silly detective with an umbrella and knowing I was loved. I developed a love for stories and words and discovery on your lap.
Thank you, Mom for getting up before we did everyday and making breakfast. We probably complained about the cold cereal one day only to pitch a tiny rebellion the next over oatmeal or scrambled eggs. I'm sorry about the Grape Nuts episode. To be fair, I still think it's gross. 😉
Thank you, Mom for the hours you put into keeping house without many modern conveniences I take for granted. It was never done, never perfect, and you kept on doing it. Now, you even sometimes come do it at my house.
As I look around the chaos in my living room today, I wonder how you kept everything so spotless despite our efforts otherwise.
Thank you for all the secret tears you must have shed in frustration when we wouldn't stop arguing, broke your favorite vase; tears cried in hurt when we screamed that's not fair or I hate you in teen angst, or times you cried from sheer exhaustion.
Thank you for the years of sleep you gave up in the raising of three young ladies, nights you were up until you couldn't see straight, nights you couldn't sleep until hearing the door three minutes past curfew.
I may not have understood the sacrifices, but I couldn't miss the love. Thank you, Mom.
Click To Tweet
Thank you, Mom for Bible stories and rides to school, swimming, play practices, for all the clothes and formal dresses you quietly stitched in your free time.
Thank you for the million ways you invested in my life, putting aside yourself to develop character in me.
You didn't get it all right, but neither will I.
While I may not have understood your sacrifices, I couldn't miss the love.
And I can only hope my daughter will be able to say the same about me someday.
Subscribe to Blog via Email