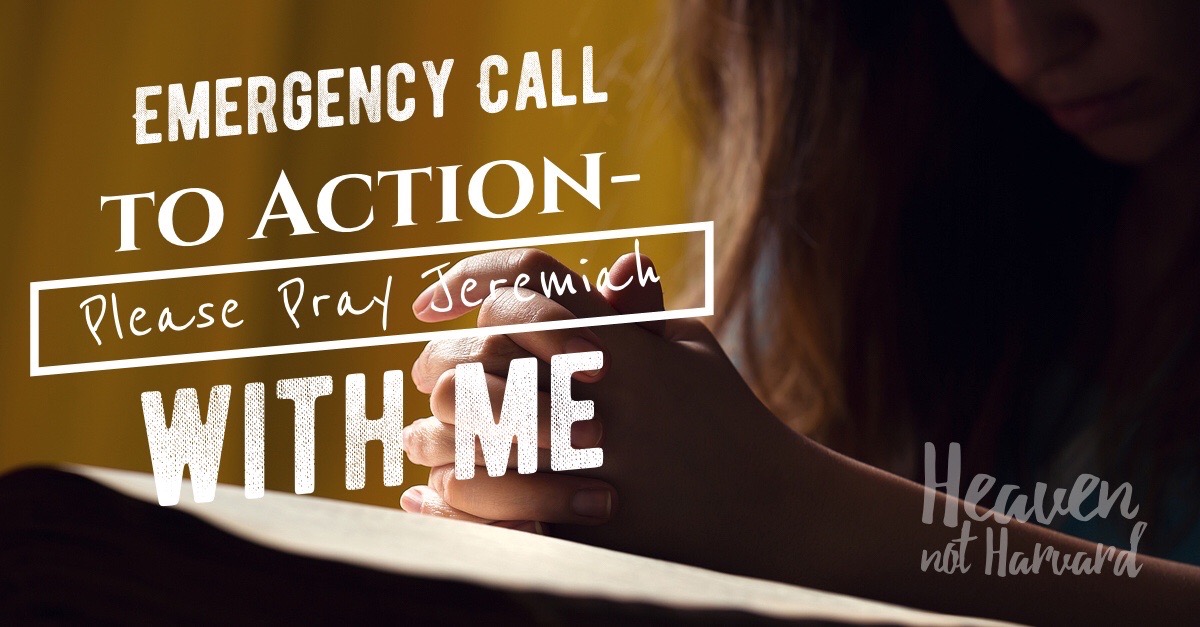 Please Pray – Our nation is in a state of emergency. We face, perhaps, the most pivotal moment in our nation's trajectory. And it all seems like it is spinning out of control.
I am completely at a loss and grieved deeply by the state of America.
Not just because of these two presidential candidates who are decidedly unpresidential, but because our nation is so wholly corrupt. We have, as a people, turned from God and pursued our own desires.
And through our rejection of our Heavenly Father, we have elected corruption and selfishness in the government, chosen it for our entertainment, invited it into our schools.
So what do we DO?!?
Many of my Christian friends are with me, throwing our hands up, desperately answering, I don't know!
Then, I saw this clipping circulating on Facebook asking us to please pray together every night for one minute at 8 p.m. Central/9 p.m. EST as a collective body of believers for America.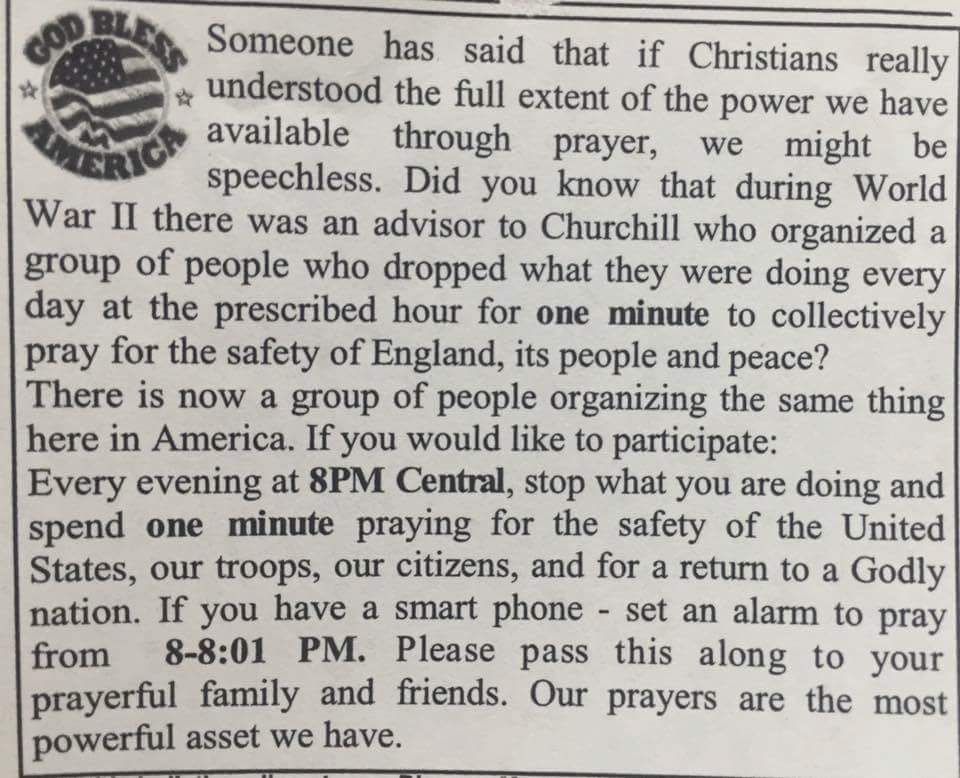 And I felt God reminding me to only take responsibility for my obedience, not the weight of the world. Responsibility for the direction of our nation, of our world, is truly His.
Do you have one minute a day to join me? #PleasePray the scriptures thru Nov. 8th
Click To Tweet
All I can do is get on my knees and humbly ask God to fix this mess we're in, repent of my sins and seek His face.
More than ever, I am aware of the powerful access to God we have in prayer. Many Christians of our generation do not fully understand this spiritual weapon. We've been raised in an era of absolute self-reliance and concrete thought.
But when we focus only on what we can see, prayer can seem like empty words; however, God's word is full of promises concerning prayer and His word does not return void.
Isaiah 55:11
ESV /

So shall my word be that goes out from my mouth; it shall not return to me empty, but it shall accomplish that which I purpose, and shall succeed in the thing for which I sent it.

Many times in the Old Testament, God's judgment was changed through prayer. Jesus rebuked demons, clearly instructing the disciples in the power of prayer and fasting.

Reading John 17, realizing that Jesus was praying for ME is such a humbling experience.
Jesus prayed, and He prayed for US.
Jesus prayed for those God gave Him to be delivered from evil though we won't be removed from the world. He prayed that we would be ONE as believers. Jesus prayed our Father would sanctify us and that His love would be in us so we can make Him known to the world.
America has lost its way as the shining light to the world. We are not unified as one body of believers, but divided by denominations and preferences that we let take priority over God's truths and grace.
If we expect God to heal our nation, we have to go to him.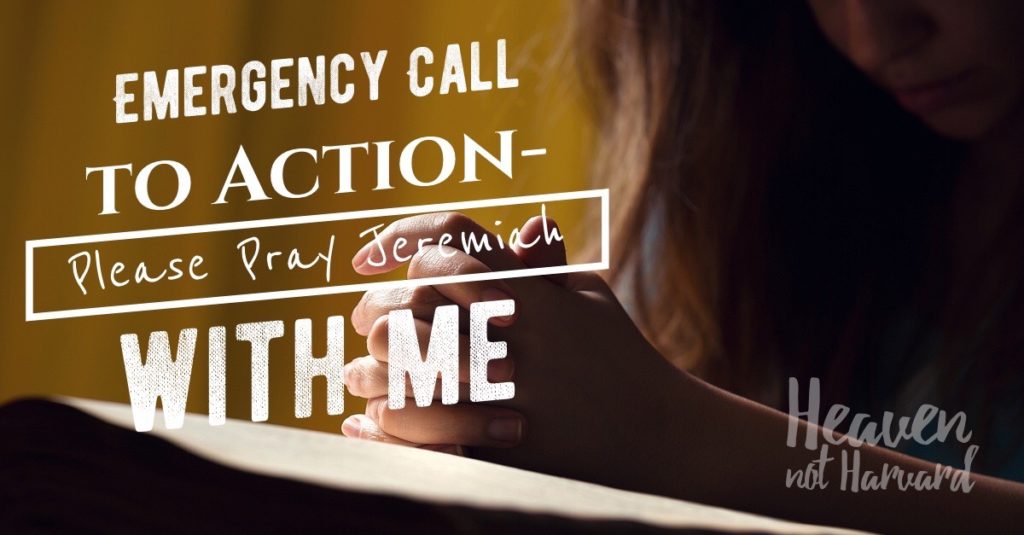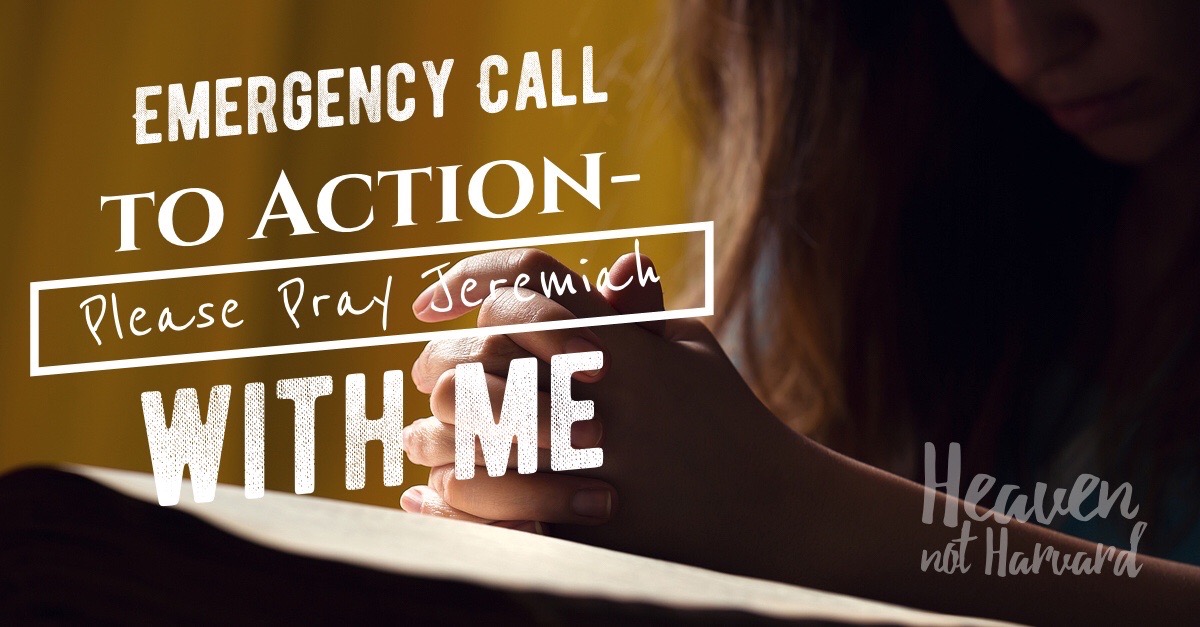 John 16:23

ESV /

Truly, truly, I say to you, whatever you ask of the Father in my name, he will give it to you.
So I am praying nightly for America, trusting in God's will, because I know He is weaving an eternal tapestry far beyond my ability to grasp.
Ephesians 1:10
ESV /

As a plan for the fullness of time, to unite all things in him, things in heaven and things on earth.

But sometimes, especially when something is really important, I struggle to find the right words, even words to pray.

Then, providentially, my bible reading plan has me in Jeremiah for the rest of this month and into November.

As I listen to the words of God calling to His people who are so far from Him, so crooked and wicked in their ways, I can't help but recognize America in these words.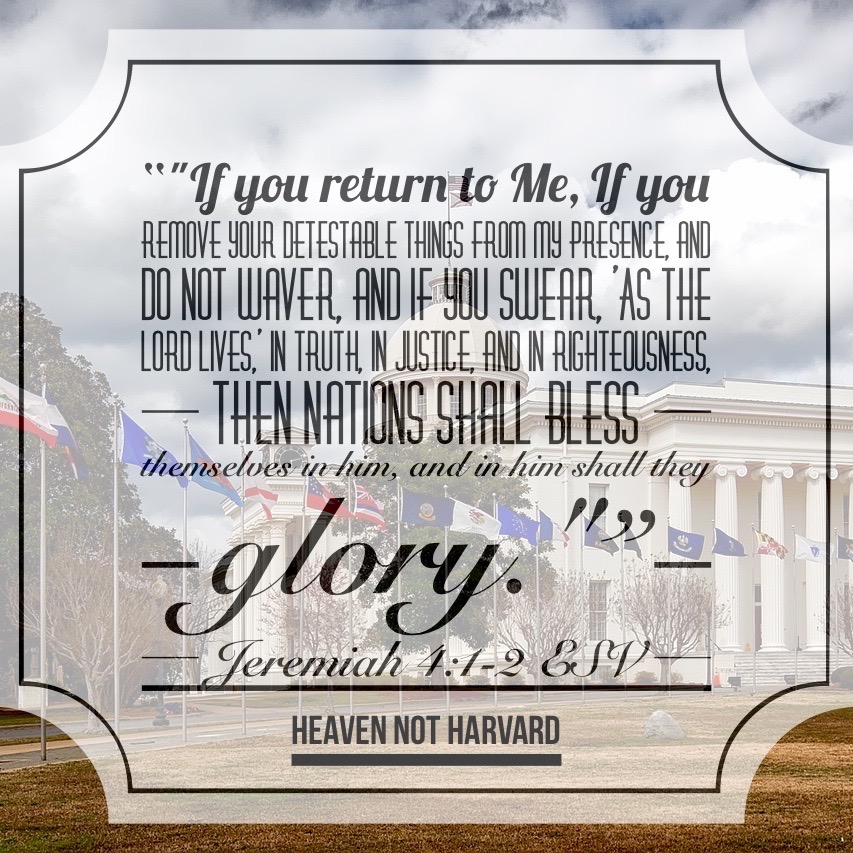 I can't explain it, but I feel this intense tugging to forget praying my words or my ideas and simply pray God's words back to Him. I even heard a reminder of this message this week about the power of praying the scriptures.
So last night, I fell on my face, with my Bible open to Jeremiah and began to pray portions of the verses that were ministering to my heart.
Lord, you knew me before you formed me in my mother's womb, but I do not know how to speak as I am still such a child, put your words in my mouth. We have forsaken You, and worshiped the works of our own hands. Make us today as a fortified city, that our enemies will not overcome us, for You are with us. We have walked after emptiness and became empty. You brought us to a fruitful land that we defiled and made an abomination. Your people have changed Your glory for that which does not profit. We have done this to ourselves by forsaking the Lord our God.  Our wickedness will correct us. O let our generation, heed the word of the Lord. In Jesus' name, Amen (excerpted from Jeremiah 1:4-9, 18-19; 2:5, 7, 11, 17, 19,31 ESV using first person pronouns)
Who wins the election isn't my concern. God will still be King. But God will change us in these prayers. He will work in our hearts and guide our steps. And He may have mercy on America yet.
I won't tell you who to vote for, but I can tell you who wins. #GodisKing #PleasePray with me.
Click To Tweet
Please pray, we have 25 nights left to pray before we have a new President.
I plan to pray portions of Jeremiah every night. If we pray the above prayer tonight and select verses from chapters 3-4, then just two chapters a night through November 8, you can pray through the entire book of Jeremiah before the election is over, even as the votes are counted.
We need God to convict this nation of our collective sins and lead us to repentance. I am praying for Him to open the gates of Heaven, flooding us with the power of the Holy Spirit, to draw our people back to Him. I am praying for wisdom and clarity so that I know how to be faithful where God has called me to act.
Please pray with me each night. Set an alarm on your phone.
Pray a verse or two from Jeremiah, pray a psalm, or simply call out to God. Some of the most powerful prayers have no earthly words.
Please share this prayer challenge so we can collectively beseech God to intercede for America.
1 Corinthians 12:7
ESV /

To each is given the manifestation of the Spirit for the common good.

When we repent and pray, the Holy Spirit can work mightily in us for the common good. America has never needed it more.
Subscribe to Blog via Email
For some deeper understanding about this topic, I would send you to this timely sermon by one of the most anointed preachers today. This sermon has so many truths for us as believers and Americans.