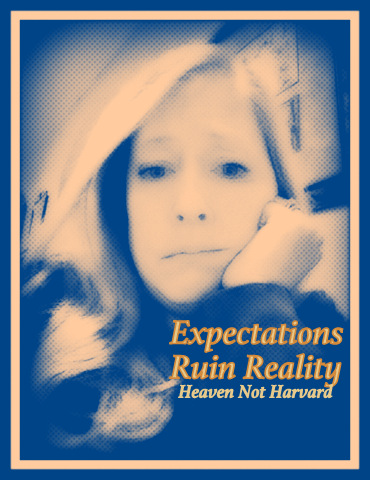 Expectations are sneaky buggers. They are formed by Hallmark cards and romantic movies, but rarely are they realistic. Those champagne and caviar expectations often ruin the best parts of reality.
It has been a week since Mother's Day, and I have seen so many people struggling with their relationships over a holiday that is supposed to be about honor and love.
How do we take a day of feeling celebrated and turn it into a burr between us and our families?
Our expectations ruin reality because we build up inflated expectations and life can't measure up. Instead of offering grace, love, and gentleness, we hurt each other.
I sadly remember all the Valentine's Days, birthdays, and anniversaries that turned into balls of hurt in my house because of my expectations that didn't offer any grace to the love of my life.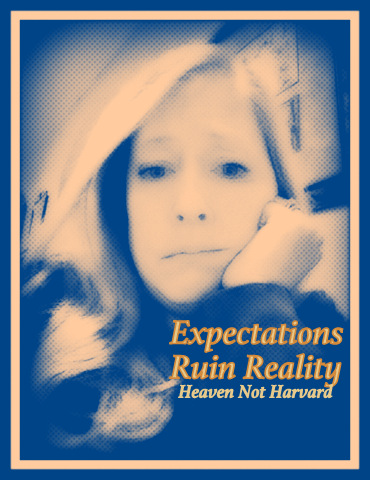 A few years ago, my birthday had been pretty low-key, a fine day, but I couldn't get over my disappointment at not receiving any kind of gift. After debating with myself about telling him how I felt, I decided not to say anything and be grateful for all the blessings I had.
Five minutes later, he came out from the bedroom with a jewelry set he had purchased months earlier. It was special hypoallergenic gold due to my bizarre metal allergy. I felt like such a jerk. I almost let my unmet expectations ruin his surprise. I almost missed a real expression of his love for me because I wanted to dictate what it should look like.
This Mother's Day, I didn't wake up to a perfect bouquet or breakfast in bed. But my day was just right. Why? What changed? Me. I did. I stopped placing my value and worth as a mother in the hands of my husband. I would love a moment of recognition from him, but I don't need it.
Ephesians 3:17-19
ESV
"So that Christ may dwell in your hearts through faith . . . and to know the love of Christ that surpasses knowledge, that you may be filled with all the fullness of God."
I have learned to let God's love fill me so that I overflow with His fruit: love, joy, peace, patience, goodness, kindness, faithfulness, gentleness, self-control.
So I set my expectations this year on what I wanted for myself on this day. I wanted a day of being the mom I really want to be everyday: fun, patient, kind.
I wanted to not use this holiday as a weapon against my exhausted husband, measuring my worth or value by how much of a fuss he made over me. It doesn't feel like a gift if he feels unloved and obligated.
I don't want to use this holiday as a weapon. Expectations ruin reality.
Click To Tweet
Does it really measure my worth or his love if he doesn't roll out the red carpet and ticker tape parade on this one calendar day?
I didn't want to feel disappointed and resentful, so I stopped having expectations. BEING a mother was the one thing I wanted for decades. Spending the day enjoying being a mother was the perfect way to remind myself how much I love these people!
When I quit having expectations, I got to see more fully who my husband is, appreciating and loving him, and letting us both live in the joy of the moment.
He didn't make me breakfast in bed, so he could ask me what I would like. He didn't buy me a gift, but researched a special place for me to choose exactly what I wanted. He spent his afternoon cleaning out the pool so I could have the first swim of the year. His quiet thoughtfulness was more precious to me than any gift.
I almost missed the real gifts because of my expectations.
Sometimes we feel invisible and ignored. No one sees us up at midnight, straightening the living room or washing dishes. Laundry magically folds itself and finds its way back into drawers, or maybe you magically earn the paycheck that keeps your house from belonging to the bank.
One or two days a year doesn't change who you are and won't heal days you were taken for granted or ignored. But rest assured . . .
Matthew 5:14
ESV
"You are the light of the world. A city set on a hill cannot be hidden."
Don't let the darkness of envy and materialism steal true joy from your grasp. Even on this side of heaven, jewelry and flowers pale in comparison to help with the dishes.
2 Corinthians 4:18
ESV
"As we look not to the things that are seen but to the things that are unseen. For the things that are seen are transient, but the things that are unseen are eternal."
Focus on the eternal blessings, and you might realize you had the wrong expectations in the first place.
Subscribe to Blog via Email