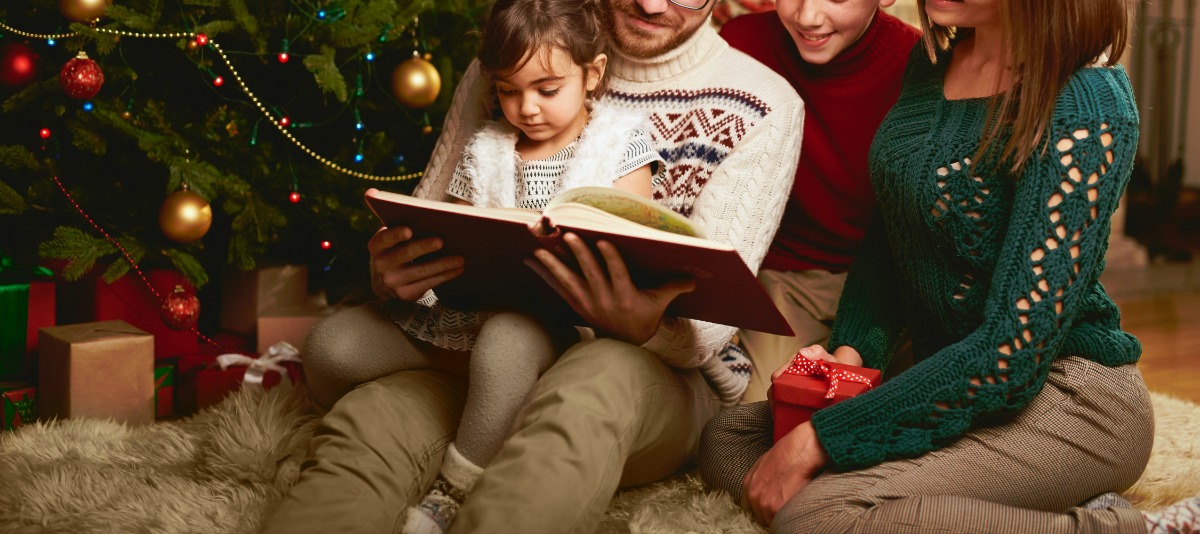 Do you love reading with your children? It is one of my favorite times to share with my daughter. I I especially love sitting around the tree with Christmas music softly playing as we read together as a family.
One low maintenance tradition we celebrate each Christmas is the 24 books of Christmas.
Wait – I though you said LOW MAINTENANCE?!?!
I know 24 books doesn't SOUND low maintenance, but this really is pretty easy. I buy one fairly large gift bag and a package of tissue paper. While some people prefer to wrap a book for each day, I found that I just wasn't the kind of person who will keep up with that.
While my daughter is busy, I take all her Christmas/Winter themed books from her room a few days before December 1. I am always amazed how she opens each book as if it were new and truly enjoys the magic of rediscovering her favorites even if she is a bit too old for some. I add a couple of new books each year, so she has a couple of real surprises.
After she goes to bed, each day I wrap one book in tissue paper, put it into the bag, and put the bag under the tree.
(Heaven not Harvard is a participant in affiliate programs including the Amazon Services LLC Associates Program, an affiliate advertising program designed to provide a means for sites to earn advertising fees by advertising and linking to Amazon.com.)
She is getting too old for some of the books from the first year we did this, but can't quite bear to part with them.
Products from Amazon.com
‹
›
(to keep this affordable, the first year I did a dollar store toy or Christmas coloring book every other day and only purchased 12 Christmas/Snowy day books)
There are a couple of our Christmas books that are just for fun and light-hearted tales of reindeer and sweet little children (or mice!) and we enjoy the beautiful illustrations and seasonal stories.
Products from Amazon.com
‹
›
But there are a few stories that have become as much a part of our Christmas traditions as decorating the tree and setting up the nativity.
The first book that has become treasured in our home is The Carpenter's Gift. I give this to my daughter the day we watch the lighting of the tree in Rockefeller Center (which I DVR so I can pick a convenient night). The Carpenter's Gift is a fictionalized story based on the first Rockefeller Center tree and focuses on the kind of sacrificial giving Christmas is really about.
I generally get teary-eyed at the ending.
I won't ruin it, but the best gifts are the ones we give away.
Another favorite, is the Nutcracker. This version is perfect for younger readers. It is beautifully illustrated and keeps the story very simple. Reading it always builds excitement for our annual Nutcracker date.
This year, we weren't able to afford tickets to the big area production, but one of our family friends was in her dance company's production. I purchased tickets and put them in the bottom of the bag under this book. We read the book together first. Then she found the tickets, she was so exited! And thanks to reading this book, she was better able to follow the story of the ballet.
This year, my husband has shared more of our reading times than he usually does. His time in the army is winding down and his responsibilities have decreased allowing him more time at home.
He was able to share one of my favorite stories with us for the first time. It was emotional for us all. The Year of the Perfect Christmas Tree is set 100 years ago, during the Great War. It's about a soldier who is called to serve before Christmas and isn't sure he'll make it home in time to provide the church with the tree he promised.
The little girl in the story is a sweet angel in the church pageant and has simple wishes for Christmas, a doll and her daddy. Her mother moves mountains to give her daughter the things she can, but can't bring daddy home faster.
As a wife and mother who has missed her soldier too many times at Christmas, I struggle to get through the last few pages, but the story is beautiful and meaningful.
One of my favorite books as an adoptive parent is Holly & Ivy about an orphan girl and a Christmas doll who just want to find a family.
It's hard to read without getting emotional as Ivy proudly declares she is going to see her grandmother (who does not exist) over the Christmas holiday from the orphanage. She randomly searches for a family, but when she finds Holly all the details seem to fall right into place.
The other points of view are Holly, a beautiful new Christmas doll who dreams of being loved by a little girl for Christmas, and a childless couple aching for a daughter.
All three of these characters is searching for the others. My heart aches along with them as I read this sweet and tender story to my daughter. We both hug each other a bit tighter knowing the twists and turns that God used to bring us together too.
Lastly, If He Had Not Come and God Gave Us Christmas are such a good books that remind us of the true meaning of Christmas.
If He Had Not Come paints the picture of what our world might be like if Jesus had not chosen to come. It helps us realize how much of the goodness in our world is reflections of Christ in us.
And God Gave Us Christmas is part of one of my favorite series. Narrated by a polar bear telling her daughter about how God gave us Christmas, the story reminds that we have fun traditions like presents, but that the gift of Jesus is the real reason we celebrate Christmas.
Products from Amazon.com
‹
›
We added one special book this year that I just know will become of our favorites. Each day is a character quality that will help us all be more Christ-like. It's called a Character-Filled Christmas Book and we're really enjoying it. It is all about the kind of heart and service we should strive for all year, but especially during the Christmas season.
Lastly, we read the Bible Christmas story, because it's the greatest story ever told and God's best gift for the world.