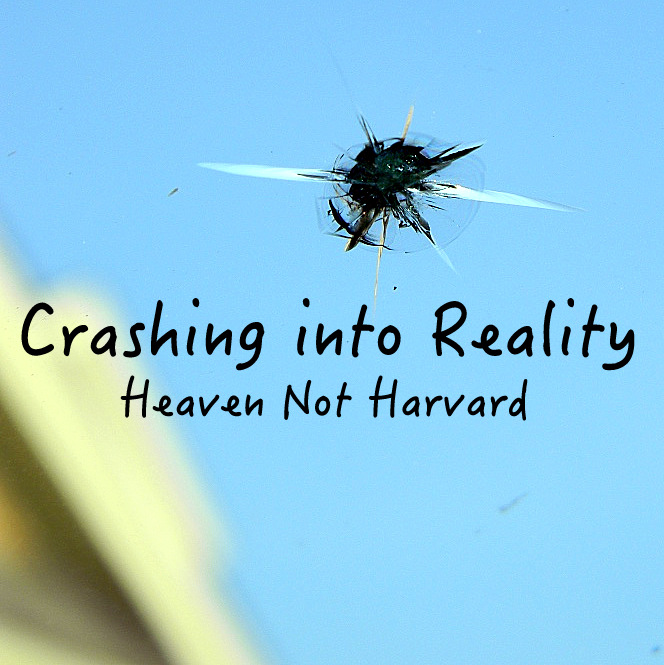 Don't you just love vacations? We get to cast our cares aside, just be present in the moment with our family. We know it ends, crashing into reality, but we hold onto vacation as long as we can.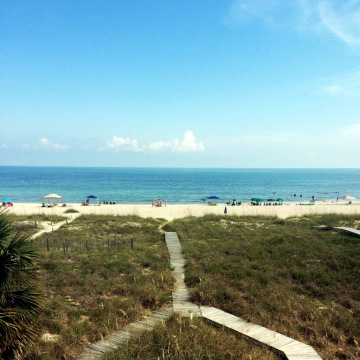 This year we were blessed by a decadent beach getaway with my in-laws. We had this tremendous view everyday from the covered porch.
Packing clothes was a waste of time. We spent 90% of the time in swimsuits, damp and sun-baked, but we loved every second.
Even bad weather was more exciting. Our family spent an afternoon watching water spouts, but happily they just hovered on the horizon, far away, nothing to worry about, a bit like real life seems while we're on vacation.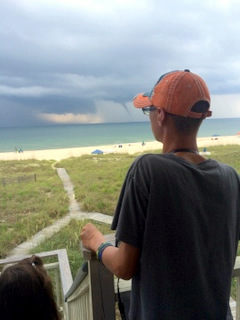 We were driving home sandy and tired, but joyful. Family time had been the priority the entire week. Even phones got put down. We had literally done not much more than eat and swim for a week.
I was singing along to the radio, asking the kids about their favorite memories from the week, trying to hold onto the joy and lightness as long as possible, but I didn't even make it home before reality invaded our vacation high.
*CRACK*! My husband and I flinched. Something had hit the car.
Quickly, we saw our brand new windshield had cracked, worse than the damage we had initially repaired just days before leaving for vacation.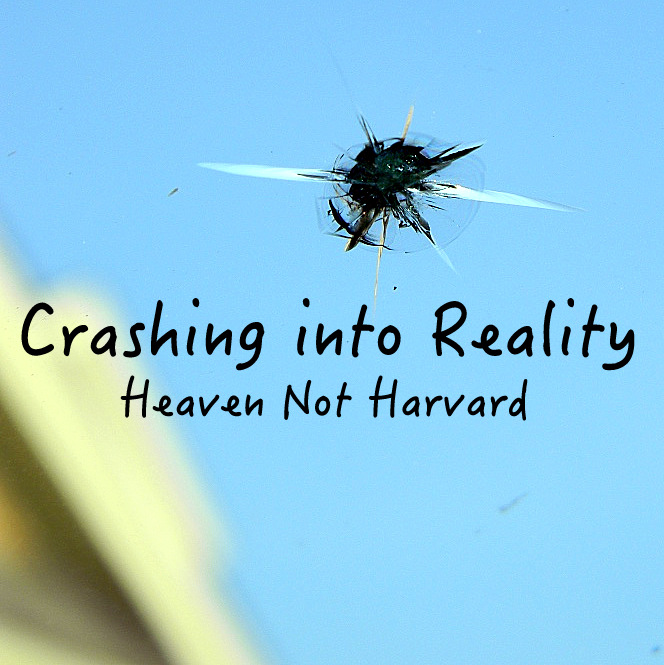 And just like that I was crashing into reality:
a second $250 deductible in 2 wks
$120 we just spent replacing a new tire weeks ago
a $400 for yearly termite treatment I had forgotten
$500 surgery for our dog (that might not even save her life) after the $350 vet bill
a $700 bill for our home warranty
plus added expenses of summer vacation/ having the boys right after I unexpectedly lost my job.
My emotions started into hyper-drive, but I knew this was an opportunity to reflect Christ or the world. If I trust that every good thing comes from God, and He can use everything to my good (Romans 8:28), then I have to trust even this is good whether I know His reasoning or not.
James 1:2-3
ESV
"Count it all joy, my brothers, when you meet trials of various kinds, for you know that the testing of your faith produces steadfastness."

I felt like this moment was a test, so I held my tongue until I could control it. Tears welled behind my sunglasses, but I kept silent. I had a chance to demonstrate my trust in God. I took a deep breath and prayed instead of panicked, remembering –
Matthew 6:28-30
ESV
"Consider the lilies of the field, how they grow: they neither toil nor spin, yet I tell you, even Solomon in all his glory was not arrayed like one of these. But if God so clothes the grass of the field, which today is alive and tomorrow is thrown into the oven, will he not much more clothe you, O you of little faith?"
A few miles down the road, I commented how it was frustrating, but not worth getting upset about, held my husband's hand, and turned up the radio.
God has provided for us in everything so faithfully.
Last year, some vandals left our outdoor spigot running for several days before we realized it. Our bill was about $120 more than normal. I prayed for peace. In the mail the next day was a refund from an old rental insurance policy, for $122, almost the exact amount felt like a gift from God even if the check said USAA.
We've never been in such dire need that we couldn't meet our obligations. He has sent blessings through others when we needed some extra loving financially and emotionally.
I don't know yet how God will provide, or what lesson He is teaching, or direction He is pointing. I don't even know if my family even noticed my refusal to freak out, but I know I was obedient in that moment.
Reality tried to crash my party, but my trust in God didn't let it. Life is tough. Expecting it to be easy is folly, especially as a Christian.
1 Peter 4:12-13
ESV
"Beloved, do not be surprised at the fiery trial when it comes upon you to test you, as though something strange were happening to you. But rejoice insofar as you share Christ's sufferings, that you may also rejoice and be glad when his glory is revealed."
God didn't promise me that I would always have a pantry full of organic groceries. He didn't promise me a brand new window every time it gets dinged. He doesn't even promise us safety or security, only that every trial will refine us and lasting joy in his kingdom, the kind that doesn't fade when the vacation bubble bursts.