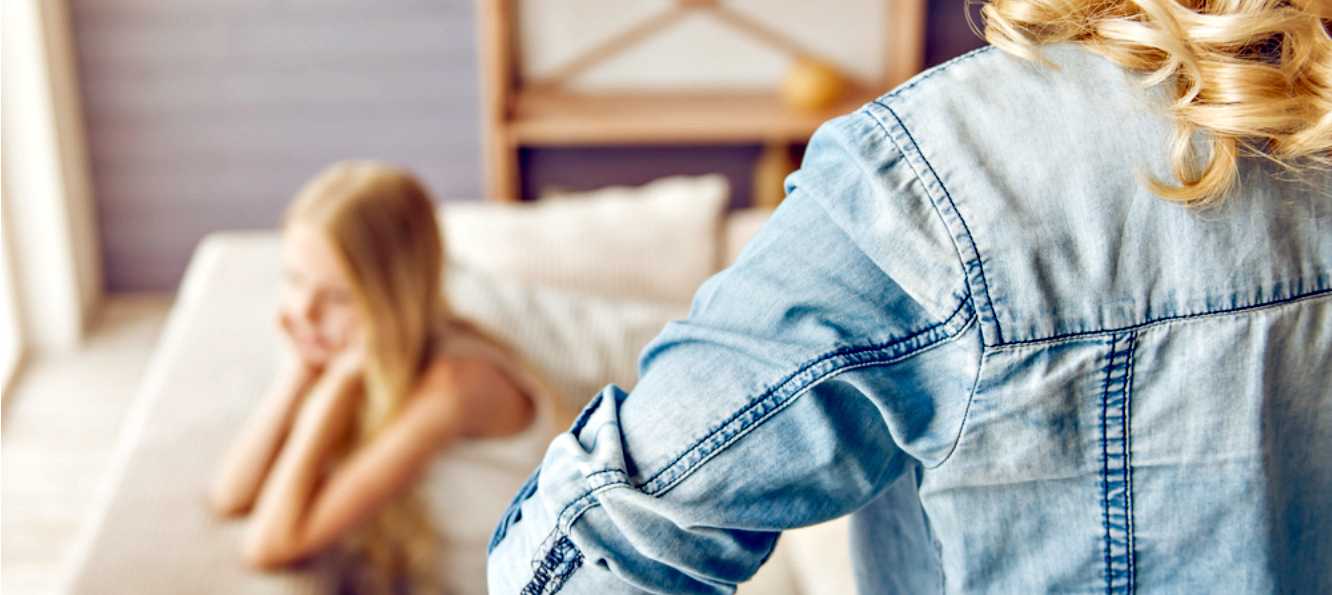 (Last Updated On: July 30, 2017)
My temper tantrums? As parents, those generally aren't the tantrums we think about. But over the past few years, I have grown increasingly convicted about my anger, especially towards my daughter. And one verse today just wrecked me.
(this site uses Affiliate links-purchases support our ministry through a small referral fee that never affects your cost.)
And I want to come to you from that place right now: not a place of having conquered, but still conquering, sometimes still failing. But I see God's work in my heart as I grow more and more.
My temper tantrums were damaging my family. Yours are, too.
God has called us to stop throwing temper tantrums now.
I've been trying to rewrite this post for days, but God was calling me to go deeper than I even understood yesterday.
We're missing a correct perspective on the importance of the children in our homes. The worldly view either elevates children to the masters of the home or diminish them as satellites to the central parents.
Both perspectives grieve God.
God should be the center of our homes as the sun is the center of the solar system. When the sun is in its rightful place, all the planets are exactly where they should be. If the sun changed by even the tiniest degree, the planets would not hold their perfect orbits. Chaos would reign in the galaxy.
When God isn't the center of your home and heart, chaos reigns. When you're the angry mom (or dad), fear of provoking your temper changes the dynamic for every moment of your day. Even the most joyful moments are colored by the terrible knowledge that the peace is temporary.
Is that really the message we want for our homes, spouses and children-that peace isn't real or permanent?
Hebrews 12:14 ESV  "Strive for peace with everyone, and for the holiness without which no one will see the Lord."
How we live in God's perfect peace with holiness is how others can see the Lord. How much more so should we live to demonstrate that peace for those God has given us the responsibility to love and raise.
This is the verse that just wrecked me today.
Matthew 18:10 ESV "See that you do not despise one of these little ones. For I tell you that in heaven their angels always see the face of my Father who is in heaven."
I had to just stop and weep over how much I imagine my daughter's angels have protected her from me.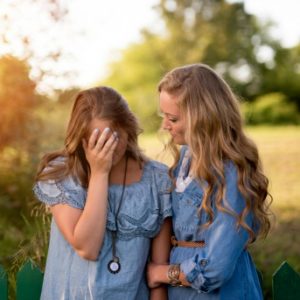 Honestly, I still struggle with my temper at least once a day. Most days, I win the battle now, but some I don't.  I'd rather not publicly admit that anger is an issue in my heart and home, but I've decided if my honesty can help other moms, my brokenness is better than staged perfection.
I stand with you, grieving my temper tantrums, walking beside you in changing our hearts.
Click To Tweet
Being a mom is filled with lots of joy. My daughter's giggles and snuggles cheer my heart, and I love watching her grow in her faith and become her own little person.
But parenting is also filled with HUGE mountains of frustration.
I swear, leaving the house is absolutely Kryptonite to my normally sweet child. "Go put on your socks" is met with a raging discourse against socks or a Supreme Court worthy debate about wearing cowboy slippers to the park.
"Yes, I picked up my room," is almost certainly a lie.
(#MomProTip I discovered if I want her to play quietly in her room, send her to clean it. She won't clean much but will pull out lots of toys and play.)
And frustrations build. Momming is enough to drive anyone crazy, full of routine requests, fighting the same battles over and over and over. Add the stress of housekeeping, bills, work, difficult relationships (even marriage), and I start to fall apart.
I'll feel like I'm barely holding my Hindenburg emotions together with duct tape and the next frustration rips through my false calm like flames.
For me, the first step in healing came from realizing that the root cause of my temper tantrums is sin.
SIN? Really?!? How is it MY sin when my child doesn't obey?
God expects us to have emotions, not be ruled by them. When we let anger overcome us, we are not demonstrating fruit of a Spirit-filled believer.
Ephesians 4:26-27
ESV
"Be angry and do not sin . . . and give no opportunity to the devil."
When we throw temper tantrums we damage the trust our children have in us, in our love, in our stability, in our faith.
God expects us to have emotions, not be ruled by them. Temper tantrums damage relationships.
Click To Tweet
We give Satan footholds into the lives of our children. With our temper tantrums, we build weak places in their hearts that Satan can exploit.

I know that Satan will use any opening I give him. Totally unacceptable! So, I had to root out where my anger comes from. Primarily stress, pride, and lack of self-control. Yep, sin.
We hold onto stress like it's our human right to explode during difficult circumstances, but God's answer is not to.
Products from Amazon.com
‹
›
In the calm moments of motherhood, It's easy to write this, but when I have a headache and my kid won't stop talking long enough to eat her dinner, it's much harder to demonstrate self-control over the frustrations.
How Do temper tantrums come from selfishness and pride?
I wanted today to go my way. I wanted to be on time, or she asked for more of my attention than I wanted to give at that second.
And I used to snap.
Living with the me of the past had to be miserable. No one could anticipate my mood or my threshold for the day. I am truly grieved over the temper tantrums that ruled my life for years.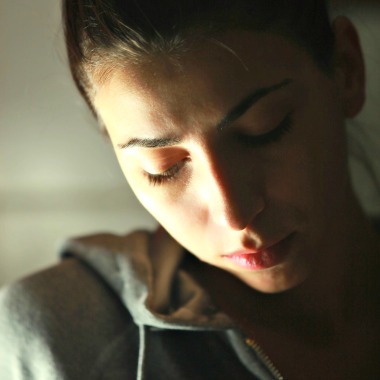 Every day I would wake up and promise myself to be better, and most days I would fail, robbing me and my family of joy and peace.
I couldn't control myself because there was an anger born of selfishness inside me. Until I began to die to that selfishness, I wasn't able to be different.
I had to see others, including my children, as more important than myself. I had to grow in humility.
Philippians 2:3 ESV "Do nothing from selfish ambition or conceit, but in humility count others more significant than yourselves."
God's highest commandment to love others comes before keeping house, writing a blog, folding laundry.
Sometimes, I am still tempted when faced with blatant disobedience, but I am more often able to reflect humility and look at their sin with grace and compassion, without having to join them in anger.
James 1:19-20
ESV
"Know this, my beloved brothers: let every person be quick to hear, slow to speak, slow to anger; for the anger of man does not produce the righteousness of God."
The purpose of my life as a wife and mother is to produce righteous fruit in my life, in the lives of those with whom I fellowship, and the lives of my husband and children.
The anger of man doesn't produce God's righteousness.
So what are we supposed to do?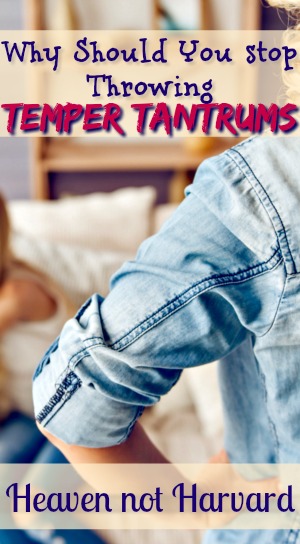 Psalm 4:4
ESV / "
Be angry, and do not sin; ponder in your own hearts on your beds, and be silent."

If you're angry, go sit on your bed, think about your own heart, and be quiet!
I love that – God invented time out.
Taking a few moments to get myself under control in prayer always changes my attitude, setting aside my selfishness, exchanging it for God's peace.
Temper Tantrums? Psalm 4:4 - God invents time out. Go sit on your bed & search your own heart.
Click To Tweet
When I quietly sit and reflect, God reminds me how He loves them and His perspective. He shows me how to solve the conflict over being right.
It sounds too good to be true. Just pray?
It's where I start. Prayer opens my heart to hearing God. Then through scripture, His wisdom reaches into my life: guiding, convicting, changing.
In this communion with Him, we are granted His peace.
Philippians 4:7
ESV
"And the peace of God, which surpasses all understanding, will guard your hearts and your minds in Christ Jesus."
In the face of heartbreaking struggles or mind-numbing frustrations, the peace of God is beyond my ability to explain, but is so real.
I've felt it, wash over my heart like silk, changing my perspective and emotions in an instant.
With joy and thankfulness for my full life, I ask to have the correct attitude toward this season as wife and mother and set aside my anger.
God has been working on my temper tantrums for years now.
I can safely say He'll be done with me about five seconds before never, but I know I'm making perfectly imperfect progress every time I pray for His peace, patience, and maybe some time alone to pee.
Subscribe to Blog via Email