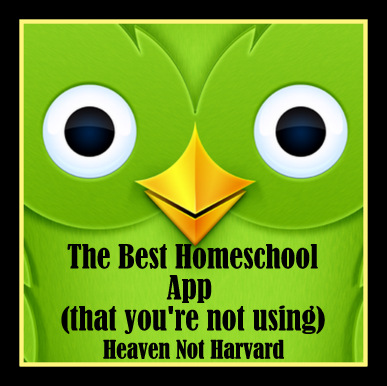 (Last Updated On: June 23, 2015)
I've used this app before for fun, but didn't think to use it with my pre-k child until just last week. Whether you are homeschooling or supplementing your child's education, this application has amazing benefits.
We've just barely made the decision to homeschool, so I am looking for as many easy homeschooling tricks as I can find. Part of our decision is that school doesn't have to take all day, so cross-curricular lessons are especially beneficial. But I also want to create the most beneficial educational experience for her. And why I am so glad I found this app.
Because she loves Dora the Explorer and Diego and is enamored of Skippyjohn Jones, my five-year old has wanted to learn Spanish for a long time. My mother wrote her Master's degree thesis about the benefits of elementary school Spanish, so I know teaching her a foreign language is beneficial for her creativity, reading, mental flexibility, English grammar skills, writing, and future language ability.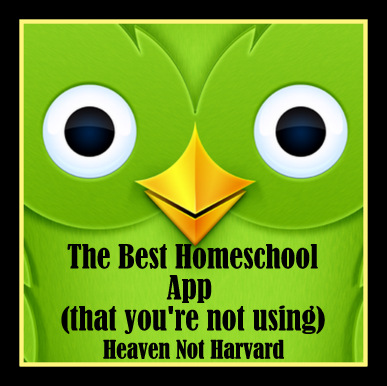 However, yo no habla español. I can get by to find a bathroom or order a limited meal, but that is about it. I took French in school, so how do I teach her Spanish?
Duolingo is a free app that uses some of the same principles as pricey Rosetta Stone – FREE!
Last week, I opened the app and started using it with my daughter. MAGICAL!! I can't believe I didn't do this sooner.
In order to use the app, she is challenged to read new words: man, woman, girl, boy, bread, water, which, speak, translate, sentence, etc. The application uses multiple learning styles to imprint new words, both Spanish and English. Duolingo has a variety of languages available, but we started with Spanish.
I have to explain articles (the, an, a), feminine and masculine nouns, and capital letters, and what is a sentence, but I'm amazed at how much she intuitively understands through using the app, which also makes the articles and the combinations repetitive so it becomes automatic to pair up the correct article and noun and in later lessons the proper conjugations of verbs and subjects.
She has learned some Spanish, not much, but what she really gets out of this app is a lot of English grammar and reading practice! Additionally, we've only used it together three or four times and she can almost operate it independently, which is amazing since she is just heading into kindergarten.
Parts of the Duolingo app are matching pairs of words together, matching English to pictures with Spanish captions, translating sentences with word groups as choices, translating into English/Spanish using the keypad, and speaking your target language.
Watching her play is such a joy. Today, she was spelling words in Spanish! She is just barely learning to spell in English. She is learning and doesn't even know it! She volunteers for Spanish class!
And I'm not the only one who thinks this app is fantastic. It won best learning app in 2013, and in a recent independent study, professors found that when using Duolingo for 34 hours, students learn the equivalent of one university semester of language instruction.
If you're like me, making the decision to homeschool or supplement your child's education comes from wanting to give them the best advantages in life. Learning a foreign language at a young age is a proven method to give children skills that will set them up for educational success, wherever they call school.
Heaven Not Harvard has decided to discontinue advertisements. WordPress does not offer ads that are consistent with our beliefs. Any ads you may see are NOT ours. If you would like to support the ministry, we welcome your donations so that we can afford to move to a private site.