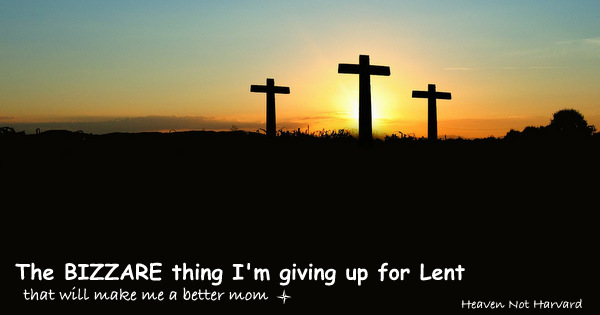 (Last Updated On: March 13, 2017)
Growing up, Lent was something only the Catholics I knew celebrated. I didn't know any Protestants celebrating it until recently. I thought it strange, until I understood Lent's purpose for believers.
Lent is a season of repentance, fasting or sacrifice, and reflection that precedes Easter. Lent honors Jesus's season of preparation, fasting, and temptation in the wilderness before he began his public ministry which would eventually lead to His crucifixion.
The closer I've drawn to God, the more I realize Christ has called all His children to live sacrificially, no matter our denomination. It's not about church tradition. Lent is about preparing our hearts to accept Christ's sacrifice at Easter.
Mark 8:34

ESV  "

And calling the crowd to him with his disciples, he said to them, "If anyone would come after me, let him deny himself and take up his cross and follow me."
A lot of Christians focus on the taking up of a cross (bearing a difficult burden) but skim right over denying ourselves. And I really want to understand what it means for me to deny myself this year in a way that honors whom God has called me to be.
In recent years, I've given something up quietly, not wanting my sacrifice to be for the eyes of men, but between God and I alone. We sometimes need accountability partners to support us in a season of growth, but I sometimes worry about putting my deeds before men in order to be praised by them.
It's hard to find a healthy balance of keeping things private so that my honor and glory is God's, not my own, but also being transparent so that I might be a witness. I'm choosing to share what I'm giving up this year because it's kind of ugly, and I know my brokenness keeps me real and transparent and lets God's power shine.
This year, when I couldn't think of something to give up, as I'm already sitting on the couch 24/7 in my health crisis, I asked God what he wanted me to give up, feeling that I as I write and share I need to hold myself to a higher standard daily.
1 Corinthians 9:27
ESV 

But I discipline my body and keep it under control, lest after preaching to others I myself should be disqualified.

I prayed, "Lord, what can I give up that will be most pleasing to you, what will draw me closest to you and make this a season of deep reflection?"
Yelling – immediately sprang to mind. And I sadly reflected on how much I've fallen back on yelling recently, how angry and hurt the voices in our home sound when we yell.

So this year, I'm giving up yelling for Lent.
This may seem like a bizarre fast. I mean, shouldn't we strive to give up yelling anyway? Of course, we should, but stay with me . . .
This might seem like a bizarre way to fast for Lent, but what better way to sacrifice.
Click To Tweet
Yelling at my daughter is something I've worked really hard to eliminate, but being in pain since December, I've allowed myself to have a shorter fuse, using my physical discomfort and emotional stress to justify my reactions.
In His Lenten season, Christ learned that suffering and persecution would be his cup to drink, that He would ultimately allow terrible accusations to be hurled at Him while he sat silently . . . silently.
How is giving up YELLING for Lent a sacrifice?
First, I am giving up my selfish right to be upset. I am giving up the earthly perspective that I get to behave angrily because my child has disobeyed or refused to listen. If Christ could be accused, slapped, spat on, whipped, tortured, crucified for me, I can learn gentleness.
Yelling is quick. I get her attention immediately, and I get the instant gratification of indulging my selfish frustrations. Choosing not to yell asks me to give undeserved grace at the moment it's most difficult.
And it's going to be hard!
This morning, I had barely started homeschool when my daughter started getting off task. Adorable only goes so far. I was explaining the directions again, and she was deliberately not listening, talking about her dream and her pencil and her new magic trick and . . .
. . .stop talking so I can explain. She didn't even pause. Honey, I'm trying to get your attention. She rattles on, and I yelled, "STOP!" She froze, her eyes turned to saucers and her mouth stopped moving (momentarily).
Quickly, I clamped my hand over my mouth. I barely made it two hours.
Thankfully, forgiveness and grace redeem our failed attempts at sanctification. I quickly apologized and softened my tone.
But I realized that getting her attention, helping her focus, and disciplining misbehavior are all going to take a lot more effort.
Yelling is easy, but destructive.
Refusing to yell will mean intentionally using close physical proximity and a firm voice. Additionally, I'll have to follow through on real consequences when she disobeys.
Punishing my daughter often gives me such a heart for God. Imagine how His heart must break when we need discipline. When I have to follow through with consequences, her tears disappointment break my heart every time. Disciplining His sinful children must grieve our Lord so deeply, but I know He disciplines those he loves.
The purpose of Lent is to help us understand Christ's sacrifice, take some small part in His struggle.
While giving up yelling is something I strive to do anyway, making my house a zero yelling zone for the next 40+ days will be a tremendous way for me to understand Christ's gentleness and grace.
Because I will be striving to be a daily demonstration of undeserved favor, the quiet spirit God has been growing in me.
I could give up coffee and chocolate or pizza, but while those might be beneficial for my waist line, learning to deny my sinful nature will be more meaningful this year. It will build relationships, improve the atmosphere in our home, and be a witness to my family.
Follow me on Facebook to hear how it's going.
[jetpack_subscription_form subscribe_text="Enter your email address to get more of this encouraging content!"]
Save
Save
Save
Save
Save
Save
Save
Save