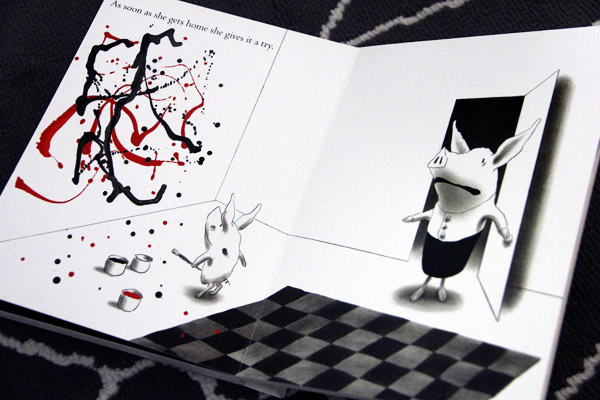 (Last Updated On: April 11, 2016)
It finally happened. I've officially joined the club of "mmm, she's awfully quiet in there . . . WHAT DID YOU DO?" moms. Now I had to decide how to discipline.
My mom joined the club when I was two and covered my crying sister with talcum powder, then made tiny powder clouds all over the upstairs of our house. My parents never got all the powder out of the deeply grooved tile floor and still blame me for my sister's asthma.
It is my earliest memory.
I've actively avoided joining this club. We read Olivia as a cautionary tale. I hide ALL the Sharpies. All to no avail. I'm a card-carrying member now.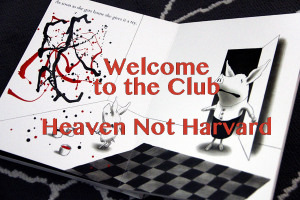 A couple of days ago, she made her bed all by herself. I went in to praise her for doing such a good job independently, and then I saw it.
Up and down the top and side of both her headboard and footboard, were bright gashes everywhere, all over her espresso stained bed. Pairs of gashes .  .  . wait, those are TEETH marks?!?! Oh my child, what did you do?
I was instantly furious. I froze in sheer horror at the damage she just did to a very expensive bed. And I prayed for guidance because I felt all sorts of crazy, but I knew that this was a defining moment. I could parent her or punish her.
Despite my anger, I prayed for guidance, knowing I could punish or parent.
Click To Tweet
Ephesians 4:26 

NIV "In your anger do not sin"

The Bible doesn't tell us not to be angry, but not to sin in our anger.
In fact, losing my temper would be more serious than her behavior because I know better: Because I'm the adult, and I'm the one calling myself a disciple of Christ, Because my actions could be a witness of the fruit of the Holy Spirit in my life.
2 Peter 1:5-8
ESV
"For this very reason, make every effort to supplement your faith with virtue, and virtue with knowledge, and knowledge with self-control, and self-control with steadfastness, and steadfastness with godliness, and godliness with brotherly affection, and brotherly affection with love. For if these qualities are yours and are increasing, they keep you from being ineffective or unfruitful in the knowledge of our Lord Jesus Christ."
I am actively working on self-control, assessing and changing my default reaction when my emotions are overwhelmed.
The true test of faith is demonstrating it when life doesn't go according to our plan.
Click To Tweet
It is easy to behave like a Christian when everything goes correctly. The true test of faith is living it when life doesn't go according to plan. Being able to parent her kindly in this moment would be a huge testament to the change God is working in my heart.
Proverbs 13:24
ESV
"Whoever spares the rod hates his son, but he who loves him is diligent to discipline him."
Most people, Christian or not, are familiar with this verse. Some people use it to justify abusive punishments.  I do not. As a parent, I try to use the least amount of discipline/force necessary to correct my child because I want her to focus on the instruction, not the angry mom.
Make the discipline instructive, designed to correct the behavior, not to alleviate your anger.
Make the discipline instructive, designed to correct behavior, not to alleviate your anger.
Click To Tweet
Ephesians 6:4
ESV
"Fathers, do not provoke your children to anger, but bring them up in the discipline and instruction of the Lord."
Sometimes adults forget how their little minds work. We forget the logic of being four. We treat them like little adults, which frustrates and hurts, instead of leading them with age appropriate discipline and guidance.
When I was five, I actively believed that people learned to fly as adults, despite never having seen anyone fly in real life, and was determined to make my parents so proud by learning early. I would run and jump down the 14 step wooden staircase, crashing into the wall at the bottom, convinced that once I could just navigate the turn, I would swoop out to the impressed cheers of my mom and dad.
But it was also supposed to be a surprise, so every time I crashed, I just told them I fell. It was only during an adult conversation about this memory, my dad confessed that he thought, perhaps, I had special needs and considered carpeting the stairs to avoid head injuries from all of my falling. I think he was more convinced I had issues after I told him what I'd really been doing.
So my child definitely has the right mother, and I certainly needed reminding before deciding how to discipline her that she might have been 'trying to fly'.
So in that moment, I prayed, just the act of asking for guidance, really helped me step outside the emotion. And I marched her tiny hiney to time out, which is also our bottom step.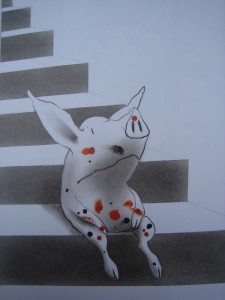 I was upset, I cried a little, told her I was very upset about the damage to her bed, and she needed to sit in time out until Daddy could come talk with her.
And I walked away. I prayed to use this as a teaching opportunity because the damage was already done. No yelling or fussing was going to undo her chewing (?!) all over her bed.
Deuteronomy 6:7-8
ESV
"You shall teach them diligently to your children, and shall talk of them when you sit in your house, and when you walk by the way, and when you lie down, and when you rise . . ."
Teaching our children God's ways should be in everything we do, should be as intertwined with our lives as our breath.
I contemplated what lesson was important here. Was the lesson to not chew on our furniture? Or to respect our belongings? Or to obey her parents?
I could easily have made sure she never chewed on furniture again, but what I really wanted to teach her is how to make a mistake and learn from it and how to ask for guidance when she is tempted to do something she thinks is naughty.
I let her sit in time out for a few minutes while Daddy finished his chore outside. I briefed him on what happened then followed as he walked her into her room and talked with her.
"What did you do?" He said, exaggerating his dismay.
"I scraped my teeth all over my bed." she answered solemnly, a tiny quiver to her voice, her big brown eyes and pouty lip daring him to be angry with her cute little self.
"Why did you do that?" daddy asked, incredulously.
Then quite matter-of-factly, she answered, "I was sharpening my teeth."
I had to cover my face and turn away because I was laughing. I'm not sure which was funnier her beaver explanation or listening to my husband's science lecture carefully explaining why humans don't need to sharpen their teeth.
So now what? We needed to make the punishment appropriate and instructive instead of merely punitive.
As daddy dabbed stained the spots to make them less noticeable, we talked about taking care of our things to enjoy them longer. Maybe going without some of her favorite things would help her understand. I got a small bag and asked her to select her favorite toys to go into time out. She carefully filled the bag, explaining to me why each one was treasured.
I made sure she knew the toys would come back in a few days, but that it was a lesson in why we take care of our things and that she needed to remember that we don't destroy things on purpose.
Something about my first memory is that it was my first spanking. I had been trying to help my sister stop crying when I discovered the fun powder clouds. I didn't understand I had coated the entire upstairs of our house. I couldn't see that.
All I could see was that my dad was angry, and I didn't understand why. I got a spanking and stood in a corner. I remember staring at that yellow wall, crying, angry, wondering what I did. I was only two.
I don't want her to remember our anger. I want her to remember a conversation and fair punishment. She was sad. She asked me in her tiny voice, "Are you dista-pointed in me?" breaking my heart into a million pieces. She said sorry, and I forgave her. She rushed into me, begging for an embrace, knowing that no matter what she does, I still love her and will wipe away her tears.
Galatians 6:1
ESV
"Brothers, if anyone is caught in any transgression, you who are spiritual should restore him in a spirit of gentleness. Keep watch on yourself, lest you too be tempted."
We needed to restore her in a spirit of gentleness. The bible has lots of verses about discipline, but this one feels like it is just for me, reminding me to be gentle, not to be tempted to allow my anger and indignation to spiral out of control.
Hebrews 12:11
ESV
"For the moment all discipline seems painful rather than pleasant, but later it yields the peaceful fruit of righteousness to those who have been trained by it."
God disciplines us. If you read the rest of Hebrews 12, the passage basically says to rejoice in God's discipline because it means we are truly His, that He is treating us as his children. The fruit of Biblical discipline and a Godly reaction is redemption, salvation, and righteousness.
She needs to learn discipline and instruction in many areas to grow into a Godly woman. That is our job. Her beaver antics were an opportunity for me to teach her, and for me to remember what the world looked like through four-year-old eyes.
If I punish because I am angry, she won't learn the right lesson. She'll learn to not get caught, instead of how much we learn from failing. I really want her to learn that everyone makes mistakes and how to make better choices in the future. I need her to know the joy and freedom of forgiveness.
When we got her toys out of time out this morning, we talked about what she learned. She asked me if I was still mad. I pulled her gently in my lap, kissing her cheek as we talked. I said that I was still sad about the damage to the bed, but that I stopped being angry when I forgave her. Her smile was priceless. I asked her what she learned. She told me that she learned not to chew on things, not to be naughty, and to listen to God's voice in her heart.
I feel like I learned just as much about God's love, redemption, and forgiveness as she did. What a wondrous Lord we have, how miraculously He works all things together for our good, even a child sharpening her teeth on her bed was a great lesson in love for all of us.