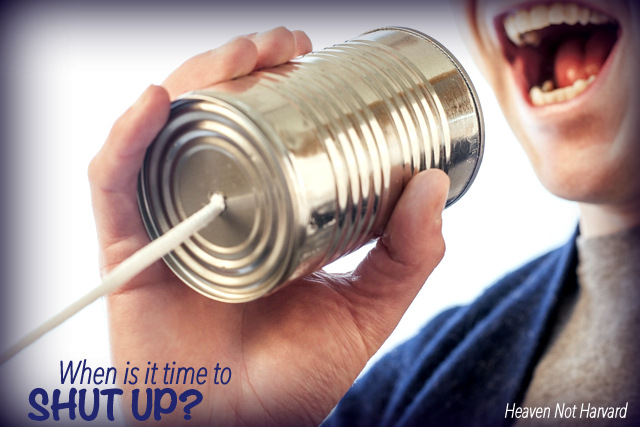 (Last Updated On: July 30, 2016)
Shut up isn't very nice. We try not to use it in our house, but sometimes it is the only way to get someone's attention.
God used it to get mine.
This month has brought me some personal challenges that have broken my heart, left me wracked with sobs wondering if things will ever be okay again.
And in my little external processing way, I start trying to use my words to grapple with my tornado emotions and thoughts that keep me awake and make my blood pressure skyrocket.
But in this hurt, I can't even hold onto the words. Nothing is making sense. I feel completely discombobulated.
My prayers are mostly groans, but I'm begging Him to tell me what to do.
And again, He guides me through my parenting moments, loud and clear.
My daughter was having a day her emotions were too big for her to handle. She was exasperated at everything and not doing a very good job of letting small frustrations slide.
She came to me sobbing and proceeded to go on a tirade about her toys, exploding verbal diarrhea so violently I could barely understand her. I struggled to get her attention over the storm she was brewing.
She was so loudly upset that she couldn't hear a word I was saying even though I just wanted to comfort and calm her.
I looked at her and YELLED – "STOP! You've got to shut up."
Shut up isn't very nice, but it can be the only way to get someone's attention. God used it to get mine. #BeStill
Click To Tweet
I wasn't harsh, but I was loud enough she paused, a tad stunned. When she got quiet, I said, "You can't listen while you're talking."
The words had barely left my mouth when I realized what God had been trying to tell me all week.
I had to shut up to hear Him, too.
I had been so loudly upset and exploding in my own way that I couldn't even hear Him, much less be comforted and calmed by Him.
Job 6:24
ESV

"Teach me, and I will be silent; make me understand how I have gone astray.

I couldn't hear God's instruction through all the noise I was making in my head. All the mental scrambling to get past the hurts wasn't bringing me any peace and the pain kept getting louder.
It was time to put up and shut up.
If God is my refuge, my portion, I needed to prove it in the midst of distress, not just when life is easy.
I was reminded of one of my favorite verses when my emotions get out of whack.
Psalm 46:10
ESV
"Be still, and know that I am God . . ."
I got still. Despite my hurt feelings, despite the panic surging inside, I just sat still for awhile, physically and mentally, ready to listen.
What I heard was just grieve. It's okay to be sad for awhile. The image of Jesus weeping over Lazarus flooded my mind. Even though He knew He would restore him to life, Jesus grieved His loss.
Be sad about the conflicts and failings, humbly do your part in this world to get along with everyone, but leave the rest up to Him.
Exodus 14:14
ESV /

The

Lord

will fight for you, and you have only to be silent."

Again with the shut up. 😉

But God is reminding me that in the quiet, He is there. In the silence, I can hear His instruction.

And when I shut up instead of letting my hurt feelings overwhelm me, the quiet will solve more conflicts than arguing back ever could.

When I let a gentle spirit speak for me, God will be glorified more than my words could bring.

[jetpack_subscription_form subscribe_text="Enter your email address to get more of this encouraging content!"]