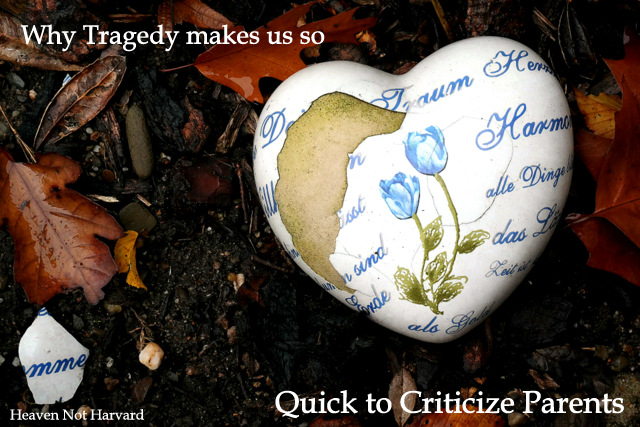 (Last Updated On: June 18, 2016)
WHY are we so quick to criticize parents in the wake of tragedy? What is it about alligators, gorillas and car seats that turn rational, compassionate people into cruel, armchair parenting quarterbacks moments after tragedy strikes?
When I hear about a child's death, I immediately imagine the pain of losing my sweet girl. Even in the middle of the night, I'll go scoop her up, kiss her face, smell her hair, knowing it is only by the grace of God my girl is healthy and alive.
It certainly isn't due to perfect parenting. I fail daily.
So why are people so quick to criticize parents?
Because we're afraid.
In the wake of tragedy, we see their pain and grasp at any straws to prevent our own losses. Just the thought of such grief horrifies us, clutches at our hearts, stops our breath.
Irrationally but passionately, we believe our love for our children would have been enough to protect them.
So we pretend.
Why so quick to criticize parents in the wake of tragedy? We want our illusions of control.
Click To Tweet
We pretend our parenting is the difference between joy and grief, that our constant vigilance is completely responsible for our children's health and well-being, forgetting split-seconds can bring disaster.
All we can do is our HUMAN best. And that scares the snot out of us, if we're honest.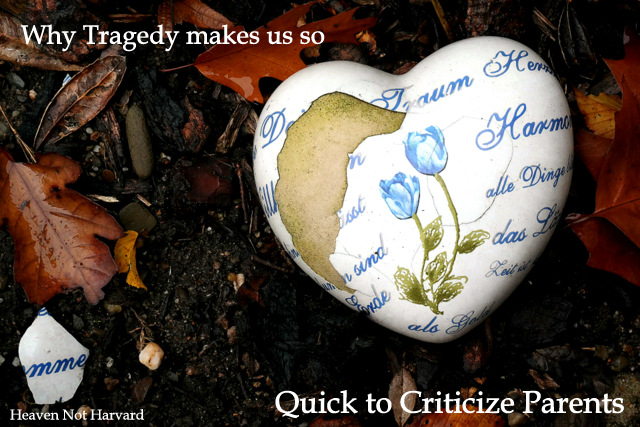 Because we know how utterly flawed we are.
We criticize so we can pretend our parenting choices are the difference between joy and grief.
Click To Tweet
We criticize parents because we want to believe it was their fault.
If it was their fault, we can believe we could have done something differently to prevent the tragedy.
Because we are terrified to acknowledge we are largely powerless to protect our children from every possible danger in the world.
Honestly, there's no hope in believing it is all on us. We're left manically trying to control everything.
My only real hope is God's sovereignty and His love for His children.
Learning to trust Him with MY life is hard; it's a daily letting go of my plans and hopes in exchange for His.
Trusting God with my daughter and stepsons means understanding bad or terrible things may befall them. It is scary.
But God has used even the most tragic circumstances in my life to reach, change, and use me. I have to pray for peace, knowing He won't let anything be wasted in their lives either, even tragedies or my parenting failures.
Genesis 50:19-21

ESV / 

But Joseph said to them, "Do not fear, for am I in the place of God? As for you, you meant evil against me, but God meant it for good .  .  .  So do not fear; I will provide for you and your little ones." Thus he comforted them and spoke kindly to them.
God comforts and reminds us not to fear. He will provide for us and our children, even beyond our understanding.
Instead of being so quick to criticize parents, what if we recognized our deepest fears and just grieved with them, prayed with and for them?
Maybe, we could demonstrate God's peace and grace to those facing the most unspeakable grief, losing a child.
Subscribe to Blog via Email