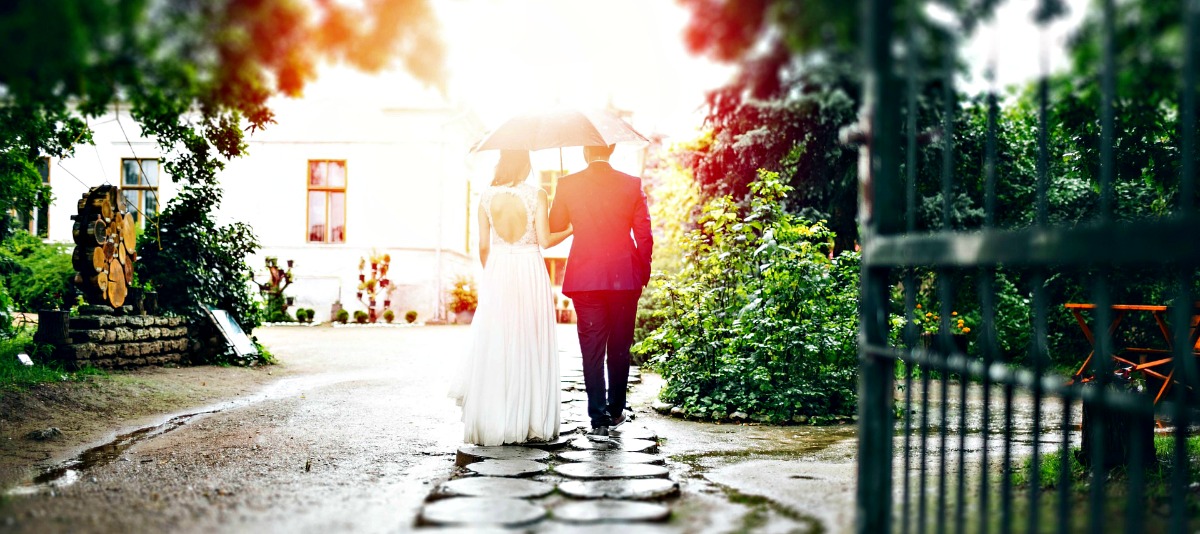 Can God transform your marriage through suffering?
My marriage didn't turn out to be the wondrous romance I expected. I'll admit, after my proposal, I had pretty high expectations! But, my marriage definitely didn't fit the Hallmark movie ideal.
At least, not at first. God used some hard things to take us from the brink of disaster to happily celebrating our 11th anniversary today!
(Heaven not Harvard is a participant in affiliate programs including the Amazon Services LLC Associates Program, an affiliate advertising program designed to provide a means for sites to earn advertising fees by advertising and linking to Amazon.com.)
But it was a long road and a lot of rain fell on our parade.
Are you standing in that place? Standing in the sullen and silent stage of a marriage? In which you're living side by side but the distance between you is palpable? 
Maybe you're coming up on your wedding anniversary, and you could care less? In fact, you almost pray he forgets because trying to muster up emotions to fake happiness through the evening makes you exhausted just thinking about it?
If you feel like that or ever have felt like that, you're not alone. I've been there.
Marriage can be disillusioning in the grandest of ways.
I thought I knew who I was marrying. I thought I knew who HE was marrying. Turns out, I didn't have a clue about either one of us.
I thought I was kind and loving and patient before I got married.
Well, being married to someone who is more spontaneous and quirky chaos to my neurotic perfectionism and overly acute sense of organization has made it pretty clear that wasn't true.
I was really patient and kind when I lived alone and could relegate his mess to his house. I could smirk at his piles and assume that he just didn't know better. He just needed a woman to help civilize his wild, and teach him to separate his whites and darks. 
Oh, how I laugh at that today! Of course, he knew better. It just wasn't his priority. And it still isn't. He prefers our home to feel lived in. I like HGTV perfection. We are so very different in many ways. Yet, we're both growing. I've even learned to wash everything in one temp and let God and Maytag sort it all out.
I had to accept that my idea of love and marriage were based on the world's views, not God's truths. My ideas of rights and respect and companionship and priorities were all shaped by my culture, not the immutable, unchanging reality of scripture.
Maybe the purpose of marriage is more than love, maybe it's for God's glory.
Products from Amazon.com
‹
›
So, if God ordained my steps before I was born, He planned this marriage too. He knew how to use our differences to shape me to be more in His image, transforming me by degree.
2 Corinthians 3:18 ESV And we all, with unveiled face, beholding the glory of the Lord, are being transformed into the same image from one degree of glory to another. For this comes from the Lord who is the Spirit.
Once I was willing to embrace those differences and see my husband as greater than myself. And I've learned to embrace how these differences are refining me to look more like Christ.
God has crafted the different events and suffering of the past couple of years to reach us as a couple. He can use suffering to transform your marriage as well. We've had issues with parents, parenting, finances, appliances, careers, technology, and grief and loss.
God even used a total physical break down to break down the careful walls of politeness we had built between us.
After being married a decade, we had quit talking with each other about intimate issues, deeply held views, and even tragic moments from our pasts that we didn't know how to share.
Thanks to this military life, we had lived separately for so much of our marriage that we'd gotten really comfortable living this compartmentalized relationship with all the messy human stuff kept in little private boxes.
Turns out, you can't love someone with your whole heart and hold anything separate from them.
Through my hip surgery, dislocation, and the prolonged recovery, then my husband's increasing disability due to his military service, we've had to learn an increased compassion for each other. We had to communicate about our bodies, our feelings about getting older and recognizing our mortality.
We had to risk and trust like we did in the very beginning. The first time I opened up about how rape affected my marriage was really hard, but my husband was able to really listen to me and not let his own emotions of anger prevent him from just listening.
The past year has opened the door of communication between us. God has used scripture to teach me how to love and surrender in the hard things.
One night, I lay in bed mentally crying out "WHY ME?!?" I almost audibly heard Him say, "Be patient. I'm doing stuff."
Well, okay then. Show me what you're doing. Just give me a glimpse.
I almost immediately felt awash with peace. Not healing, I had months of healing left to go (and some still ahead of me), but peace that surpasses understanding calmed me.
Psalm 94:19 
ESV 
When the cares of my heart are many, your consolations cheer my soul.

 
So I began to watch for the things that God was working in my life. When I stopped feeling like I had been targeted and realized this was God's grace, not punishment. This suffering was part of making me holier and strengthening my faith!
And I began to see how my injury and need brought out gentleness in my husband. How my need encouraged me to grow in humility to see how God can use my gentleness over my intelligence.
Even in the middle of rough moments over the past months, God has put people and even street signs in my path reminding me that He hears me. When the brake store sign read, "God hears your cry" on the roughest night we'd had in a long while, I almost began sobbing in the car. Thank you, Lord.
I am patient knowing that God has always worked everything together for my good, just on His perfect timetable, not mine.
2 Corinthians 12:10 
ESV 
For the sake of Christ, then, I am content with weaknesses, insults, hardships, persecutions, and calamities. For when I am weak, then I am strong.
When I look to Christ, I am content with insults and hardships. That is so incredibly counter-cultural! I know in my weakness, God's hope has shown brighter in me. When I could face calamity and say, I trust God, it changed me and the people around me.
It's been incredibly beautiful.
Just this week, our septic system backed up. What would have been an unimaginable crisis when we didn't know how to talk to each other was merely a tiny irritation, and we ended the evening holding hands snuggling on the couch.
Our marriage isn't magical. It's far from perfect, but we're better today than yesterday, and I'm counting on God to use the blessings and challenges to keep directing our steps.
How did we get here from there? I got into my Bible everyday. I began to see my first mission field as my husband and family. I let God's Word and Spirit be active and transformative. I couldn't just read words and hope on them. I had to LIVE them.
Let God change you and you will see Him transform your marriage through suffering and in blessings. You cannot become more like Christ and not see fruit blossom in your life. Just know that it doesn't always look like we think it will. But in a Kingdom-mindset and eternal economy, you'll begin to see how our light shines brightest in the dark.