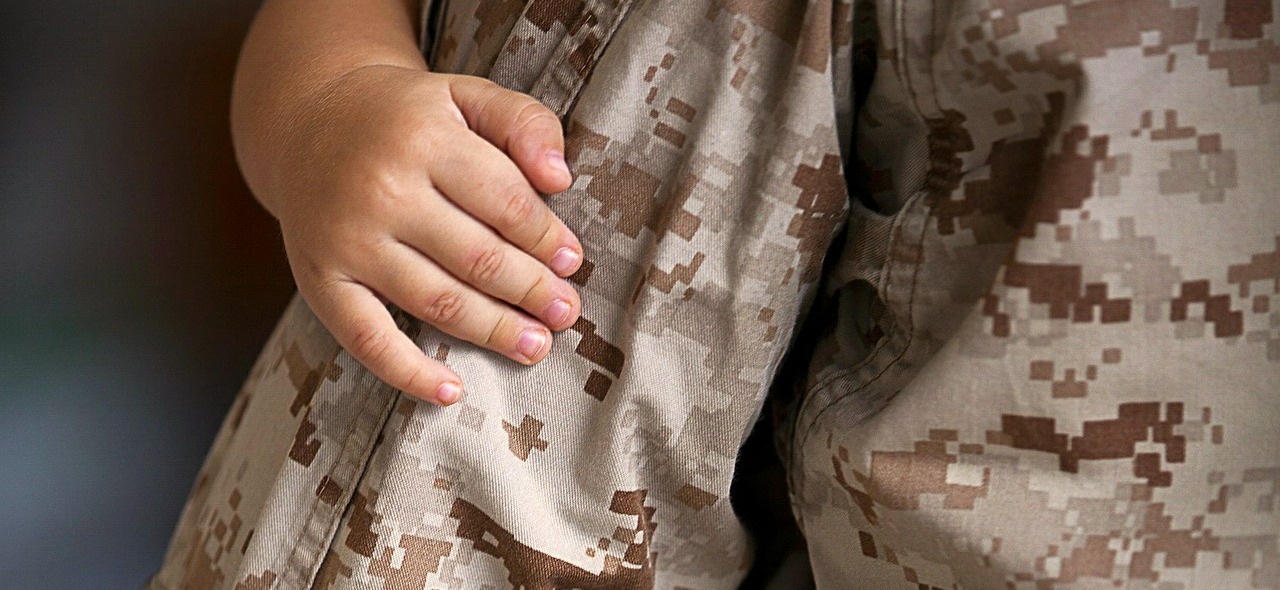 The nights before deployment were some of the most difficult of my married life. Every moment is full of the devastating agony of letting go. Each second is rich with longing and fear.
(this site uses Affiliate links-purchases support our ministry through a small referral fee that never affects your cost.)
Seven years ago this week, the night before deployment, I began writing an army wife blog. As he was running around the house searching for random gear to pack in his last dufflebag, I began to write about the bizarre juxtaposition of emotions in the waiting for good-bye.
While he was gone, I wrote about our life on the homefront, my daily experiences as a geographically single mom, waiting for his return and doing my best to survive without him. I realize that this old blog might still be encouraging or helpful for someone, so I dug it out of the archive.
I will also add any new thoughts or things I've learned in the years since at the end.
*          *        *         *          *          *          *
August 2010 – Day 366  (the night before goodbye)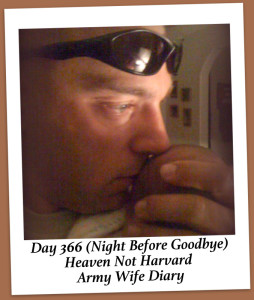 So . . . here it is. After months of looming, the day is finally here. His last day at home before leaving for Iraq, AGAIN.
It's the night before deployment.
I try not to cry when I ask if I can leave a few minutes early today. Supportive smiles are good, but the pitying looks at various levels of understanding are hard to face.
We live near a military base; people, for the most part, get it, but unless you have gone through it and sometimes even unless you've gone through it more than once, the nuances of this military life escape even the most sympathetic friend.
By the end of the school day, I am ready to race home, take off my heels and see my husband, but there is a heaviness surrounding our exchanges. So many words hang in the air, unsaid but felt.
Dealing with deployments-the night before goodbye is full of unsaid words and not enough time.
Click To Tweet
He wants to tell me so many things, but his mouth can't seem to juggle the marble ideas in his head and spit them out. Instead he grasps my fingertips with my arms wrapped around the baby and whispers, "I love you." And takes her, wanting his last few minutes with her too.
By the time he sees her again, she will be crawling, maybe even walking. Today she smiles and is working up to giggling, but is still very much a newborn. When he comes home, she will have celebrated her first birthday and be several months closer to the next one.
How do you fit an entire year into one last night?
I watch him feed and snuggle her. Her whole faces explodes into a Cheshire grin when he smiles at her. I am worried that his deployment will subconsciously make her feel abandoned by men or sad.
Even though, she will never remember this year without her daddy, I will have each day etched across my heart.
He wants to eat at his favorite sushi place. I think raw fish should still be swimming in someone's tank, but I concede. He is deploying to a place he affectionately calls "the armpit of the world" or "prison" depending on his mood. I can give in.
We have sushi and spend our last precious evening on the couch watching TV, because even though, I have raw and deep emotions, I don't really know what to say. If we haven't loved each other enough all year long, the next ten minutes or just the right phrase, won't fix it.
Saying goodbye before deployment is standing on the edge, leaning over just enough not to fall.
Click To Tweet
Saying goodbye before a deployment is almost dangerous, walking a fine line between rich and hopeful and breezy belief that this is just see you later. I feel like I'm peering over a cliff's edge, leaning over just far enough not to fall.
We stay lighthearted as we start to discuss the most ridiculous news headlines of recent days. The laughter pulls us together. We laugh and want to fall asleep, but he has to go inspect barracks, so we kiss goodnight.
His goodbye is only for a few hours yet, but the word tastes bitter on my tongue. I fall asleep and wait to wake up for the real good-bye. My dreams are frantic and jumbled, some with him and some in which he is already gone.
At some point, I reach across the bed, and he is there. I am tempted to stay awake just to memorize the safe warmness of him, but drowsiness wins and I slide back into slumber.
He wakes just before four, and I get up to say goodbye.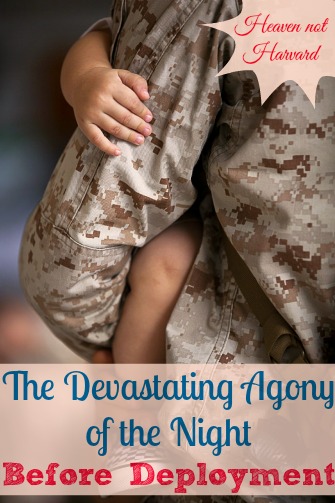 Some wives will spend the morning sitting in the gym bleachers, listening all the speeches, etc. but it's the second day of school. I shouldn't miss work and can't see waking the baby this early will help her adjust to this new routine, so we decided that good-bye is the same whether we say it now or in two hours.
Besides, I don't have to have a brave face for anyone here at home. I cry ugly sobs when the minute comes.
Despite really trying here, I can't quite capture the horrible lead-weight-in-my-chest feeling with words.
Quietly, I tell him to come home and be safe.
Then, he is gone. I stumble around the house picking up cast off items that didn't make the final duffel bag. I finally drop back into bed for an hour or so before my first day as a temporary single, working mom commences.
*          *         *        *         *         *
I haven't had to say goodbye like that in seven years now. But just reading it, I remember every second like yesterday.
Nights before deployment were difficult, full of devastating agony, rich with longing and fear.
Click To Tweet
I shouldn't have to do it again as we near retirement. But for younger wives, letting go and saying goodbye is a process that begins with his orders.
You start mentally preparing a world-wind family vacation tour, and a slew of honey-do lists that will help you start this year alone- because everything breaks when they leave.
You start measuring every moment against, "What if he never comes home," which is the pendulum swooping ever closer that dangles over every interaction until he leaves.
I watched every second between him and the baby. As her mom, I wondered if these small moments and pictures or recordings would be enough if it were all she ever had of her dad.
Those days before deployment definitely help me now be more mindful of today's blessings. Even when life is hard, it isn't deployment hard.
And it reminds me that none of us have a guarantee of tomorrow.
Subscribe to Blog via Email
Save