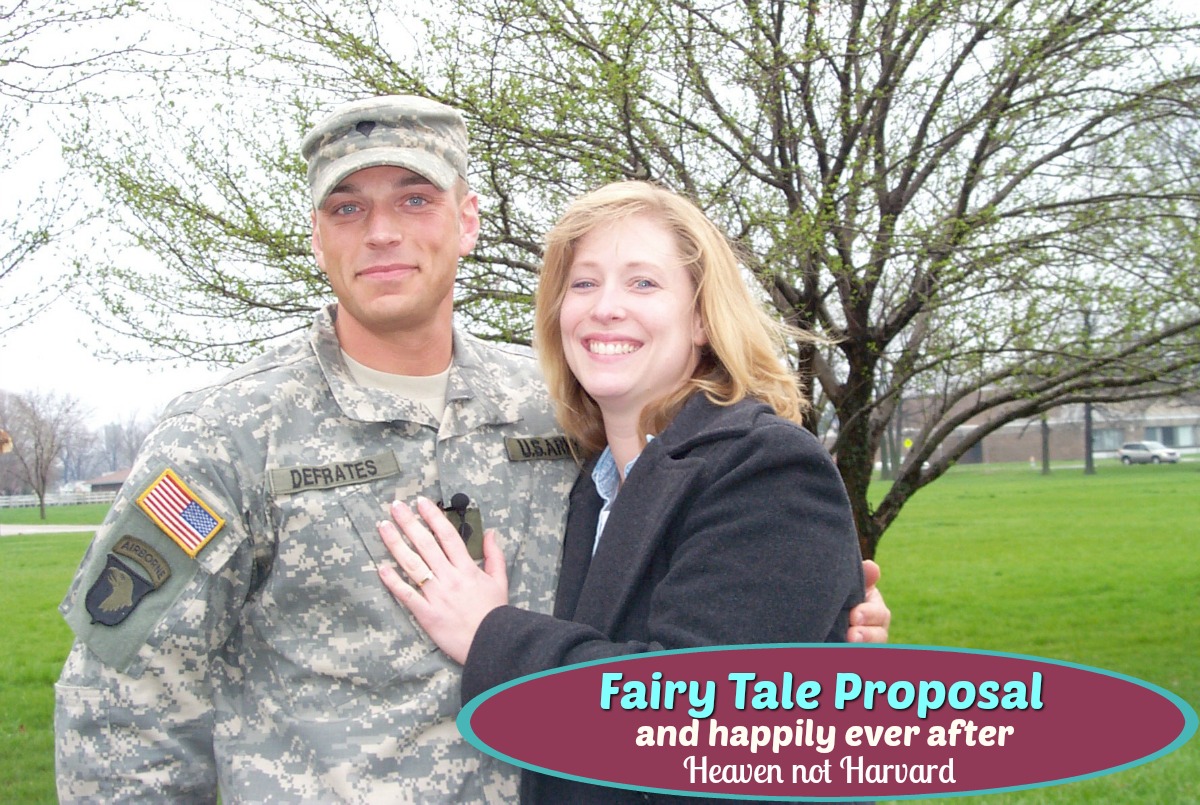 Eleven years ago today, I got pulled over by the sheriff. I couldn't imagine then how one "traffic stop" would change my life.
In 2016, I was so excited to sit in the very spot of this momentous encounter with our sheriff with my daughter and watch this video of her daddy's surprise return from Iraq which had a bigger twist than I realized.
I was stunned. I had no idea what was happening. Until I watched the reply, I wasn't even sure what I said – on NBC, MSNBC and now YouTube!
Now I can say, even with all the challenges we have behind us and all the challenges we have before us, I would say YES again.
April 6, 2006 felt like an ordinary Thursday, not a Fairy Tale Proposal.
Today, reflecting on where we've been, I can see how much God has grown our marriage since that day. And we're so blessed to have had it filmed to share forever, and have such a wonderful start to our lives together.
When the sheriff pulled me over, I couldn't imagine how this would become a fairy tale proposal.
Click To Tweet
Struggling with a terrible surgery, disability, and recovery, I've had a really rough year. And my husband stepped up. Despite working early mornings, long shifts, and short weekends, he has selflessly given to me when he has been home to do so.
He has cooked and cleaned. Even shooing me away from doing chores a couple of times, he said, "I'm trying to take care of you! Would you just let me?!" Sometimes, in order to be a blessing, we have to let others be our blessing. And what a blessing it is to have someone offer to care for you not out of obligation, but out of love.
Sometimes in order to be a blessing, we have to let others bless us.
Click To Tweet
I have felt my husband's 'thank you' for all the times I've served him quietly, and I felt God's love through my husband. Even in the worst moments of the past few months, I've had reasons to be grateful instead of complain.
Even in the worst times, I've had reasons to be grateful.
I live in a country which has wealth more abundant than 90% of the world can imagine. I have the luxury of being sidelined and sick because we have a stocked freezer and pantry. And internet to allow me to visit friends all over the world from my couch.
And my husband has sacrificed his time, his energy, and his hobbies to be home to care for me. He spent all day Sunday (during Turkey season!) making a gourmet feast because my being stuck on the couch for months we haven't been able to go to our local Mediterranean restaurant for my favorite dish. So he made fresh from scratch fettuccine Alfredo with wood-fire grilled steak in a balsamic reduction sauce with fresh homemade bread. I know, I'm spoiled!
Why did I originally share this post on Veterans Day?
My husband is a soldier. He has served overseas many times in various capacities during his time in the Marine Corps and US Army. He spent four years of his life in Iraq, trying to defend our values and nation from those who spread hatred. While not untouched by war, he has come home alive and unhurt. Not everyone can hug their veteran today.
Also, Veteran's Day is our wedding anniversary. We are celebrating 11 years of marriage this November. Six months prior to getting married, he came home from Iraq and surprised me with this outlandish proposal.
I thought I was getting arrested, but instead I was getting a fairytale proposal.
Military life isn't easy. We can spend time complaining or be grateful. We live in a country so free people can scream from the top of their lungs ideas that are completely opposite of what our nation stands for, and a soldier will say, "but I fought for his right to say it."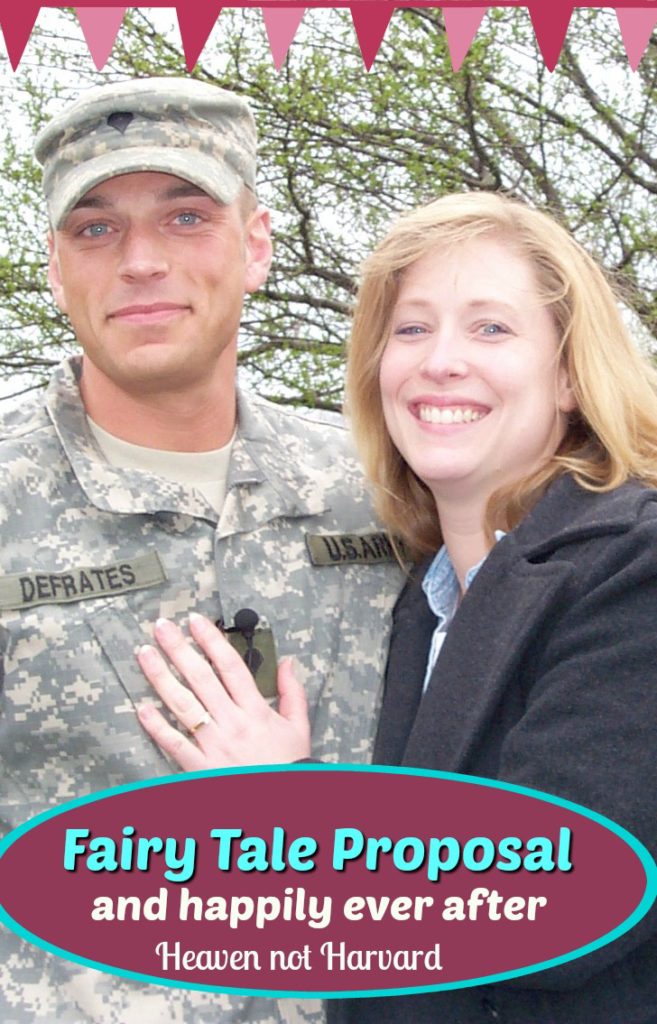 My marriage isn't perfect, but it is growing stronger. We have enough. We have each other, a lovely home, and amazing kids. I get to choose my perspective. When I choose to focus on God, the complaints die away unsaid, my heart turns from bitter to blessed.
Every low moment in our lives is a chance for God to whisper His perspective into our hearts. Each small joy is a gift to us. Every challenge a chance to grow and overcome. Even in moments that destroy and devastate, God shows up. He is present, giving us rest, using people to love us.
I am supremely grateful for a husband who has given me so much, I honestly couldn't think of anything I really want except to grow closer.
The fairytale isn't having perfection, it's having perspective, God's perspective.
Click To Tweet
James 1:2-4
ESV 
"Count it all joy, my brothers, when you meet trials of various kinds, for you know that the testing of your faith produces steadfastness."
I'm counting it ALL JOY, learning to be complete, realizing in Christ, I am truly lacking in nothing. And that is how our fairytale proposal turns in our Happily Ever After.