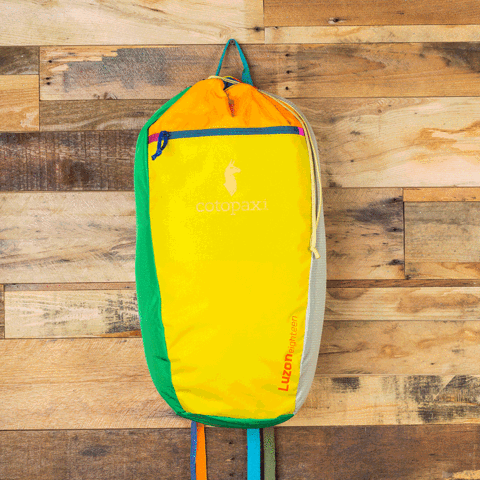 God's perfect timing put two great stories of using Gear for Good in my path, about giving back and being part of changing lives. Both address the need to see through eyes that give more than spare change, instead giving the ability to change lives.
Has the Holy Spirit ever prompted you to do something way out of your comfort zone? Like giving to someone you would normally walk past or talking to a stranger who looks lonely?
On vacation this summer, God prompted me to get up from my meal, walk out to the boardwalk and take a picture of a couple who were talking and laughing, surreal to feel that prompting and just say yes.
I may never know the why on this side of Heaven, which is hard because I like the all tied-in-a-bow Hallmark movie plots, but saying yes wasn't so scary. If nothing else, I learned to get over my introvertedness and be a bit bolder for Christ.
Last week, a dear friend of mine gave into a spiritual prompting by using some gear for good, giving to someone she would never have known except for answering his need.
Saying YES to a Spirit led prompting is freeing. Obedience is beautiful and heart changing.
Click To Tweet
She watched him for weeks. Always feeling that tug. Should I do something? What can I do? Sometimes we don't know how to help.
She saw him at the stoplight at least once a week. He might be in his late 30s, brown hair. Something about this stranger drew her attention, but she always had her boys in the car, racing to a doctor or therapy appointment.
What can I do?
He shuffles between cars, a weathered cardboard sign, "Looking for a job," in one hand. Sometimes, she watched him pouring over heavy books.
He is cold today. She feels that tug on her heart again to do something for him, but the light changes and she is pushed forward with the surge of traffic behind her.
Go back. Ask his name. Help him.
It took weeks of God tugging on her heart for her to do something. But today, she knew she had to act.
but What?
At home, she found her husband, "Babe, this might sound crazy, but I think God wants me to do something for that man who stands at the stoplight."
He considered what could they do, not tomorrow, but right that moment. "We have that backpack in the closet we've never used."
"Perfect!" She ran through the house grateful for her hoarding tendencies at the commissary: wool socks, toiletries, some food, and a sturdy Bible filled the bag, along with some nice clothing he could wear to apply for a job.
Her husband headed out with the bag. She sat at home with the sick boys, praying he would have a long red light to be able to really stop for him.
He gave him the backpack, told him he was being prayed for. And that was it; he was tremendously grateful, but they haven't seen him again.
All they know is that they gave him some hope, kindness, a few necessities, and God's word in a new backpack.
We are commanded to help; the obedience is in the giving back, being part of the story, without necessarily knowing the end.
The amazing part for me is that just before the holidays, a Cotopaxi representative found my blog and my passion for giving back. She asked if I would spread the word about what they are doing, using gear for good.
Want to make an impact? Be part of ending poverty when you buy, use, or gift any @cotopaxi gear.
Click To Tweet
I said sure, excited to offer my blog to share their story, and then Holiday CRAZY happened; I had not really looked into Cotopaxi until just minutes before Kaitlin messaged me her story about giving away a backpack, only to find that Cotopaxi gives back through all their gear, but especially backpacks.
How incredible is that! God had reminded me of this post for Cotopaxi the exact day she called with her story.
I am especially excited because Cotopaxi does more than donate money to great causes, they fund solutions that change the story for people all over the world. Instead of 'giving them fish', Cotopaxi is part of 'teaching people to fish', ending poverty in truly sustainable ways.
@Cotopaxi does more than donate $$, they fund solutions that change the story for people.
Click To Tweet
My friend Kaitlin used some gear she had to do good. Something we could all learn from. But even better to use gear that does good.
I'd encourage you to spend some time on this site. Cotopaxi is involved in so many projects. Pick a backpack or two. Everyone can use a beautiful, durable backpack. Their reviews are some of the best in the industry.
Then turn them into blessing bags for people in need.
Toiletries:

deodorant, dry shampoo, baby wipes, nail clippers, nail brush, soap, toothbrushes, toothpaste

Food:

sandwiches that don't need refrigeration, gift cards to close places
non-perishable food items like nuts, granola bars, protein bars

Clothes

socks, gloves, scarves, hats, sweatshirts, t-shirts, underwear

Hope

write a letter sharing your testimony
put in information for a local church shelter or job outreach program
a pocket Bible
Your blessing bag will make a difference to the person who receives it and all over the world when you use Cotopaxi gear.
Have you ever just obeyed a Spirit-led prompting?