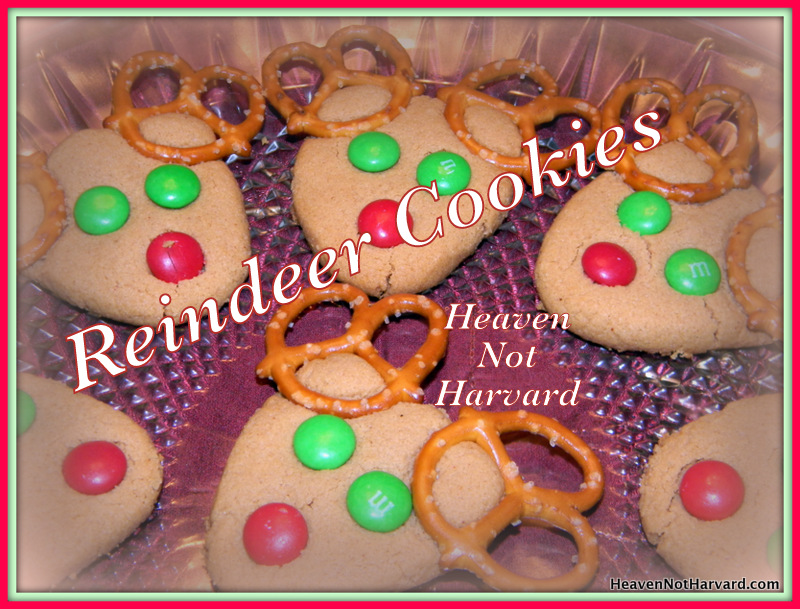 Want to learn how to make the tastiest activity this Christmas season?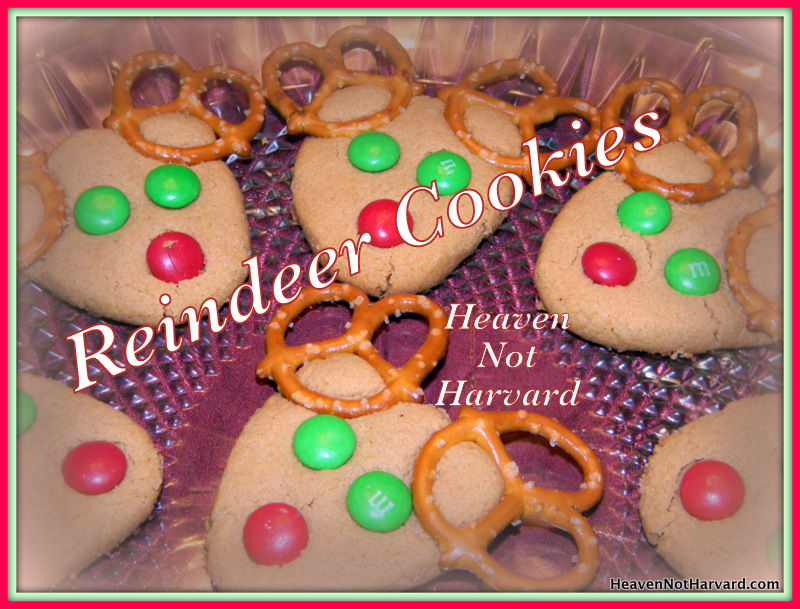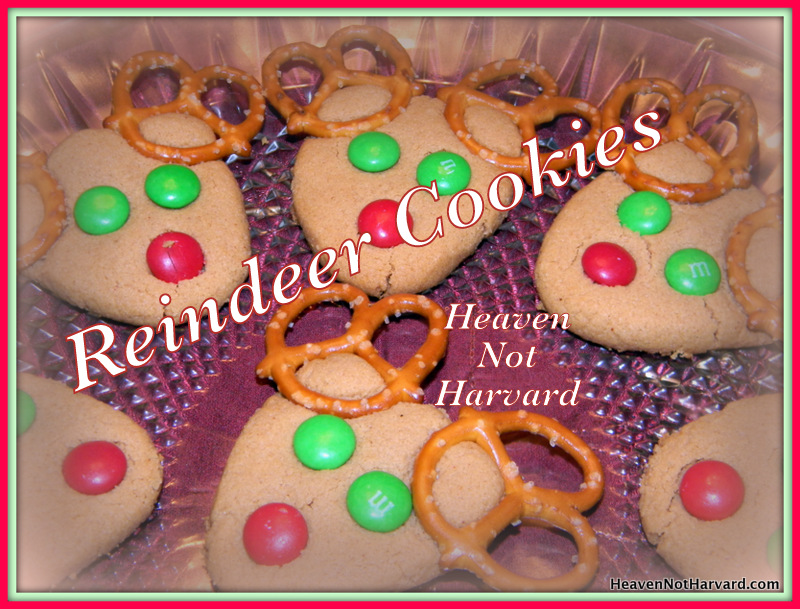 Saturday was the 50th Anniversary of the first airing of Rudolph the Red-nosed Reindeer. I wasn't born when it first aired, but not too long after. It is part of some of my earliest Christmas memories.
To celebrate, we watched the movie I've carefully kept on the DVR for over a year, then we made reindeer cookies. My daughter had her little friends over, they all sat on the same Tinkerbell chair (3 tushies one chair, LOL), then they helped shape the cookies and press in the pretzel antlers. We sang Rudolph at the top of our lungs as we nibbled pilfered M&Ms from the bowl. Just the sweet kind of memory I'll hold onto, even if she can't yet.
To be fair, I saw this recipe in the December issue of Parents magazine, but when I saw that it was the 50th anniversary of the first airing of Rudolph, I was inspired to throw together these fun reindeer cookies.
I used the recipe suggested in the magazine, but found it a bit dry and the cookies didn't hold up well. They were so fragile many broke getting them off the cooling racks or into the container.
I prefer my tried and true Better Homes and Gardens "Cookies Cookies Cookies" Whole Wheat-Peanut Butter Blossoms – which usually contain Hershey Kisses in the middle, but would do nicely for these cookies.
3/4 cup whole wheat flour

      1 tsp baking powder
      1/2 tsp baking soda
      1/2 cup shortening
      1/2 cup peanut butter
      1/2 cup sugar
      1/2 cup packed brown sugar (I prefer light brown sugar)
      1 egg
      2 tbsp milk
      1 tsp vanilla
      mini pretzels
      red M&Ms, candy eyeballs, or green M&Ms

In a medium mixing bowl, stir together the all-purpose flour, whole wheat flour, baking powder, and baking soda. Set aside.
In a large mixing bowl, beat the shortening and peanut butter with an electric mixer on medium for 30 seconds. And the sugar and brown sugar and beat til fluffy. Then add egg, milk, and vanilla. Gradually stir in flour mixture until thoroughly combined.
Now – combining the two recipes
Roll dough into balls about 1 1/2 inches, then shape into triangles, press triangles until semi-flattened. Press mini pretzels into top corners of the triangles. Bake 8-10 minutes until edges just start to firm up. Once removed from the oven, quickly press red candy into the tip of triangles as noses and your "eyes" of choice into the face of your reindeer.
Allow to cool on cookie sheet for one minute or so, then carefully transfer to cooling rack.
Notes – We had problems with the pretzels not sticking to the cookies. We might try dipping them in chocolate to make them stick if using the Better Homes and Gardens recipe doesn't correct the problem – Who doesn't like chocolate covered pretzels, right? Also, be careful pressing out your triangles as the thinner ones had issues with the corners breaking off at the pretzels.
If you try these, let me know what tricks worked for you and what didn't. They were loads of fun for the kids, and a great festive way to celebrate.