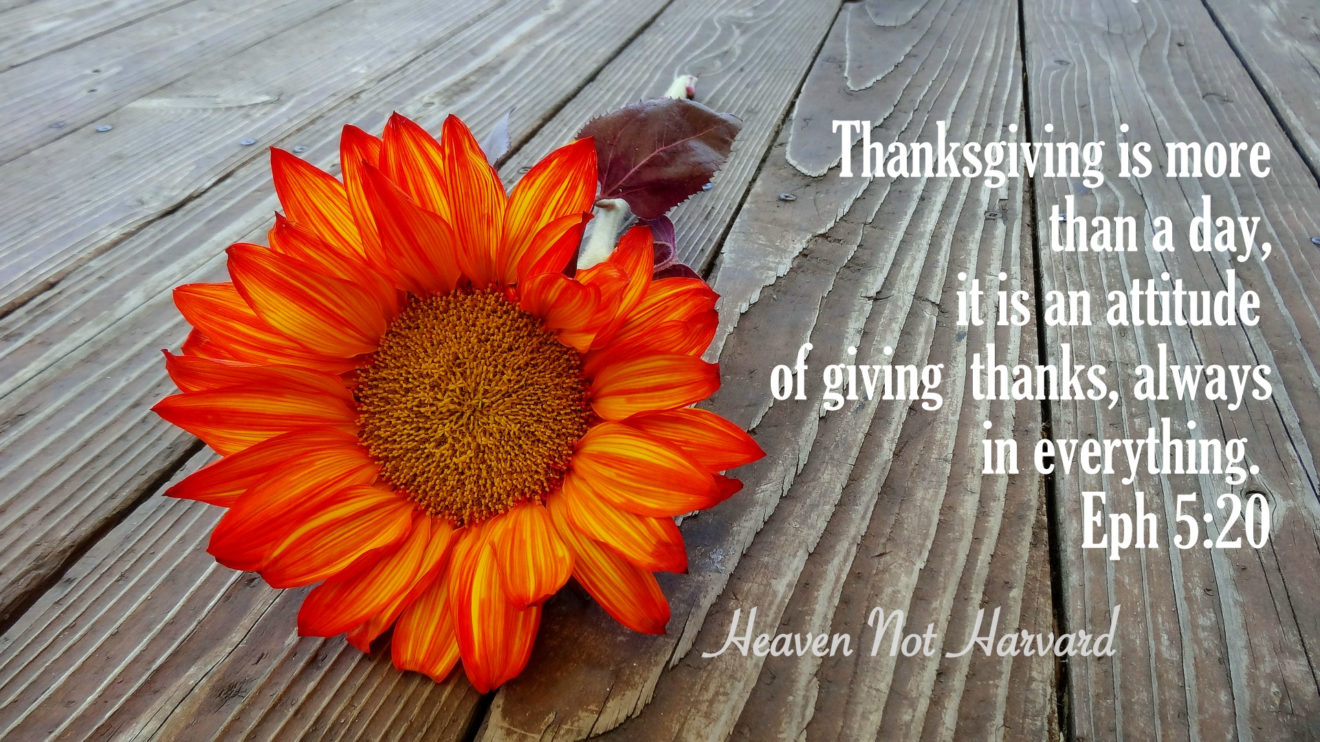 (Last Updated On: October 4, 2017)
Do you have a Thanksgiving attitude just on the fourth Thursday in November or should thanksgiving be an attitude we have for more than just one day?
In 2015, Thanksgiving was a contradiction in our home. While most of the country celebrated with large meals and loud boisterous gatherings, our table was be quiet.
(this site uses Affiliate links-purchases support our ministry through a small referral fee that never affects your cost.)
It was just another day without daddy in a long month of long daddy-less days.
But instead of sadness and bitterness over his responsibility to the army, I was able to react and adjust. How different was THAT response from previous responses dissolving into anger?!
Products from Amazon.com
‹
›
Today, I read this post with great joy that I was able to see the blessings in a derailed holiday that year which reminded me to have a Thanksgiving attitude everyday.
—-Back to our story —-
This morning I crawled out of bed at 5 a.m. to hug and kiss him one more time before he went out the door. He won't sleep tonight. And I'll worry until he drags himself home tomorrow, 26 hours later.
But we're so terribly grateful.
He is on U.S. soil, healthy and alive. Our extended family may be separated by too much distance, but everyone is happy and healthy even if we can't share the same table.
We celebrated Thanksgiving last night with a veritable feast. Candlelight danced in my daughter's eyes as we pried her fork out of the sweet potato casserole and tried to get her to eat a vegetable, even one covered in creamy mushroom soup and crispy onions.
Our table was beautiful and warm, heavy laden with more food than we can eat in a week, although we are going to do our best.
As of today (2015), we've spent six Thanksgiving holidays together, and six apart. In some ways, I'm sad because there is something special about being able to share a meal with my husband on Thanksgiving, the actual day, because we've missed so many.
Products from Amazon.com
‹
›
But a Thanksgiving attitude really is more than a day on the calendar.
It is an attitude of giving thanks in everything, always, something this year has really taught me.
Thanksgiving is an attitude of giving thanks, always in everything. Eph 5:20
Click To Tweet
I've learned:
to see the the positives despite tough situations.
to Be Still and let God instruct me when I want to throw in the towel.
I can be more self-sufficient than I thought
having perspective to truly be thankful for my husband.
Ephesians 5:20
ESV
"Giving thanks always and for everything to God the Father in the name of our Lord Jesus Christ,"
Giving thanks in everything is about God's perspective over our own. If you're His, that is enough to flood you with thanksgiving because you know to Whom you belong.
So God helps me have perspective, we have a warm house, a child we longed for (I love that National Adoption month is the same as Thanksgiving), too many pets to love and cherish, a full pantry and stuffed tummy, a stronger marriage.
We are beyond blessed on our worst days.
Cleaning up the kitchen last night, we were joking around. I sprayed him with the sprayer over the shoulder while washing dishes. Our daughter bounced around the house high on salted caramel and ginger ale, playing mommy to her baby doll. I was floored with my blessings.
I watched her softness and kindness with her doll knowing she is learning how to be a mom from me. Hearing her reflect the best of what I hope I am to her, made us both pause and just watch her for a moment.
My husband teased me and we laughed together, enjoying being able to wink and play and kiss over a steamy sink.
Thanks to the wondrous work God has done in my heart, home, and family this year, today isn't my thanksgiving  .  .  .
My LIFE is, every single day.
[jetpack_subscription_form subscribe_text="Enter your email address to get more encouragement for the modern Christian mom!"]
Save