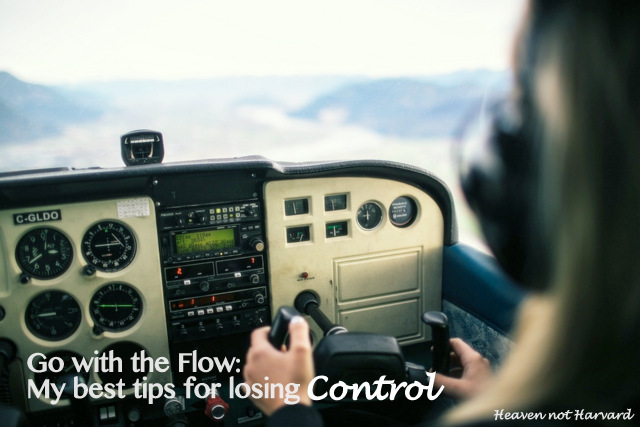 (Last Updated On: April 20, 2016)
I'm in a control recovery program. It's called Jesus. And I'm learning that control was really a temper tantrum about not wanting to trust God for my future.
Go with the flow would never have been used to describe my personality. NEVER. I still need five minutes for deep breaths after a surprise change of plans. I'm learning to embrace changes, but I've had a lifetime of practice with my control habit.
I was strong-willed and controlling in preschool, maybe the womb.
Even at ten, I had a handwritten spreadsheet for when all my stuffed animals would sleep on my bed. I taped this chart to my closet door to keep everything fair and tidy.
I color coordinated textbooks and folders in high school.
Now, balancing our budget and organizing the checkbook makes me happy in weird places inside my head.
So being a military wife with little control over my life has been a growth experience for me. We don't get to plan where we are stationed; we often can't plan family vacations or even date nights. Last year we didn't get Thanksgiving together last minute.
Learning to love him through the Army curve balls has taught me to let go of my ideas of perfect and see the greater gift of God's perfecting me: gentleness, forgiveness, and humility.
Sometimes growth brings growing pains, but I've learned so much about flexibility being a gift to my family and myself.
One thing I've learned is that my desire for order and cleanliness is often more about trying to control my life than good housekeeping. Having my house clean, plans made, and neat little budget gives me this feeling of having control over my life.
But it's really an illusion.
Control is more than an illusion. It's a lie we use to avoid trusting God.
Click To Tweet
or more than an illusion: it's a lie I use to avoid fully surrendering to God and accepting His plan for my life.
At any second the illusion can be shattered: the car breaks down, someone gets sick, the army moves my best friend.
Learning to lose control was a relief. No one was expecting me to keep the world spinning. Even with all the practice I have being neurotically in charge, often the best I can manage is damage control and survival mode.
Frankly, I only look like I've got everything together when life is smooth sailing. I'm occasionally able to hurdle some speed bumps without face planting, but I'm still winging it (and I don't mean eyeliner).
But I have a few beginner tips for losing (the need for) control:
Spend time with God. He really IS in control. Knowing His voice in my head gives me direction and peace. Letting Him be the master of universe if pretty freeing. I can have more reasonable expectations for myself.
Accept what you can control. Hint-hint, it's mostly your reaction to the rest of life. Be gentle, be humble. Breathe. Very few things are emergencies even if our emotions suggest otherwise. It's ok to wait to react. See #1.
Make choices that please God: be a good steward of the money, time, children, and seasons of your life. You'll be better able to deal with emergencies after wise decisions over time.
Losing control is becoming this place of 'go with the flow' abandon and accepting this roller coaster ride isn't Hallmark movie perfect. I'm starting to be able to see that the real chaos was trusting in my human frailty and sinful nature, believing the lie of having control in the first place.
My house is less organized, but my new, messy trust, flying into the Father's arms is so darned beautiful.
[jetpack_subscription_form subscribe_text="Enter your email address to get more of this encouraging content!"]