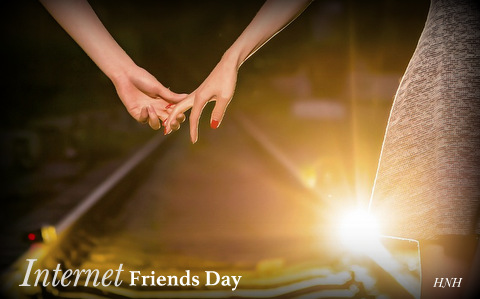 (Last Updated On: April 19, 2016)
Today is Internet Friends Day.
Yeah, I didn't know that was a thing either. So what?
The internet has created my tribe of people.
I was about to ignore it when I thought about how God uses the internet to build my tribe of people. Some amazing Godly people came into my life ONLY through the internet. Several churches and ministries are speaking into my life only through the internet.
Some connections are very new, but Godly people, writing and talking and sharing Jesus, and we're learning each other from completely different ends of the world.
This transient Army life contradictorily brings people into our lives and takes them away. But through the internet, friendships can become as close as sisters because we can stay connected when phone calls are less conversation and more punctuated by emergency parenting.
"No, you can't ride the cat!"
"Don't put that in your nose!"
"Poop is not an artistic medium, people!!" (this friend knows who she is)
Some lovely supportive friends are in my life everyday because of the internet. We share what we're reading, a movie we just loved, what we're praying over.
The Internet is a window around the globe, creating sisters from strangers. #InternetFriendsDay
Click To Tweet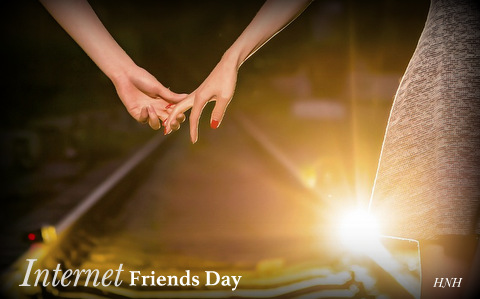 The truth is I am an intense introvert, but I love people. I love teaching and guiding and the loving of people. I just get drained by too much noise and chaos and the wearing of pants and make-up.
While recovering from hip surgery, I felt utterly useless in the kingdom of God. Seriously, all I could do was sit on the couch, uncomfortably.
God, if you can use me in this broken place, please show me how.
Ding. You have a message.
Facebook at midnight. Can I talk to you?
Over the next months, I was the midnight friend and Christian support to several women through Facebook. God said, write, so I did. And apparently a few people read this and even like it sometimes.
Through the internet, I may never hear your voice or even know your real name, but I can tell you how Jesus takes my roughest moments and shows up BIG in my life.
Sharing stories of parenting my tiny tornado while learning to live obedient to Christ might encourage you or help you feel a little less alone on those days you're crying in the closet hugging a bag of expired Christmas chocolate.
So Internet Friends Day means I'm celebrating you. All those whose lives I get to visit through the internet. All those who visit mine. All those holding my hand as I learn to follow God in all things.
Proverbs 17:17

ESV

A friend loves at all times, and a brother is born for adversity.
And this crazy internet lets us do both.
Subscribe to Blog via Email