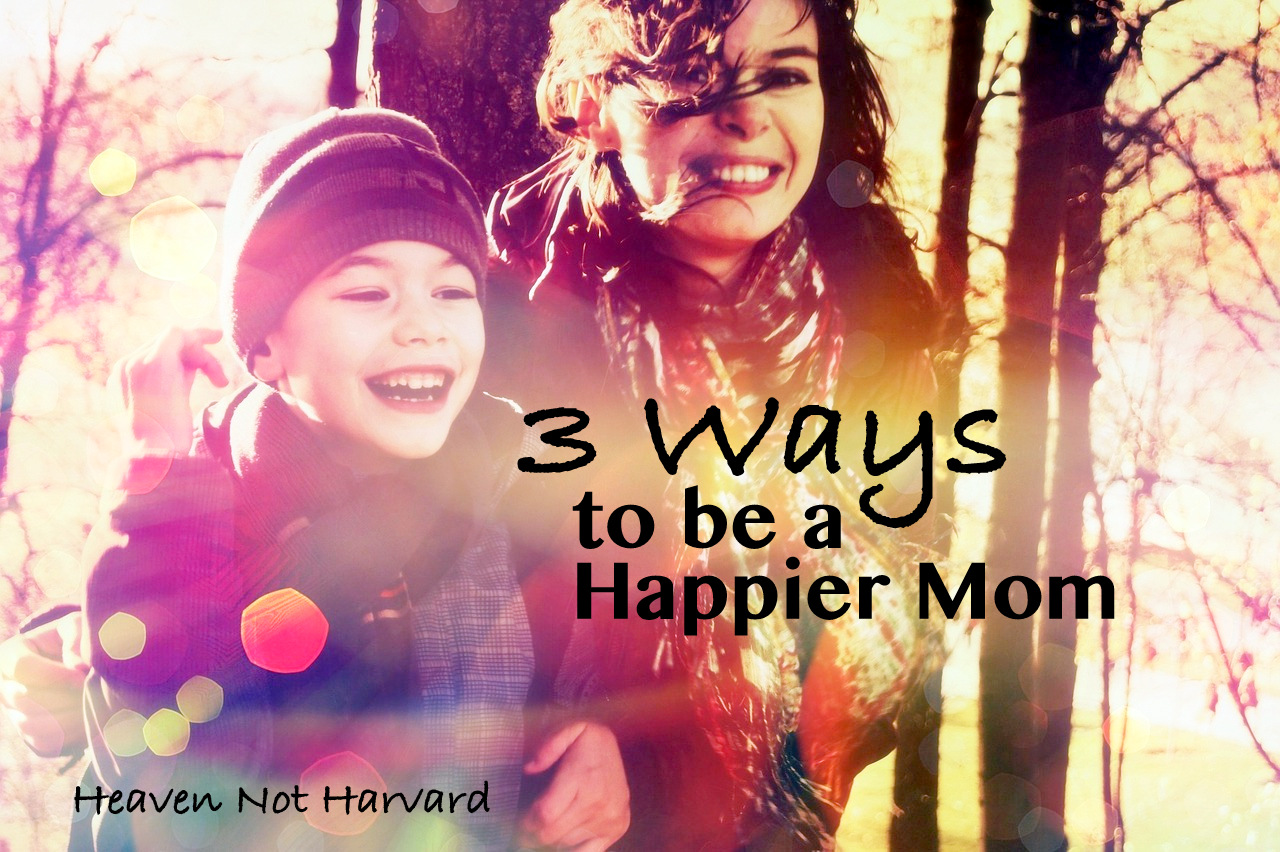 Do you want to be a happier mom?
Be a Mom without complaining.
Did you just laugh?
Because momming is soul sucking.
You have an MBA but just spent ten minutes arguing with a two-year-old that the strawberry jam in the squeeze bottle is exactly the same as the jar.
Cleaning house is pointless. You want a healthy, clean house for a tiny person who leaves messes in his wake like Godzilla in Tokyo.
Life is a never-ending cycle of feeding people, cleaning up after people and doing chores over and over and over. And sometimes there is poop – okay, lots of times, there is poop.
So how do we stop complaining while recognizing this is a hard season of our lives?
We recognize the struggle without unpacking and living in it!
Recognize the struggle without unpacking and living in it. #BeaHappierMom
Click To Tweet
1. Shift perspective
Ask God for His perspective. He always helps me look past my initial emotions to see the forest of blessings I'm missing when I complain about all the trees in my way.
Just today, I was planning our meals wondering how much fiber I should give my kid ('cause that's what moms worry about), and I realized I have no idea. When was the last time she yelled at me – "I'm done pooping!" and expected me to race to her side? I can't remember.
Today's frustration or ewww factor, might just be tomorrow's regret. She already needs me less than she did just months ago.
If I have an unfavorite task, I teach my way through it, instructing my daughter why it is important to do with a happy heart, even when we don't feel like it, how that makes our family a team.
I've learned more about what kind of person I should be by focusing on what kind of person I want to raise. Also – #3 here.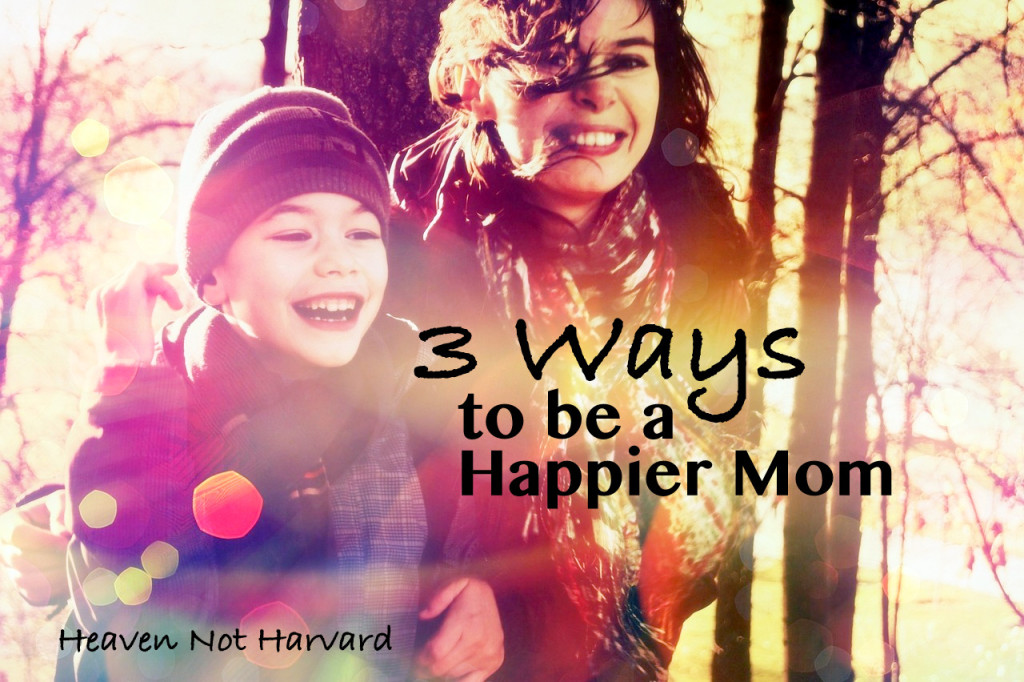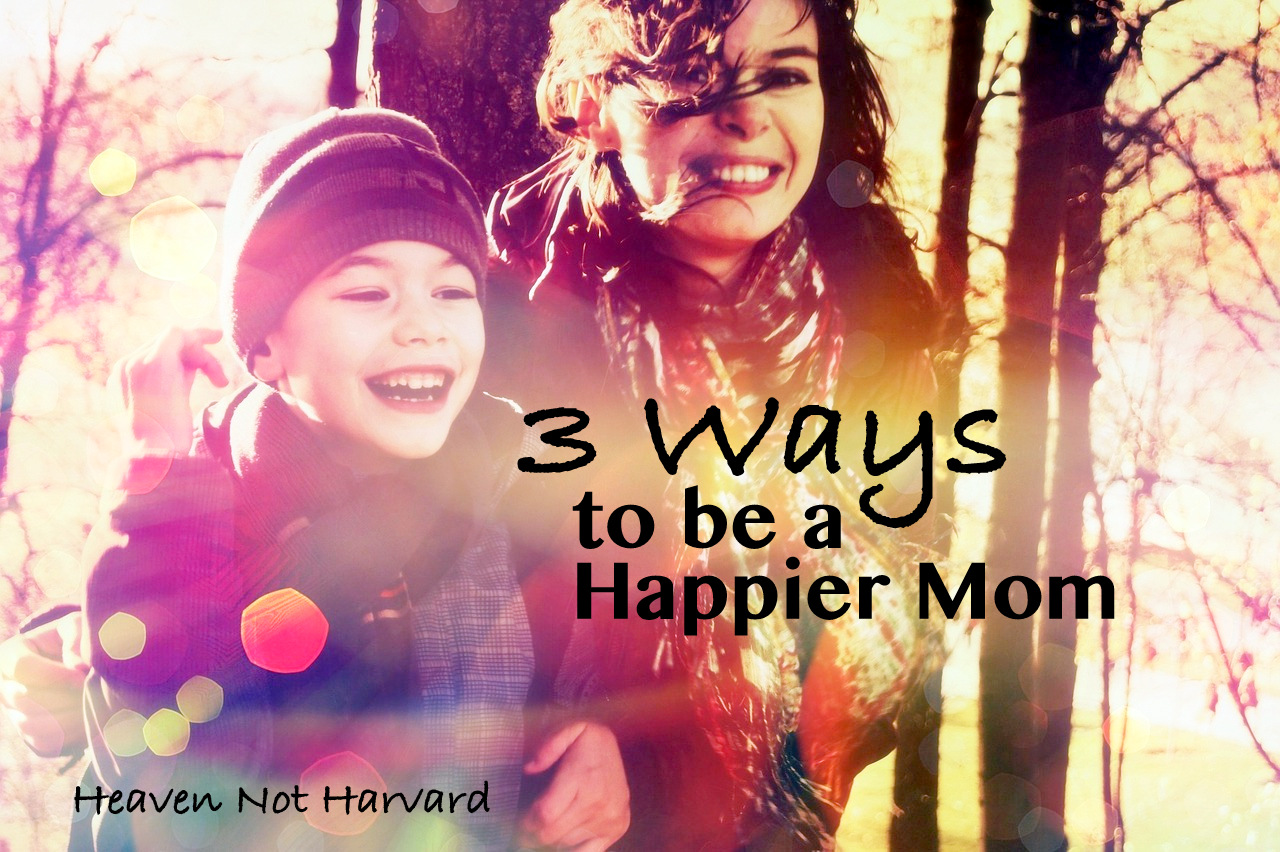 I've learned more about who I want to be by focusing on the kind of person I want to raise. #BeaHappierMom
Click To Tweet
2. Always look for the bright side.
Last month, I had a leaky back tire. Instead of just $20 to fix it, the shop noticed my two front tires were cracked and ready to burst any second, $400 instead. Right before Christmas, for the second time this month . . .
BUT, I had just taken a 4 hour road trip. I was so grateful that we didn't have a blow-out on the twisty windy Georgia back roads that could have caused a serious accident.
3. Get your worship on!
When I start to slip into an awful place, nothing shifts that attitude to happier mom faster than worshipping God. Sometimes, I have to fight myself to turn on praise music or open the Bible because my flesh would rather than sit in that pain, feeling overwhelmed and irritable.
Just do it – open the Bible and read one verse, play one random worship song. I dare you to stay crabby. It may not erase the painful circumstances, but it reminds me where my hope lies.
The last two Novembers, I've taken a step past daily gratitude to trying to change my entire attitude by going without complaining.
This year I felt like counting the hours until the challenge was over. November was the hardest month we'd had in a long time. Everything that could go wrong did, well almost. But December 1st came, and I didn't want to unload all my harbored complaints.
Because I learned so much:
I learned my faith needs testing to grow. Job, I am not.
I learned my marriage is a million times stronger than it was before this very hard year.
I learned I'm a

happier mom

when I don't complain because what I give energy and voice to becomes my reality.
Being a happier mom means I spend less time upset, less time stressed out, less time wishing it were bedtime and more time just enjoying the moments, even the ones with poop.