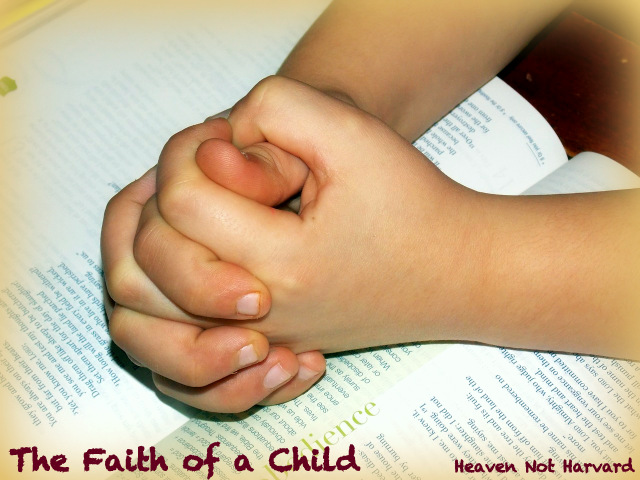 (Last Updated On: July 25, 2016)
The faith of a child is magical. If we point them in His direction, God truly works in them in ways we cannot understand. If only we all had such faith.
I realized the incredible beauty in the sweet faith of a child as I watched my daughter developing her own.
I had renewed my commitment to Christ, but hadn't quite allowed His grace to extend to my mothering. God convicted me that my "perfect" parenting meant I wasn't letting God be in control of her life.
I was still trying to get it right my way!
For both of our sakes, I needed Him to intervene in my heart, so I could learn to share my faith with her in ways that make it living and active in her life.
Romans 10:17
ESV
"So faith comes from hearing, and hearing through the word of Christ."
To build the faith of a child, they needed to see and hear and live God's word.
I had to demonstrate my faith daily, especially in front of my daughter, making a point to live out loud for Him, which meant talking my inner prayer dialogue with her.
Building the faith of a child required living mine more completely, more transparently.
Click To Tweet
We talked about obeying God when I made hard choices, when I lost my temper, when we struggled with using our kind voices.
We thanked God for each new day, for sending His son. We read her bible together, and I spent more time in mine.
After awhile, she began asking questions like, "Do I have Jesus in my heart?" "Am I a Christian?"
I answered she is learning who God is, and when she is old enough to understand, she can choose to ask Jesus into her heart.
With the innocent faith of a child, she asked to do it then, but I wasn't sure if she really understood.
She was so little, only 4. She didn't even understand the days of the week yet. How could I let her make this huge decision so young?
How young is too young to make a decision for Christ? Should we ask them to wait? #faithofachild
Click To Tweet
Proverbs teaches,
Proverbs 22:6
ESV
"Train up a child in the way he should go; even when he is old he will not depart from it."
I became a Christian at 6, but have turned away from my faith many times. Only God's grace has brought me back, and I really want to show her a faith that avoids falling away.
I really want her to know God's love and Christ's redemption, but I had concerns about her actual comprehension of what it all means.
But when she asked again a few months later, I could hear Jesus tell me not to turn her away from wanting to follow Him.
Even when Jesus was exhausted and weary, he would not turn away the children.
Mark 10:13-16
ESV
"And they were bringing children to him that he might touch them, and the disciples rebuked them. But when Jesus saw it, he was indignant and said to them, "Let the children come to me; do not hinder them, for to such belongs the kingdom of God. Truly, I say to you, whoever does not receive the kingdom of God like a child shall not enter it." And he took them in his arms and blessed them, laying his hands on them."
Maybe she doesn't quite understand yet all the details, but she knows she loves Jesus. And when Jesus said to let the children come to Him, He further taught that we adults should should strive to have the faith of a child ourselves.
So, we stopped eating lunch and prayed together.
"Dear Lord, she wants Jesus to be her savior, to come into her heart. If this is her time to come to you, Lord, please draw her close to and continue to work in her heart. If not, stay close and protect her until she's truly ready."
Then I let her pray what she wanted to say. "Dear Jesus, I want you in my heart to help keep the 'debil' out and God in me so I know how to not be naughty." It was sweet and beautiful.
I don't know if it was truly her decision day, but I don't believe choosing Jesus is a magical formula of a single prayer. It is a daily life-long dying to our flesh and choosing Jesus as savior.
For now, I have to just keep living my witness; being real in my need for forgiveness when I fail.
Titus 2:7-8 "Show yourself in all respects to be a model of good works, and in your teaching show integrity, dignity, and sound speech that cannot be condemned…"
 And celebrate with the angels over my sweet daughter tonight.
Luke 15:10
ESV
"Just so, I tell you, there is joy before the angels of God over one sinner who repents."
Wish I could have heard the singing. I can only imagine.
[jetpack_subscription_form subscribe_text="Enter your email address to get more of this encouraging content!"]