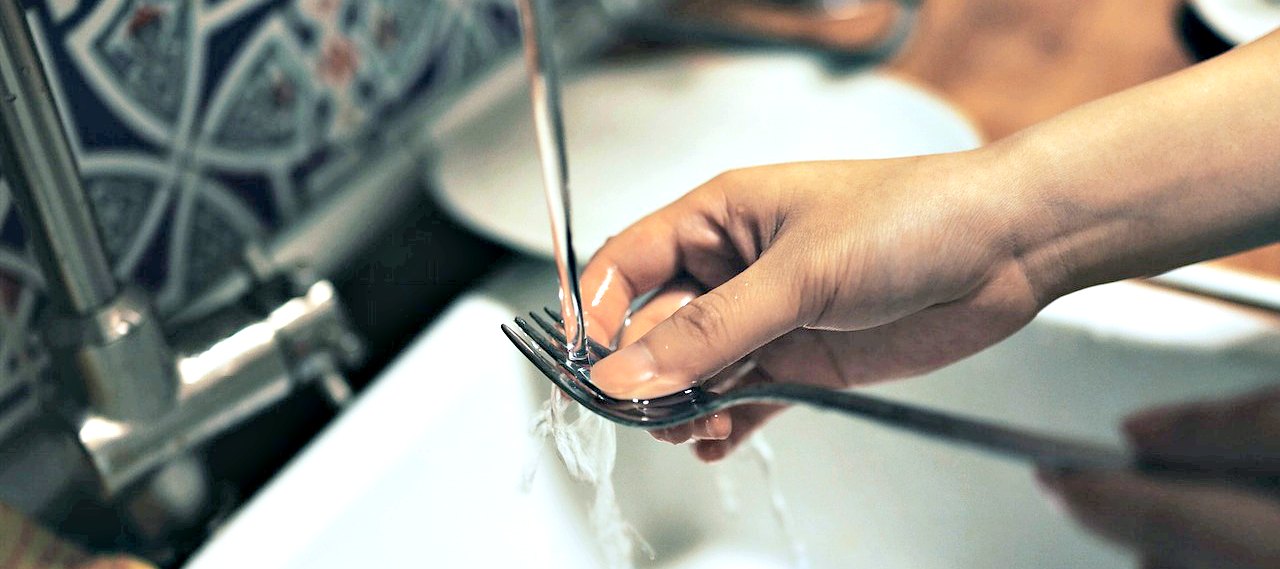 (Last Updated On: October 1, 2017)
Being a Christian mother was all I ever wanted, but now that I'm here, sometimes, I fashion myself a writer. I sit on my couch, mug of coffee brewing inspiration inside my head, believing that sharing my tiny words are worth the tedious hours buried behind my computer.
(this site uses Affiliate links-purchases support our ministry through a small referral fee that never affects your cost.)
I sometimes even believe that my writing is the noble work I'm doing with my present days.
I sweat ink and bleed commas and stumble my way through learning all this techno blogging rot to share my faith with the world. And feel accomplished when someone I don't know reads and shares my post. I can get pretty puffed up about it.

Mother & Daughter – Willow Tree Figurine – $35.00
from: DaySpring Cards Inc
But over the past few months, I see God taking me through an obstacle course towards real humility, a complete laying down of self. And I realize, I may be doing the most noble work of my life as a Christian mother, not writer.
My writing isn't so incredibly exceptional the world cannot do without it. The only thing that makes this blog worth reading is when God supersedes my ego and grabs hold of my keyboard, letting me write in desperate humility about my challenges and faith as a Christian mother.
Am I missing the REAL WORK of being a Christian mother focusing too much on my own agenda?
Click To Tweet
Today was a day full of tiny chores: scrubbing the grimy counters again, dusting the creepy cobwebs, washing dishes, cooking meals then washing those dishes, teaching homeschool, and patient parenting when she wanted attention the second I started something else.
And I felt myself grumbling. Why do I have to do all of this busywork when I could be doing something more important? And I felt God nudge me rather harshly.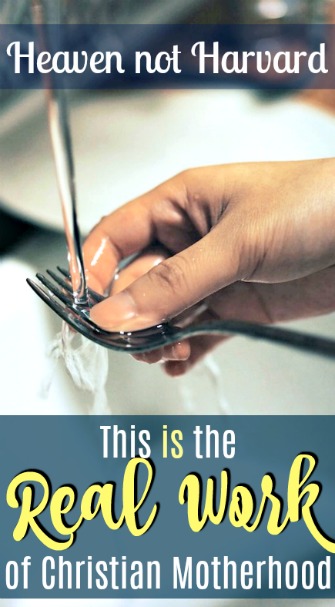 But this IS the real work of Christian motherhood!
Don't you know that learning to serve, to clean, to do the hard work that no one notices is the REAL work, the real work on your heart.

You know how hard life has been lately? And you see the way I'm growing strength and perseverance in you through the hard and disappointing? You see how I'm building your faith and softening your spirit.
Don't you realize how much motherhood builds Godly character?
So I climbed the ladder to make my stepsons' bunk beds instead of asking my husband to do it. I searched the house for a missing wallet. Then did the laundry they left and a few more loads to boot. I cleaned the kitchen, started dinner, organized the Tupperware that would be a mess again in five minutes. I ate lunch with my daughter instead of rushing to do something "more important."
God is teaching me what joyful, humble service looks like through being a Christian mother.
Jesus didn't wash the disciples' feet because they were dirty. He did it because humble service is important.
Jesus didn't wash the disciples' feet because they were dirty. Humble service is important.
Click To Tweet
I've learned more about the heart of Christ cleaning toilets, picking up dirty underwear, and vacuuming floors than anything else I've done. Because real service serves not to be seen, but point, point to Jesus.
Except by God, He sees it all. And just when I needed reminding, this video came across my newsfeed. Makes me cry every time.
I will keep writing and planning for future seasons of life, but God has given me this brief season to be a Christian mother, learning and teaching faith, humility, and grace.
When God tests my life's work as 1 Corinthians 3:10-14 teaches, I don't want to have missed the REAL WORK God asked of me, building character and deep faith in myself and family.
Subscribe to Blog via Email
Products from Amazon.com
‹
›
Save