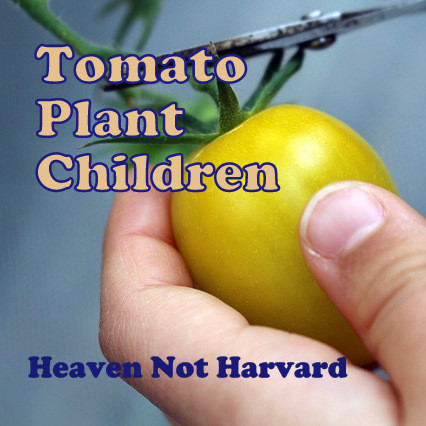 (Last Updated On: November 2, 2015)
We eat a lot of tomatoes. I think my husband lives on pico de gallo. I can't tell you the number of last-minute shopping trips that involve needing a tomato. So, in my infinite wisdom, I, who cannot keep any potted plants alive and do only marginally better with a flower garden, decided we should buy a trellised potted tomato plant last summer so we would have at least a small supply on hand.
We carefully picked just the right place for it, watered it diligently, watched excitedly as it bloomed. When the first tomatoes began to grow, my daughter stood over them everyday waiting to pick the first one. In fact, she couldn't wait and picked a tiny green one. Of course, we fried it. We do live in the South now. It was adorable. Just about three bites worth, but she was so excited to eat something we grew.
We couldn't wait for red, ripe luscious tomatoes to grow.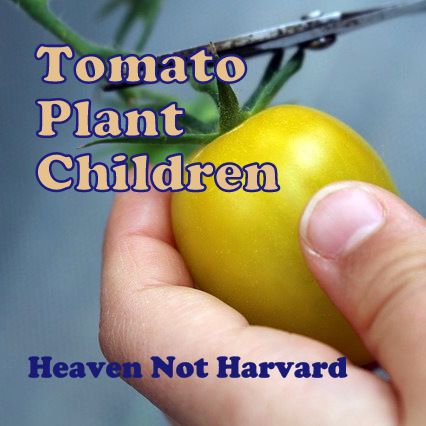 We never got to eat any of those tomatoes. As soon as each tomato got nearly ripe, it either got a disease or got eaten by the birds. We were so disappointed. I was frustrated. I had nurtured the plant and soil, watered carefully and lost every tomato. I'm sure better gardeners would have ideas, but with my lack of knowledge, we were helpless. I thought keeping the plant by the front door would help us remember to water it, protect it from the dogs, and give it a good amount of sunshine. I didn't count on the birds.
I think there is a lesson in my tomato plant children.
We can nurture soil, tend a seed, grow a healthy plant, then watch the birds tear it apart. Watching our poor tomatoes get almost big enough to eat and then be destroyed by forces we couldn't prevent, made me think about raising my daughter and her brothers.
I'm doing my best to raise them with good solid roots in a loving family, knowing God's love and grace, but I can't see every eventuality that might befall them. I see the boys sliding headfirst into adulthood and have no idea how to best prepare them for it, how to protect them from the world and themselves.
1 Corinthians 3:7
ESV
"So neither he who plants nor he who waters is anything, but only God who gives the growth."
But maybe that isn't my job. I can't protect them from everything that might ever come their way. I just can't. We're still working on getting them to remember their chores. 🙂 So what IS my responsibility as a mom?
Proverbs 22:6
ESV
"Train up a child in the way he should go; even when he is old he will not depart from it."
1 Corinthians says my job is to plant and water, but hope in the Lord for the growth. I have to point them to God and pray for them. Because we will all do our earthly parts to give them tools for the future, but it won't be enough to stave off every disaster or poor choice they can make. Even if they listened to every word and completely obeyed (ha ha, yeah, right), they will still face hurts, tragedies, pain, sickness and life changing decisions.
I can't tell you the hours I've spent agonizing over parenting decisions. Some days, it feels like it is all on my shoulders how these children turn out, and honestly, I'm still working on how I'm turning out.
But I can't hold onto that any longer. These are my tomato plant children and I'm taking responsibility for my part. How they turn out is between them and God. Each day, I just have to choose to do my job in obedience, water those plants, tend to those roots, and know that worrying about the results is up to Him.
See similar posts about living and parenting intentionally for the Lord here.