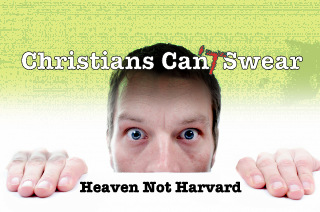 (Last Updated On: September 30, 2015)
"I love Jesus, but I still swear sometimes," she said. Somehow hearing that out loud didn't sit well with me.
I mean the Bible says not to take the Lord's name in vain, but there isn't a list of forbidden words. Who says what is okay and what isn't? Who says Christians can't swear?
The Holy Spirit convicted me on this point. Confronting my own mouth, I felt compelled to do some digging around in the scriptures. It didn't take long for me to realize that Christians can't swear.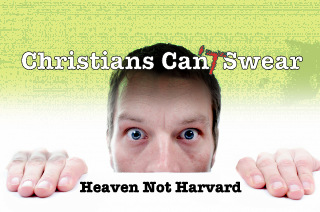 Here are the proof texts I found to hold myself accountable.
First, the importance of ALL of our speech in our witness as believers, even more so as teachers of the word.
James 1:26
ESV 
"If anyone thinks he is religious and does not bridle his tongue but deceives his heart, this person's religion is worthless."
We can look at this text in two ways. As receivers of truth from pastors and speakers, if we hear someone who is not bridling his/her tongue, we have to treat anything else they say as mightily suspect. James says their religion is worthless. Secondly, as a Christian who is attempting to live my faith with a mission mindset, I do not want my witness to be worthless.
We are to exhibit self-control over our mouths. If we cannot, we have not been sufficiently sanctified by the Holy Spirit. Bridling our tongues would mean keeping our words from being angry, inappropriate, knowing when to be silent, in addition to not "swearing."
Ephesians 4:29
ESV   
"Let no corrupting talk come out of your mouths, but only such as is good for building up, as fits the occasion, that it may give grace to those who hear."
While some would focus on defining corrupting talk, I see the second part of the verse as being the more crucial. Only say what is good for building others up that gives grace to those that hear you. Well, that is a pretty high standard which doesn't leave much room for a lot of things that come out of our mouths. And then start talking defining corrupting talk .  .  .
Each generation or culture has different words we consider inappropriate. Perhaps this is why the Bible didn't give us a list. We have to examine our own hearts and culture to find our own convictions about what words we choose not to use.
Ephesians 5:4
ESV
"Let there be no filthiness nor foolish talk nor crude joking, which are out of place, but instead let there be thanksgiving."
No foolish talk. No crude joking. No filthiness. Well, that is pretty broad, but I don't think Jesus wants us to split hairs when it comes to sin.
Is crap okay? What about OMG? shoot? freakin'? darn it?
Maybe, we wouldn't say God's name in vain or the swear word, but is it okay to hint toward those words? I struggle with geez. Today, I realize that is a way of shortening 'Jesus'. As a young woman, I didn't have any idea that is what it meant. I feel very convicted about even using theses lesser words but am definitely a work in progress.
Lastly, these two scripture really hit home for me in many arenas of my walk, especially when people start arguing that we can use this word or that word.
Romans 13:14
ESV
"But put on the Lord Jesus Christ, and make no provision for the flesh, to gratify its desires."
Make no provision for the flesh.
Our weaknesses and needs as human cannot be discounted, which is why Jesus came. He could say He wore our mantle and was tested, so we could know He understands the needs of our human bodies and the temptations of our fallen world, but as He was sinless, we're instructed not to give any room to those sinful temptations.
One last verse, out of hundreds that I've found is one that I think I am going to hold onto and memorize.
Matthew 12:36-37
ESV
"I tell you, on the day of judgment people will give account for every careless word they speak, for by your words you will be justified, and by your words you will be condemned."
This verse makes me want to fall on my face at the foot of the King. I can barely account for the careless words I've spoken today. As a parent struggling with patience, I cannot even imagine the careless words I've spoken since my children came into my life. I can only pray in thanksgiving that God has convicted me and in humility asking forgiveness.
Anyone CAN swear, but God calls His children to something more.