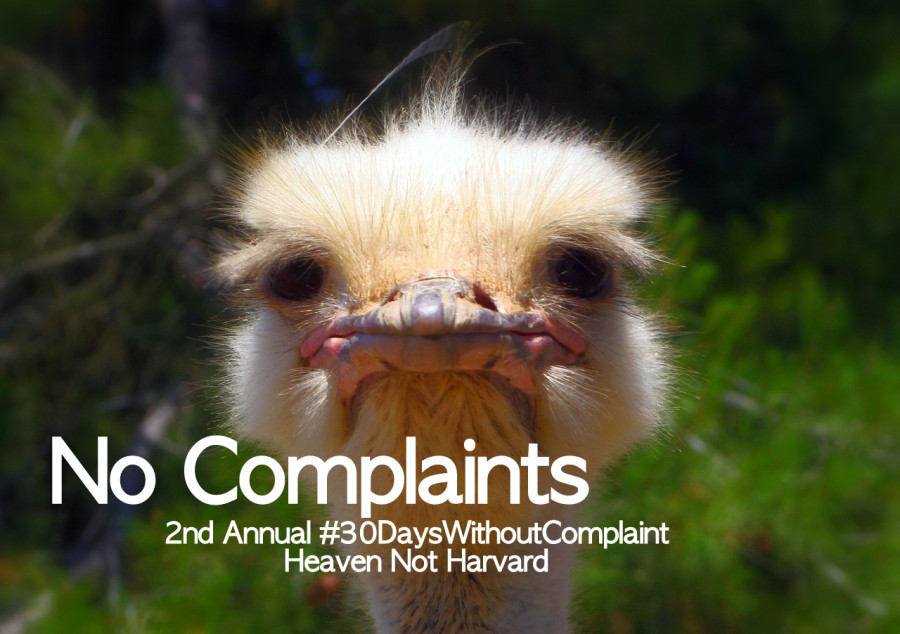 (Last Updated On: November 1, 2016)
This morning, God's plan for my day was not what I was expecting. I was prepared to begin my 2nd Annual 30 Days Without Complaint Challenge with a Sunday full of fellowship and worship, excited for our new pastor, but .  .  .
My day started by challenging 'no complaints' right away.
Instead, I snuggled with a sore-'froated', upset-tummy-having-little-girl and got the opportunity to tackle laundry, carpet cleaning, and scrubbing the bathroom.
Focusing on no complaints meant biting back discouraging words about starting my morning cleaning up vomit. I took captive the bitter thoughts seeping into my heart over a groggy barfing child, and smiled.
2 Corinthians 10:5b take every thought captive to obey Christ,
Oh, sweet girl, it's okay. I made a silly face and laughed when I stepped in puke, and she giggled with me.
Thank you, Lord for encouragement to get some cleaning done. I'm grateful for a washing machine to tackle her now decidedly soggy astronaut costume she had worn again today, poor thing. Thank you for a carpet cleaner and bleach for the bathroom, and a little Lysol Silkwood shower just for me.
Thank you for a quiet, rainy day to rest with a DVR full of Little House on the Prairie.
Instead of frustration that my day had gone askew, I chose to deliberately focus my heart on having a positive perspective.
Instead of the usual thankfulness challenge, this year go #30DaysWithoutComplaint with me!
Click To Tweet
Every year, November 1 starts an avalanche of thankfulness on social media. It is fun to play along. Yet, after joining in for a couple of years, I wasn't seeing much actual change in my life.
In the past, my attitude has sometimes looked a little like this . . .
"I am so thankful for my wonderful hubby. He is my soulmate and best friend! #perfecthusband" 7 a.m.
 "Who puts the milk back with a spoonful in the carton? No milk for breakfast. #oblivioushusband" 8 a.m.
"Ugh, you do know what a hamper is, right? Underpants under the sink?? #husbandsaretoddlers 9 a.m.
One thankful moment and the rest of the day was full of grumbling.
I took the 30 Days Without Complaint challenge last year, learning how  to live (in real life and on social media) without complaining. Within 48 hours, I realized just how challenging it would be have no complaints for a single day, much less a month.
In fact, just as I started planning this challenge again, my husband told me he has a 24 hour shift on Thanksgiving. My heart was quietly breaking. He has missed so many holidays. I know it is just a day, but after four deployments, I cherish holding his hand over the table that one special day.
But when I stopped complaining last year, I learned more than anything else, my attitude affects my experience. I can choose to be grateful for my husband's secure job and all that he provides for us; or I can complain about losing a day with him. When I focus on finding the silver lining, my peace gives him such freedom to find joy as well. Our whole home is so much sweeter when I am.
When I focus on joy, my peacefulness frees the people in my life to seek joy and peace too.
Click To Tweet
It's funny how choosing to smile, choosing to say grateful words over a no fun situation, actually made it better.
James 1:2-4
ESV 
"Count it all joy, my brothers, when you meet trials of various kinds, for you know that the testing of your faith produces steadfastness. And let steadfastness have its full effect, that you may be perfect and complete, lacking in nothing."
Tonight, I'm thrilled by the joy I witnessed in my home today. Despite tired, wet, headaches, sore 'froats', upset tummies, yucky weather, we had WONDERFUL joyous laughter, long hugs, sweet giggles because I chose no complaints.
While my day wasn't what I planned, it felt perfect and complete, lacking in nothing when I counted it all joy.
[jetpack_subscription_form subscribe_text="Enter your email address to get more of this encouraging content!"]